Sweet Potato Orange Yogurt Tart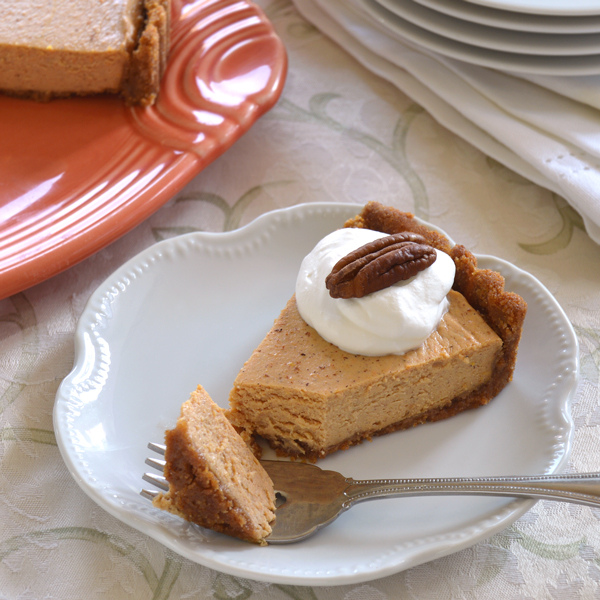 This tart has a nice creamy texture just like a cheesecake, and is a great alternative to pumpkin pie or even pumpkin cheesecake. This version made with either freshly cooked and mashed or canned sweet potatoes or yams (or pumpkin or hubbard squash puree), mixed with yogurt cheese, and then poured into a pre-baked graham cracker crust, and then baked until the filling is set. The result is a tart with a cheesecake-like consistency, that's low in sugar and naturally sweetened by its ingredients. Make the plain, lowfat, or nonfat yogurt cheese the day before making this recipe; we show you how to. If making your own sweet potato, yam, or pumpkin or hubbard squash puree, prepare it in advance, and have it refrigerated or at room temperature before making this recipe. NOTE: This recipe has not been tested with Greek yogurt cheese. You can easily make this recipe gluten-free with our great Cookie Crust - Gluten-free Variation; just prebake and cool before using.
PIE RECIPE HELP / GLUTEN-FREE RECIPE HELP
If using fresh cooked sweet potatoes, and they are stringy, with long fibers, push the cooked potatoes through a fine mesh strainer or food mill to remove them before using as an ingredient in the pie. You can also use Homemade Pumpkin or Hubbard Squash Puree.
INGREDIENTS
One 8- or 9-inch Graham Cracker Tart Crust, prebaked and cooled
Sweet Potato Filling
1 cup cooked mashed sweet potatoes or yams*, cold; can substitute with canned pumpkin puree or canned sweet potatoes or yams (without added sugar); make in advance so it can be refrigerated or at room temperture before using
2 cups yogurt cheese from regular yogurt, lowfat yogurt or nonfat yogurt, made in advance (See How to Make Yogurt Cheese)
1/3 cup plus 1 tablespoon dark brown sugar, packed
1/3 cup nonfat instant dry milk powder (do not reconstitute)
2 large eggs, lightly beaten
2 tablespoons cornstarch
grated zest of 1 orange
1 teaspoon ground cinnamon
1/2 teaspoon ground ginger
1/4 teaspoon fresh grated nutmeg, for garnish

Creme fraiche or whipped cream (or Healthy Oven New Whipped Cream)
Pecan halves
NOTES:
*Sweet potatoes are sometimes called yams. To cook the sweet potatoes for the filling: (Make your own Homemade Pumpkin or Hubbard Squash Puree)
1. Place 4 medium or two large orange-fleshed sweet potatoes (yams) in a large saucepan and cover with lightly salted cold water.
Bring to a boil over high heat. reduce the heat to medium and cook until the sweet potatoes are tender when pierced with the tip of a sharp knife, about 30 to 45 minutes.
Drain and rinse under cold water until easy to handle.
or
1. Pierce potatoes all over with tines of a fork.
Bake at 375 degrees F until tender when pierced with the tip of a sharp knife.
2. Peel and mash the potatoes. Push through a fine mesh strainer to remove any strings; discard.
Refrigerate to chill or set aside to cool at room temperature before using in this recipe.

INSTRUCTIONS
1. Position an oven rack in the center of the oven. Heat the oven to 350 degrees F.
2. In a large mixing bowl, combine the sweet potato puree with the yogurt cheese, brown sugar, dry milk powder, eggs, cornstarch, orange zest, cinnamon and ginger.

3. Mix with a hand held mixer on medium speed until thoroughly combined.

4. Place the prepared and cooled crust on a baking sheet.
Pour the filling into the crust and smooth the top.
Sprinkle or grate fresh nutmeg over the top.

5. Bake until the edges of the filling are slightly puffed and lightly browned, about 30 minutes.
Do not overbake - the center will seem unset but will firm when chilled.
Cool to room temperature on a wire cake rack.

6. Cover with plastic wrap and refrigerate until chilled at least four hours or overnight.

SERVE
Serve chilled with a dollop or creme fraiche or whipped cream. Top each slice with a pecan.
STORAGE
Keep refrigerated, where the pie will keep for about three days. The pie does not freeze well.