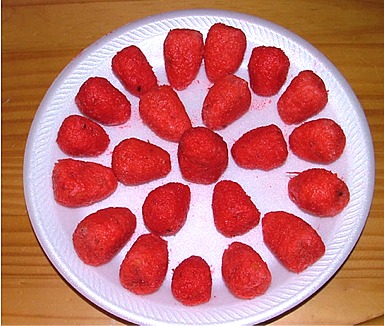 Strawberries and photo by mconfections, Premium Member © Sarah Phillips
Try these! My mom used to make them every year at Christmas when my daddy was alive (years ago....), she always used to make tons of goodies at Christmas! These were my absolute favorite and I FINALLY got the recipe from her!!
CANDY RECIPE HELP
mconfections, Premium Member, Says: "These were a total hit for Thanksgiving, our boss loved them, the family loved them. So fun to make. One change, I halved the recipe (as I had soooo much to bake the other day) and on the last few I added some Wilton Red Red, to add to the color. I decided to skip the leaves, and these looked very realisic. I did refrigerate them, and they were gobbled up before I knew it! I am considering using these to top cheesecakes when strawberries are out of season ( I make my own version of the Carls Jr. Strawberry Cheesecake)."
INGREDIENTS
1 (15 oz) can sweetened condensed milk
1 lb flaked coconut, finely ground
2 (3 oz) packages strawberry flavored gelatin (Jell-O) - divided
1 cup finely ground almonds (can use ground pecans or walnuts)
1 tablespoon sugar
1 teaspoon vanilla
INSTRUCTIONS
1. Combine milk, coconut, 1 package gelatin, almonds, sugar and vanilla; mix well.

2. Shape mixture into strawberries. Place on waxed paper.

3. Roll candies in remaining gelatin, coating thoroughly.
4. Let candies dry on waxed paper until firm.

STORAGE
Store in a covered container at room temperature.