Drying tomatoes is a fabulous way to preserve them, when you have a bumper crop. Ugly or mis-shapen or overripe tomatoes are perfect candidates for this recipe, too.
The flavors intensify when tomatoes are dried, and you are left with scrumptious tomato "raisins", chock full of umami.
Drying tomatoes at home is super easy. You can do them in the oven, or in a food dehydrator. Both methods work extremely well. We show you how.
We use this recipe with our Bruschetta with Sundried Tomatoes recipe. For more information about overripened or ugly produce, go to our Ugly Produce is Beautiful℠ Educational Campaign!
VEGETABLE INFORMATION HELP
KELLY SAYS: This recipe is a great way to use "ugly" or imperfect fruit. My grocery store sells bags of produce, at a huge discount, when they are very ripe.
So, when I scored a big bag of plum tomatoes for $2. I decided to make pico de gallo from some of them, and to dry the rest.
These tomatoes were super-ripe and full of flavor, even though they weren't "picture perfect".

INGREDIENTS
2 pounds ripe plum tomatoes, about 10 to 12
Salt and pepper, for sprinkling
Dried basil, optional
Extra virgin olive oil
Equipment:
We used an oven or a food dehydrator to dry the tomatoes. The one we used is:
1 Nesco FD-37A American Harvest Food Dehydrator, 400-watt
STEP I: PREPARE THE TOMATOES
1. Wash the tomatoes well, then slice in thirds, lengthwise.
Do not core the tomatoes. This will help them retain their shape when dried.

Oven Drying Method:
1. Position an oven shelf to the middle of the oven.
Heat oven to 170 degrees F, or the lowest setting on your oven, such as 200 degrees F with newer ovens.

2. If drying in the oven, line a rimmed baking sheet with parchment and place a rack in the pan.

Food Dehydrator Drying Method:
1. If using a food dehydrator, lightly spray the trays with nonstick spray. You will need a couple.

STEP II: POSITION THE TOMATOES FOR DRYING
1. Place the cut tomatoes on the prepared baking sheet or food dehydrator trays, cut sides up, leaving plenty of room between them, for maximum air circulation.
Lightly sprinkle with coarse salt, freshly ground pepper, and dried basil.
The basil is optional, but adds a nice flavor.

For the Oven Drying Method: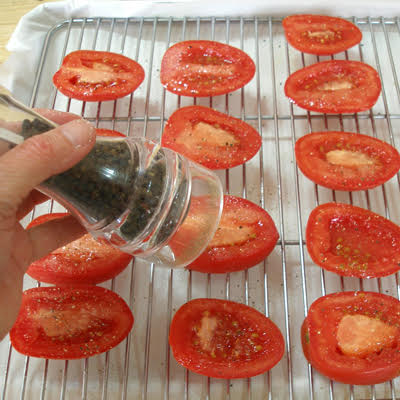 For the Food Dehydrator Drying Method - use the shelves that come with the machine:

STEP II: DRY THE TOMATOES - OVEN OR THE FOOD DEHYDRATOR METHOD
No matter which method you choose, Oven or the Food Dehydrator Drying Method, it will take 6-8 hours to dry the tomatoes.


For Oven Drying Method:
1. Place the filled baking sheets in the oven and bake for 2 hours.
2. After two hours, turn over the tomatoes over, and let them bake for another two hours.
3. Turn over once again, and continue baking for another two hours.
4. Test the tomatoes at this point. They should not feel wet, but they should still be pliable.
5. Some slices may dry before others. Remove the ones that are dry onto an oven rack to cool.
Continue baking the rest, until they reach the desired dryness.
Then remove.
For the Food Dehydrator Drying Method:
1. Stack the food dehydrator racks in the dehydrator and turn the machine on.
2. Turn over the tomatoes after two hours.
3. Dry for another two hours, then turn over again.
4. Remove the slices that are dry, onto a cooling rack to cool.

5. Continue to heat the rest until they are dry, but still pliable.
Then remove.
STEP III: STORAGE OPTIONS
Storage jars:
When the dried tomatoes are cool, pack them into a resealable glass jar with a tight seal.
Even though the tomatoes are dry, it is best to store them in the fridge, for maximum shelf life.
They should last for several months in the refrigerator.
You can also freeze them, for longer storage. ​Place in lidded freezer containers, or zip top bags, and freeze.

Packed in oil:
You can pack the dried tomatoes in oil. ​Adding garlic or fresh herbs to the oil will lessen the shelf life, so we do not recommend doing that.
When the dried tomatoes are cool, pack them into a resealable glass jar with a tight seal.
We like to use a fragrant extra virgin olive oil, for maximum flavor. Pour it to the top of the jar, making sure you cover all of the dried tomatoes.
Store the oil-packed tomatoes in the refrigerator. They should last a month or so.
The oil will solidify when cold, but simply remove the amount you need, and zap them in the microwave for 10-15 seconds to melt the oil.

STEP IV: USE IN RECIPES
You can use these tomatoes in many different recipes.
They are great in pasta dishes and pasta salads.
One of our favorite ways to use them is to make our Bruschetta with Sundried Tomatoes.
You can add all sorts of toppings, but a simple spreadable cheese, like Boursin, or goat cheese, pairs particularly well with these tomatoes.