Summertime Berries and Cream Cake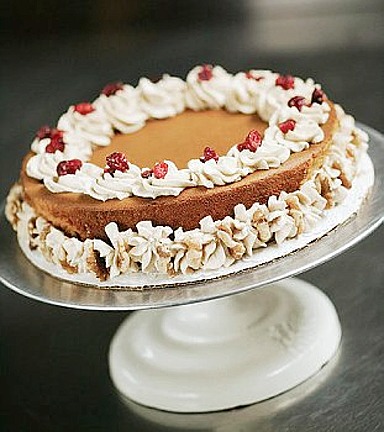 stock photo
For summertime, this cake is delicious filled with a vanilla-cream filling and fresh strawberries! Make sure you assemble the cake the day of the event for best results, and keep it refrigerated at all times!
CAKE HELP


INGREDIENTS
1 recipe Year Round Spice Cake, two layers
1 recipe whipped cream
1 recipe vanilla pie filling
2, 16-ounce containers fresh strawberries, washed and halved

STEP I: PREPARE WHIPPED CREAM
WHIPPED CREAM
INGREDIENTS
1 cup heavy cream
1 tablespoon dark brown sugar or sugar
1 teaspoon vanilla extract

INSTRUCTIONS
1. In a mixing bowl, add the cream, sugar and vanilla extract.
2. Using a hand-held electric or stand mixer, beat on low-speed until small bubbles form, about 30 seconds, and then increase the speed to medium and then to high. Move the beaters up and down and around the side of the bowl while whipping if using a hand-held mixer. With a rubber spatula, scrape down the side of the bowl often.
3. Stop whipping when the cream has doubled in volume, is smooth, thick and is stiff.
4. Chill for about 30 minutes – it is best made the day of use. If storing, cover and refrigerate for up to 24 to 36 hours. If the cream separates in the refrigerator, whisk the cream together again woth a large wire baloon whisk until it has come back together (do not rebeat with an electric mixer).

STEP II: PREPARE ORANGE PIE FILLING
ORANGE PIE FILLING
INGREDIENTS
1 box 3.4 ounce Instant Jell-O Brand Pudding and Pie Filling
1 3/4 cups whole or 2 % milk
1 tablespoon orange peel, optional
1 teaspoon orange extract
1 teaspoon vanilla extract

INSTRUCTIONS
In a large bowl, prepare as directed for pie filling, using 1 3/4 cups milk. Refrigerate pudding until set for 5 minutes.

STEP III: FOLD PIE FILLING WITH WHIPPED CREAM
1. With a large rubber spatula, scoop whipped cream on top of pie filling and gingerly fold together.
Make sure you do not see any streaks of filling or whipped cream.

2. Refrigerate for about 30 minutes.

STEP IV: STACK CAKE LAYERS
The YEAR ROUND SPICE CAKE layers need no trimming or torting.
1. Place the first cake layer on a cake plate or platter.

2. Spread half of the orange pie filling/whipped cream mixture on top. Garnish with fresh berries.

3. Place the second layer on top, without pushing down.
Spread the top with the remaining orange pie filling/whipped cream mixture. Garnish with fresh berries.

4. Chill cake for about 30 minutes before serving.

SERVE
Serve with additional berries.

STORAGE
The assembled cake must remain refrigerated. It keeps for a few days.
The unfilled and frosted cake layers store nicely. They can be stored at room temperature for about 3 or more days. The cake layers freeze well for about a month or more. Keep well wrapped.