This recipe makes a nice addition for a cookie tray and other desserts. The contrast between the tart cranberries and sugary coating just pops in your mouth. The berries are steeped in hot sugar syrup to tame their tangy bite. When entertaining, serve these in place of nuts. For gift-giving, package in parchment-lined tins. Present with a small bottle of the reserved cranberry cooking syrup for the recipient to use as a cocktail mixer.
We want to help prevent food waste and show you ways to use what we call misshapen or ugly produce.
Join our Ugly Produce is Beautiful℠ Educational Campaign, helping to bring awareness to our Nation's enormous food waste problem. This recipe shows you how to use ugly produce in beautiful and delicious ways!
CANDY RECIPE HELP

This recipe is used as a garnish with the ​Pumpkin Cheesecake Tart with Cranberry Gelée

If you can't find superfine sugar, make your own by pulsing granulated sugar in a food processor, fitted with a steel blade, for a minute. However, doing so, may scratch the inside of your processor's bowl.
INGREDIENTS
1 cup sugar
1 cups water
2 cups fresh cranberries, rinsed

3/4 cup superfine sugar
INSTRUCTIONS
1. Combine 1 cup sugar and water in a small saucepan over low heat, stirring mixture until sugar dissolves.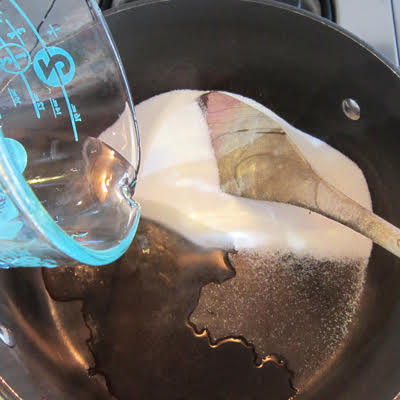 2. Bring to a simmer; remove from heat. (Do not boil or the cranberries may pop when added.)
3. Put cranberries in a medium bowl and pour the syrup over them. Cover and refrigerate 8 hours or overnight.

4. Drain cranberries in a colander over a bowl, reserving steeping liquid, if desired.

5. Place superfine sugar in a shallow dish. Add the cranberries, rolling to coat with sugar. Some of the steeping liquid clings to the berries and helps the sugar adhere.



6. Spread sugared cranberries in a single layer on a baking sheet; let stand at room temperature 1 hour or until dry.

STORAGE
Store sugared cranberries in an airtight container in a cool place for up to a week.
Store seeping liquid in an airtight jar in the refrigerator for up to a week or two.