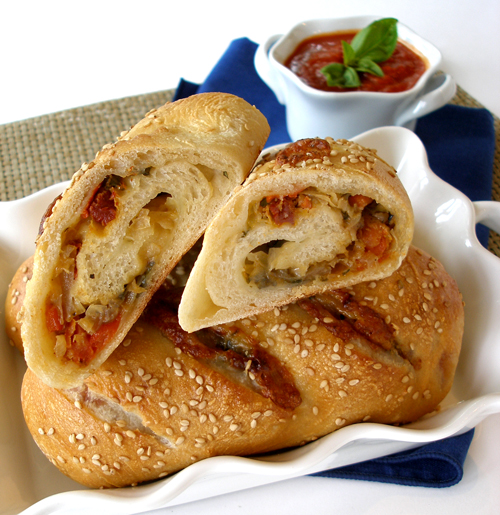 Stromboli is a type of turnover in which cheeses, meats, and/or vegetables, such as mozzarella, salami, and capicola, are rolled up in bread dough, shaped into a loaf, and baked. It is typically made with an Italian bread dough, such as pizza dough, so we decided to make our own version using our Artisanal Pizza Dough because it imparts a lot flavor and is easy to work with. Stromboli are sometimes made as one large loaf which is then sliced, but we decided to make individual portions, which are easier to tuck into a lunchbox. Serve the stromboli with a small bowl of marinara sauce for dunking.
BREAD RECIPE HELP
You can also make them ahead and freeze, if desired.
INGREDIENTS
1 recipe Artisanal Pizza Dough, Steps I and II. Then follow here with Step I, below

Filling:
Marinated Roasted Red Pepper Strips:
3 red peppers, roasted and cut into strips; NOTE: You may also use jarred roasted red peppers if you like but the taste of freshly roasted peppers is far superior. Save the juice for the marinade.
Reserved juice from the roasted red peppers or olive oil
salt (about 1/4 teaspoon) and pepper to taste
1 clove of garlic, slivered
Caramelized Onions:
2 medium onions, sliced
2 teaspoons olive oil

1/2 of an 8.5 oz. jar of whole or julienne sliced oil-packed sun-dried tomatoes, about 1/2 cup

1/4 cup chiffonade of fresh basil; chiffonade (cut into thin strips) and then measure

6 slices Provolone cheese
3 tablespoons grated Parmesan cheese
Salami, pepperoni, sliced meatballs or sausage, optional
Egg wash:
1 large egg
1 tablespoon water

Sesame seeds, optional

INSTRUCTIONS
STEP I: PREPARE THE STROMBOLI FILLINGS
While the dough rises, prepare the fillings.
You can fill them with whatever you like, but make sure the filling is not too wet, or the stromboli may bake up soggy.

1. Wash the peppers and place them on a hot gas or charcoal grill.
SARAH SAYS: You can also roast them on a gas stovetop or in the oven.



2. Grill them, turning them with tongs, until the skin is charred on all sides.
SARAH SAYS: When we say charred, we mean black!


3.Remove the peppers from the grill and place them in a bowl.
Cover the bowl and let them steam, until they are cool enough to handle, approximately 20 minutes.
NOTE: While you wait for the peppers to cool, you can prepare the rest of the filling ingredients.



4. Remove the cooled peppers to a plate.

5. Strain the liquids left in the bowl through a sieve, collecting them in another bowl.

6. Then remove the skin from the peppers. it should come off very easily.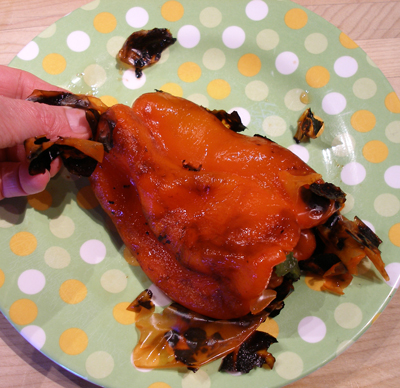 7. Cut the top off the peppers and pour any accumulated juices back into the bowl.
Tear the pepper open and remove the seeds.


8. Cut the peppers into strips.



9. Put the pepper slices in the bowl with the reserved pepper liquids, and season to taste with salt and pepper.
Add one slivered clove of garlic to the peppers and stir until everything is combined.
Set peppers aside to marinate at room temperature.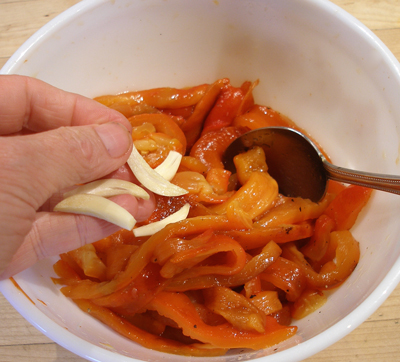 For the Caramelized Onions:
1. Peel onions and slice thinly.



2. Put the olive oil in a large skillet, and add the onions. Add a pinch of salt and a few grinds of black pepper.
Sauté on medium low heat, stirring often, so the onions brown evenly. This should take about 20 minutes.
Do not neglect the stirring, because their caramelization can go from perfect to burnt very quickly!


3. Spread the onions out on a large plate, in a thin layer, to cool.



For the Sun-Dried Tomatoes:
1. Strain the oil out of the tomatoes. If your sun-dried tomatoes are whole, cut them into thin strips, about 1/2 cup.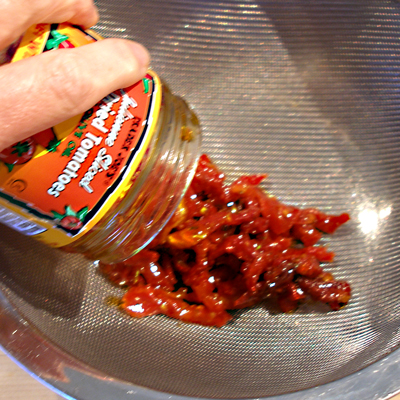 2. Put the strips out on a paper towel lined plate, to drain.



For the Chiffonade of Basil:
1. Wash the basil, then stack the individual leaves on top of each other, then roll the stack into a cylinder. Slice in thin strips, and measure 1/4 cup.
This is called a chiffonade of basil.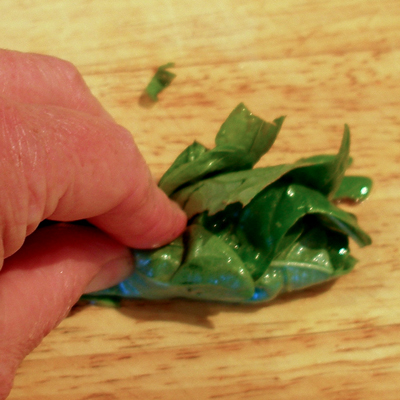 STEP II: SHAPE THE STROMBOLI
Resume with the Artasinal Pizza Dough Recipe here, after completing 1 recipe Artisanal Pizza Dough, Steps I and II.
1. Flour your work surface and sprinkle a little flour on the top of your bowl of risen dough.
This is to insure that your hand doesn't stick to the dough, as it is a rather soft dough.



2. Gently deflate the dough and turn it out onto your work surface.



3. Cut the dough in half, straight down with a bench scraper. Place one half back into the bowl and cover it with the plastic wrap while you work with the other half.
SARAH SAYS: You can use a kitchen scale to help you cut even pieces.



4. Cut the portion of dough you are working with in half with a bench scraper.
Cut each half into three portions, making 6 pieces of dough.



5. Roll out one portion, keeping the others covered with a kitchen towel, into a 7- x 6-inch rectangle.



6. With one 6-inch edge facing you, place one slice of Provolone cheese in the center of the rectangle.



7. Place three strips of red pepper accross the cheese, making sure they do not go off the edges of the dough.



8. Sprinkle about a loose teaspoon of basil over the peppers.



9. Sprinkle on about a tablespoon and a 1/2 of caramelized onions.



10. Scatter some sun-dried tomatoes over the onions. Use these sparingly, because they have a very concentrated flavor.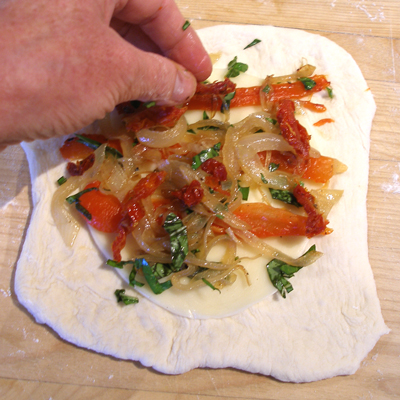 11. Sprinkle on about a 1/2 teaspoon of Parmesan cheese, a small pinch of salt and pepper.



12. If you want to add some meat to your stromboli, you can add it now.
I added two slices of salami.



13. Roll up the stromboli, jelly-roll fashion, starting on the short side.
Pinch the seam together well, so the contents do not pop out of the roll while baking.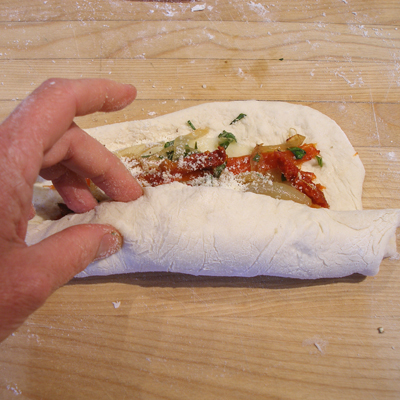 14. Pull up the edges of the roll, on each side, and pinch the dough together to seal.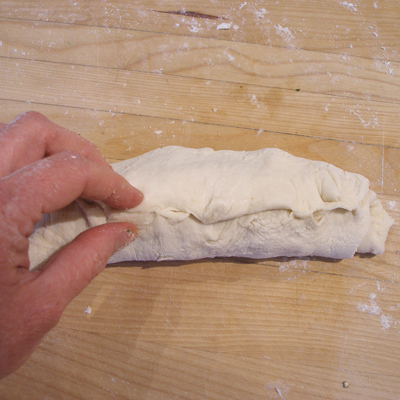 15. Gently roll the stromboli back and forth on the counter to create a neat roll.



16. Place the roll, seam side down, on a silpat or parchment-lined baking sheet and cover it with a kitchen towel.
Repeat the step with the rest of the dough.
Six stromboli will fit on one sheet, so you will need two baking sheets to make the 12 stromboli.



17. Still covered with kitchen towels, let the stromboli rise for 30 minutes.

STEP III: PREHEAT THE OVEN AND BAKE THE STROMBOLI
1. While the stromboli rise, preheat the oven to 375 degrees F, for at least 30 minutes.

2. Beat the egg and water together with fork to combine. This makes an egg wash.



3. Remove the towels from the stromboli and brush the risen dough with the egg wash.



4. Cut three shallow diagonal cuts across the stromboli with a bakers lame (a very handy little tool!) or with the tip of a single edged razor.
This is called slashing.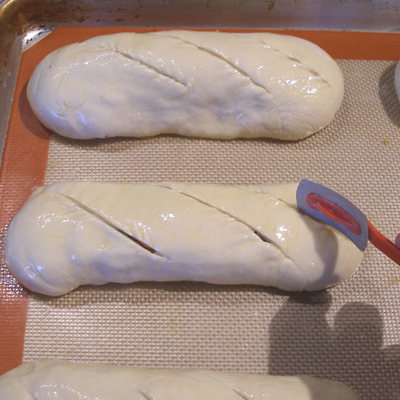 5. If desired, sprinkle the stromboli with sesame seeds.



6. Bake stromboli for 20-25 minutes, or until they are golden brown. Remove to a wire cake rack to cool slightly.



SERVE
Serve hot or warm with a little marinara on the side for dipping.

STORAGE
You can make them ahead and freeze, well wrapped, for a month. Thaw in the refrigerator in their wrappers.
For general storage, keep refrigerated for a few days, well wrapped.
To reheat, put them in the toaster oven, uncovered, at 200 degrees F for about 8 minutes.