Spiced Walnut Maple Sour Cream Bundt Cake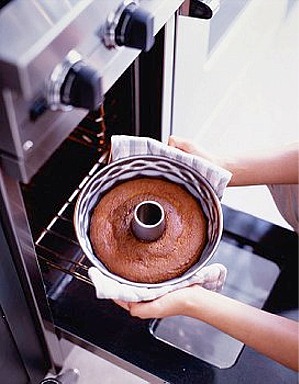 stock photo
The cake portion of the recipe is adapted from the Williams-Sonoma site. This is one of my all-time favorite cakes! The amount of batter used original recipe caused overflow. So I made note here to reserve about 1/2 cup batter and bake the leftover in a muffin tin. I like to serve my cake with an apple pie filling type of conserve spooned over the sliced pieces, and have included a recipe.
CAKE RECIPE HELP
INGREDIENTS
Cake:
3 cups plus 2 tablespoons sifted bleached cake flour (not self-rising); sift onto a piece of waxed paper and spoon flour into a dry measuring cup. Then level to rim
1 1/2 teaspoons baking powder
1 teaspoon baking soda
1 teaspoon ground cardamom
1/2 teaspoon ground cinnamon
1/4 teaspoon ground ginger
1/4 teaspoon salt

18 tablespoons (2 1/4 sticks or 1 cup plus 1/8th of a cup) unsalted butter
1 3/4 cups plus 2 tablespoons sugar
5 large eggs

1 cup finely ground walnuts; I run them through the food processor until they are like fine crumbs, a blender will do the same thing
1 teaspoon vanilla extract

1 cup sour cream; use regular sour cream not low-fat or fat reduced

Maple glaze:
1/2 cup pure maple syrup

1/2 cup finely chopped toasted walnuts
NOTE: to toast, place walnuts in a shallow baking dish or a pie plate and toast in a pre-heated oven. I usually pre-heat to about 350 degrees F. Check after about 10 minutes, you will be able to see if they are ready, they darken slightly and have a more strong aroma and taste.

Confectioners' sugar for dusting - optional

INSTRUCTIONS
Cake:
1. Position a rack in the lower third of an oven and preheat to 325 degrees F. (I bake all bundt cakes on the center rack but all ovens are different).
NOTE: I position the oven rack at center of oven. - A lot depends on the particular pan you are using, how high the pan is and how close it is to the top element. So you may have to experiment with positioning of oven racks. With the very deep pans, you are likely better off baking in the lower third of the oven but for pans like the rose pan, pansy pan and fleur de lis, the middle works for me.

Grease and flour a 10-cup Bundt pan.
SARAH SAYS: For best results, grease pan with shortening and dust with flour such as Wondra enabling you to see the intricate details of the pan. Nonstick vegetable oil is fine to use.
Avoid sprays with lecithin because it promotes a gummy layer build up on the pan. Bakers' Joy, a nonstick spray with flour is recommended.

2. Sift together the sifted and measured flour, baking powder, baking soda, cardamom, cinnamon, ginger and salt; set aside.

3. In the bowl of an electric stand mixer fitted with the paddle attachment, beat the butter on medium speed until creamy, 35 to 45 seconds.

4. Add the sugar and continue beating, scraping the sides of the bowl as needed, until light and fluffy, 5 to 6 minutes. The time is important as this makes your cakes lighter and fluffier.

5. Add the eggs 1 at a time, beating well after each addition and scraping down the sides of the bowl, until blended.

6. Reduce the speed to low, and add in the ground walnuts and vanilla until blended.

7. Add the flour mixture in 3 additions, alternating with the sour cream and ending with the flour. Blend each addition until just incorporated and continue scraping down the sides of the bowl. Do not overmix or the cake will be dry.
Once your flour is added to wet ingredients, you want to limit the time spent mixing or you will over-develop the gluten in the flour.

8. Spoon the batter into the prepared pan, spreading the batter so the sides are higher than the center.
NOTE: I reserve about 1/2 cup batter and bake separately in a muffin tin as I find otherwise it overflows into the oven.

9. Bake the cake for 40 to 50 minutes, or until the cake begins to pull away from the sides of the pan. Check with a toothpick; Insert and remove - it should come out with a few moist crumbs but not wet with batter. Do not overbake.

10. Transfer the pan to a wire rack and let the cake cool upright in the pan for 15 minutes. Meanwhile, make the glaze

Maple glaze:
1. In a saucepan over medium heat, bring the maple syrup to a boil.

2. Reduce the heat to medium-low and cook until the syrup is reduced to 1/4 cup, 5-6 minutes.

Finish the cake and serve:
1. Tap the Bundt pan gently on a work surface to loosen the cake. Set the rack over a sheet of waxed paper, invert the pan onto the rack and lift off the pan.

2. Using a pastry brush, brush the warm cake with the glaze. Sprinkle with toasted nuts.

3. Let the cake cool completely, at least 2 hours, before serving.

STORAGE
Cake can be stored at room temperature for a few days. Cake freezes nicely for a month or more.

SERVING SUGGESTION
APPLE PIE TOPPING
I usually double this recipe to serve all servings of cake.
INGREDIENTS
1/3 cup orange or lemon juice
1/4 cup sugar
1 teaspoon cornstarch
4 apples, peeled and cored and sliced thinly, quite thinly
1/4 cup dried cranberries (craisins) or raisins
1 teaspoon cinnamon
water, if needed

NOTE: Also, the sugar or sweetener can be increased as per taste but must be increased at the beginning of the recipe, not as the apples are cooking.

INSTRUCTIONS
In a large saucepan, combine juice with sugar and cornstarch until smooth. Stir in apples, dried fruit and cinnamon.
Cook over medium heat, stirring occasionally for about 7-9 minutes or until apples are tender and sauce is slightly thickened. I find you need to add more water as you go along.
Serve warm or at room temperature.

STORAGE
I store in the refrigerator for several days. Drizzle a spoon of this topping over sliced cake. If you like, a dollop of whipping cream may be scooped over.