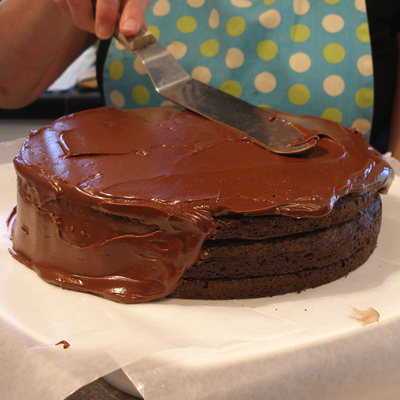 Thick, rich and chocolaty! This frosting can also be made the day before. You'll be surprised at some of our ingredients and what they do, and why we have to combine them in a certain sequence to make this recipe a success.
FROSTING, ICING, ETC HELP
Recipe used with the:

Brooklyn Black-Out Cake Recipe Tutorial
We use hot water to thin the icing rather than milk. Milk will dull the chocolate flavor in a recipe, whereas water will not. But it must be added to the recipe after the butter has been added to the chocolate, otherwise the chocolate will seize. The corn syrup will add the glossy finish to the recipe, and help with its flow control. Always add in the vanilla extract very last, after the chocolate has melted and been combined with liquid ingredients, for a fuller flavor and so it won't seize.
INGREDIENTS
12 ounces semisweet chocolate, chopped
12 tablespoons (1 1/2 sticks) unsalted butter
1/2 cup hot water
1 tablespoon light corn syrup
1 tablespoon vanilla extract

INSTRUCTIONS
1. Melt the chocolate in a double boiler over hot, not simmering, water, stirring until smooth.



2. Remove the top of the double boiler from the heat and whisk in the butter to the melted chocolate, one tablespoon at a time.
Return the top to the heat, if necessary, to melt the butter.



3. Whisk in the hot water all at once and whisk until smooth. Whisk in the corn syrup and vanilla.



4. Cover and refrigerate for up to 25 minutes before using to allow it to stiffen slightly; stir at 10 minutes, then 20 minutes and when removed it at 25 minutes, it was perfect.

STORAGE
Refrigerate for a few days. Let soften at room temperature before using.