Rich and fluffy, and perfect for the fall season, we use Pumpkin Spice Mousse to fill our crispy Chocolate Pumpkin Spice Latte Dessert Tacos! The flavor is out of this world. We use gelatin to help stabilize the mousse, so it holds up well as a filling piped from a piping bag. It can also be spooned into individual dessert glasses and served with a dollop of whipped cream and crisp cookies. Or, use this spiced mousse to fill a prebaked 9-inch pie crust for a lovely mousse pie. Find out below how we make this recipe safe for anyone to eat.
PUDDING RECIPE HELP
In this recipe, I show you how to cook the egg yolks to pasteurize them and render them safe from salmonella poisoning. Do keep in mind that the mousse is still perishable and needs refrigeration.
INGREDIENTS
1 (15-ounce can) or 1 3/4 cups plus 2 tablespoons solid pack pumpkin (not pie filling)
1 cup sugar
2 large egg yolks
1 teaspoon grated orange zest
1/2 teaspoon ground cinnamon
1/4 teaspoon ground nutmeg
1/2 teaspoon salt
1 teaspoon vanilla extract

1/4 cup dark rum or water
1 packet (2 teaspoons) unflavored gelatin powder

1 1/2 cups cold heavy cream
1 1/2 teaspoons pure vanilla extract

INSTRUCTIONS
STEP I: COOK THE PUMPKIN MIXTURE
1. In a heavy-bottomed pot, whisk together the pumpkin, sugar, egg yolks, and orange zest.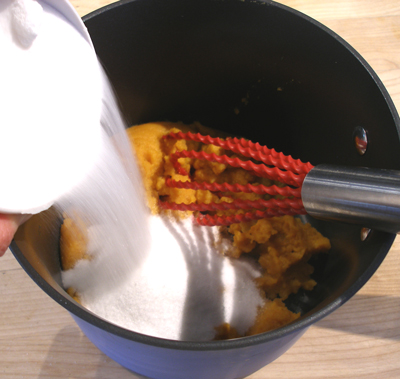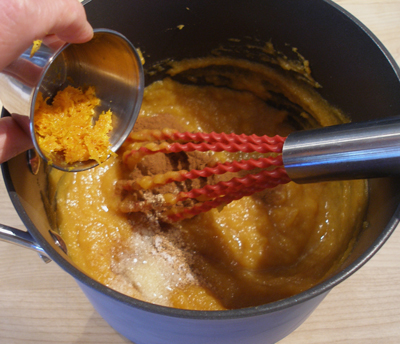 2. Add in the cinnamon, nutmeg, and salt, and whisk until smooth.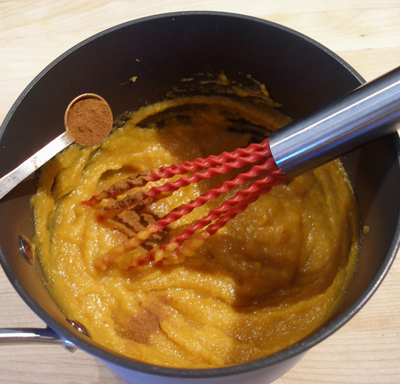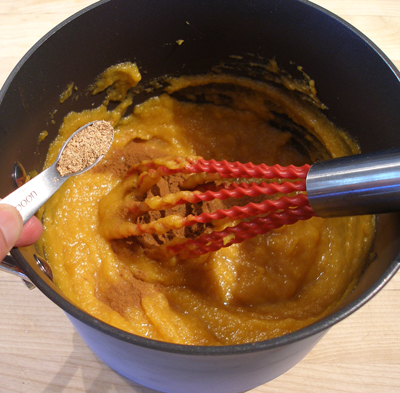 3. Cook on low heat for 5-7 minutes, stirring often, until the mixture reaches 160 degrees F, or higher, measured with an Instant Read Thermometer, and bubbles at the edges.
SARAH SAYS: This step will pasteurize the egg yolks, rendering them safe from Salmonella poisoning.

4. After cooking, cool quickly by setting the pan in ice or cold water and stirring for a few minutes.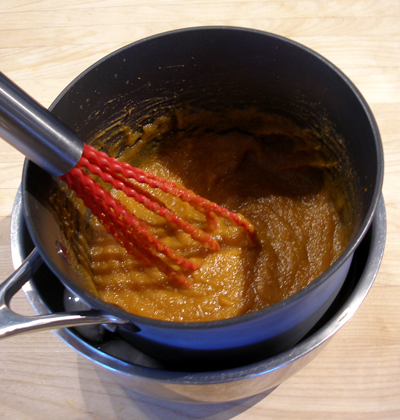 5. Optionally, strain pumpkin mixture through a fine mesh strainer into a medium size bowl. Stir in vanilla extract. Set aside.

STEP II: PREPARE AND ADD THE GELATIN
1. Place the rum in a heat-proof bowl and sprinkle the gelatin over it. Set aside for 10 minutes for the gelatin to soften.



2. Microwave the gelatin mixture for for 20-30 seconds, or until the gelatin has fully melted.
SARAH SAYS: Another way is to set the bowl of gelatin over a pan of simmering water and cook until the gelatin is clear, or it has fully melted.

3. Immediately whisk the hot gelatin mixture into the pumpkin mixture.



STEP III: BEAT THE WHIPPING CREAM, AND FOLD TOGETHER WITH THE GELATIN STABILIZED PUMPKIN MIXTURE
1. In the bowl of an electric mixer fitted with a whisk attachment, whip the heavy cream and vanilla until soft peaks form.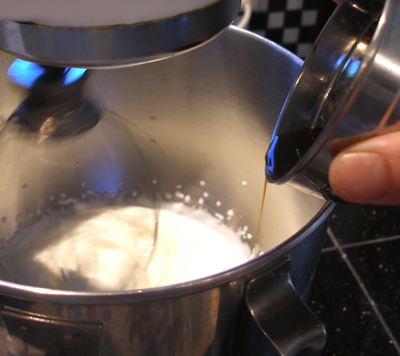 2. First, add about 1/3 of the whipped cream first, then fold to lighten the mixture.



3. Then add the rest of the whipped cream, in two portions, and fold each until combined.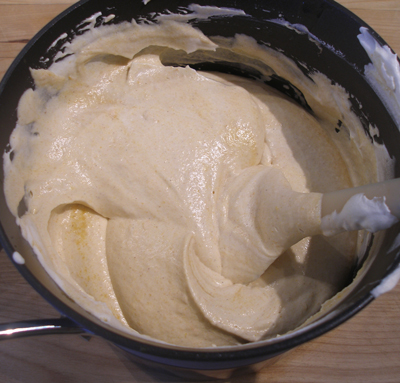 STORAGE
Cover with plastic wrap and refrigerate for 4 hours or overnight.
NOTE: If filling a prebaked pie or tart shell, pour the freshly made mousse into the shell, and then cover and refrigerate for 4 hours or overnight before serving.



Mousse must be kept refrigerated where it will keep for about 3 days or more. It does not freeze well.