Recipe by Sarah Phillips and Kelly Hong; Food styling and photos by Kelly Hong © 11-9-2015 Sarah Phillips CraftyBaking.com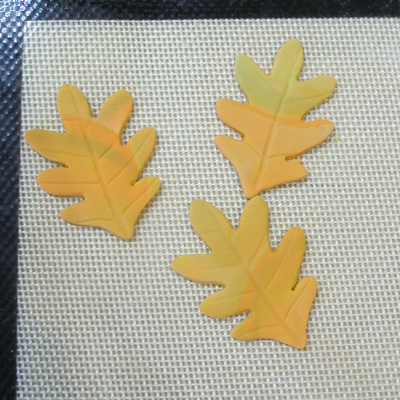 Fall leaves are so colorful, and we show you how to make ours for cake decorating with White Chocolate Wrapping Paper or Plastic or fondant - either Marshmallow Fondant (MMF) or Rolled Fondant. (You can use ready made fondant).
We made our Cranberry Orange Spice Bundt Cake recipe even more festive and "dressed for the holidays", by topping it with these marbled leaves. Make them at least the day before needing as decorations.
FROSTING, ICING ETC RECIPE HELP / CAKE DECORATING HELP
INGREDIENTS
8 ounces of either White Chocolate Wrapping Paper or Plastic or Fondant - either Marshmallow Fondant (MMF) or Rolled Fondant (or ready made), to top the Cranberry Orange Spice Bundt Cake recipe, allowing for possible breakage.
1 medium sized leaf cutter from this Wilton set. It is about 3 1/2-inches long:
1 plunger cutter, for the smaller leaves. You can use any 2-inch leaf cookie cutter, since I did not use the plunger to impress the leaves:
1 leaf veining mat to emboss the leaves
Gel paste food colors: orange, yellow, green
cornstarch
fondant roller
nonstick mat
INSTRUCTIONS
1. Divide your white chocolate wrapping paper or plastic or fondant into three portions and color one section orange, one yellow and the last green.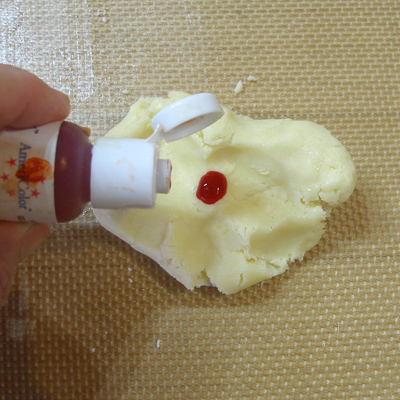 2. To make the marbled leaves, put several small blobs of each color on a silicone mat dusted with a little cornstarch, and press them together.

3. Briefly knead the colors together until you get a marbled effect.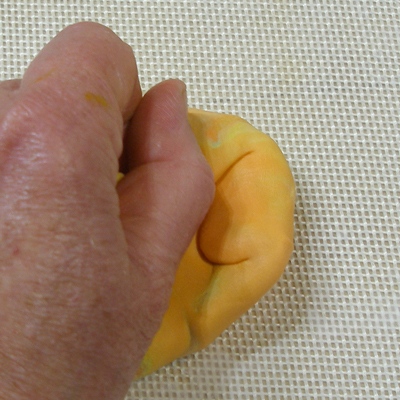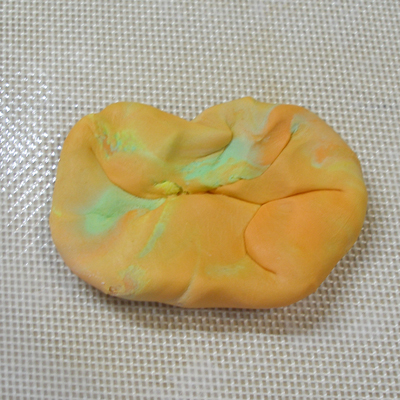 4. Roll out a small amount of the marbled chocolate wrapping paper or plastic or fondant out very thin, keeping the unused portion covered with plastic wrap.
Then cut the leaves out, leaving as little scrap as possible.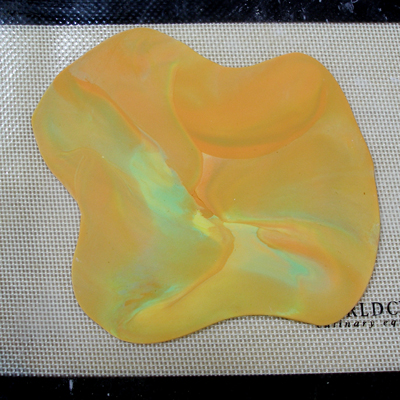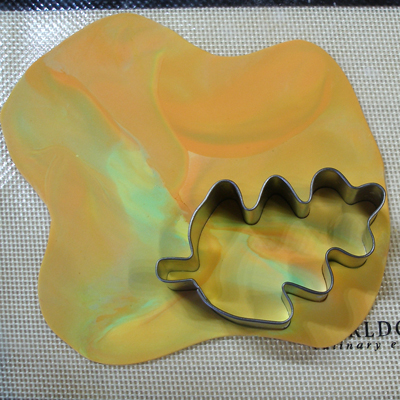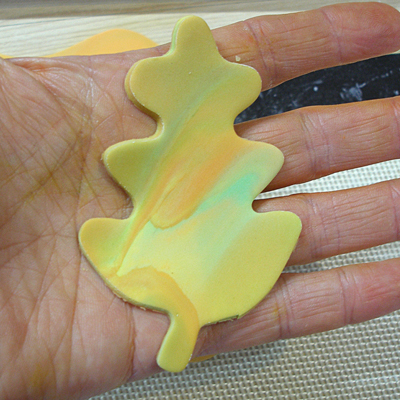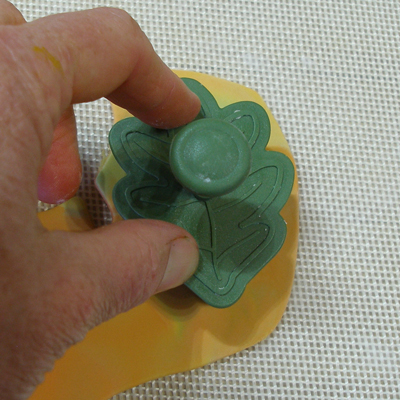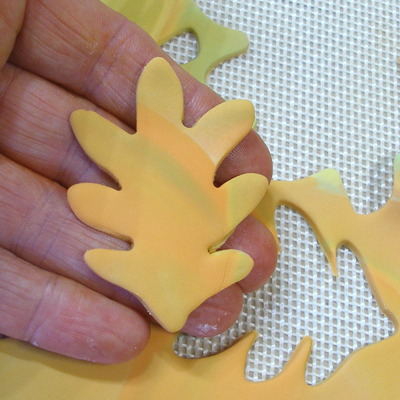 5. Look at each leaf and determine the prettiest side.
Place the leaf on the texture mat, pretty side DOWN.
GENTLY roll over the back of the leaf to texture, being careful to keep the leaf in place.
If the leaf shifts, the texture will not look as realistic.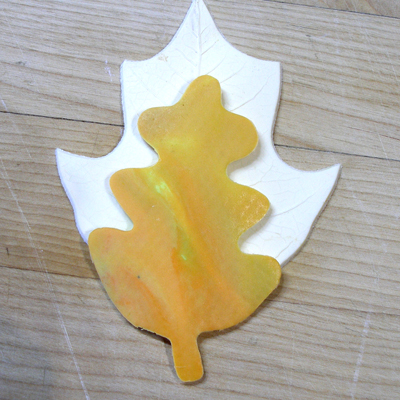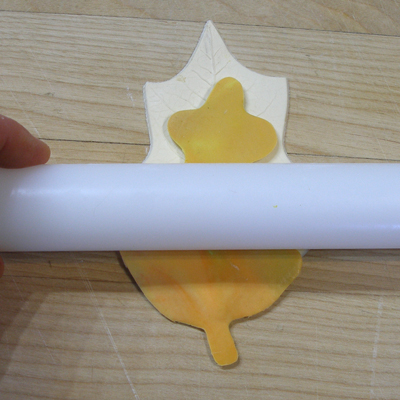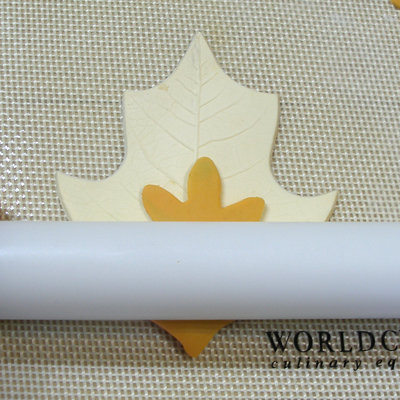 6. Peel the mat off the leaves to reveal the texture.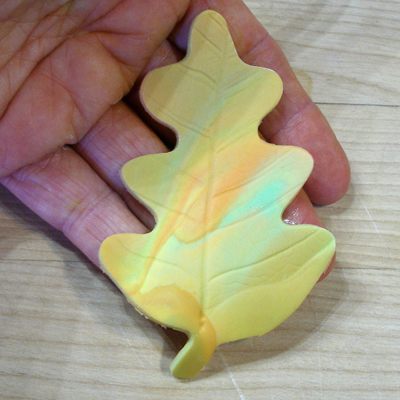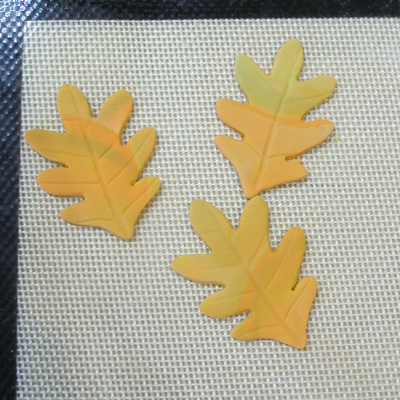 7. Shape the leaves on an inverted egg carton, to make them look more realistic, using small wads of paper towel to help mold the shape.
8. Let the leaves dry for several hours, or preferably overnight, so the shape remains when you place them on the finished cake.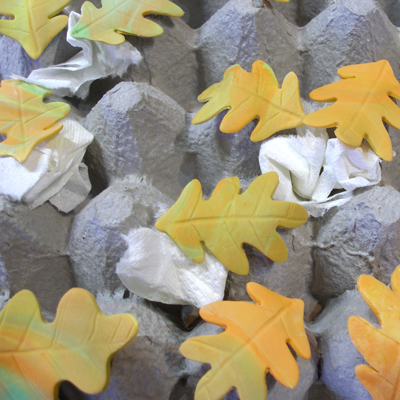 SERVE
Arrange the leaves on the top of the fully cooled glazed Cranberry Orange Spice Bundt Cake recipe.

STORAGE
The Marbled Leaves will keep for a month or more, in an airtight container, at room temperature. If layering in a box, lay wax paper in between leaves.