Recipe by Sarah Phillips; Food styling and photos by Kelly Hong © 2012 Sarah Phillips CraftyBaking.com

Potato starch is used to thicken this lemon curd. Its main advantage over other starch thickeners is that it's a permitted ingredient for Passover, unlike cornstarch and other grain-based foods.
FROSTING, ICING, ETC RECIPE HELP
Liquids thickened with potato starch should never be boiled because it will loose its power to thicken.
INGREDIENTS
8 large egg yolks
3/4 cup sugar
1/2 cup plus 2 tablespoons, freshly squeezed lemon juice
3 tablespoons lemon zest
1 pinch of salt
1 teaspoon potato starch
8 tablespoons (1 stick) margarine, cut into 12 pieces
NOTES:
Always zest a lemon, or remove its peel before squeezing it for its juice!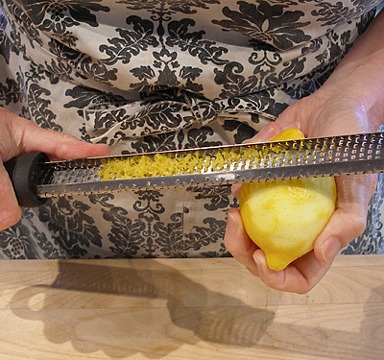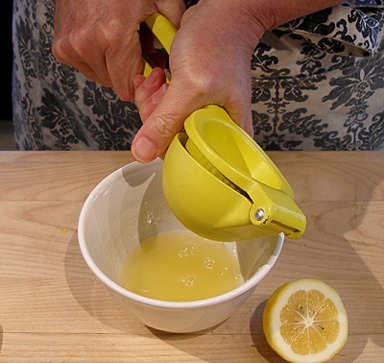 Always strain the juice to remove any seeds before using: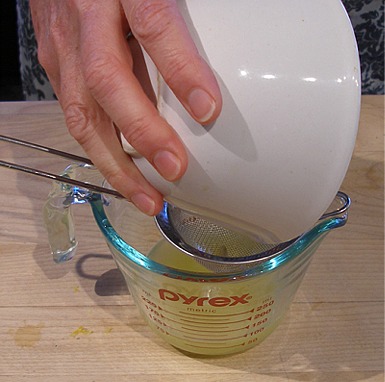 KELLY CA SAYS: I love to use the Meyer Lemons, freshly picked from my backyard tree, for this recipe. But, you can use regular lemons, instead!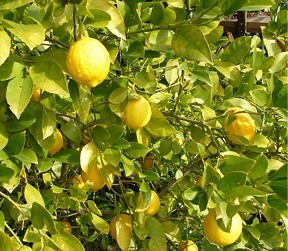 Kelly's Dwarf Meyer Lemon Tree is a mere 4 1/2 feet tall and it must have at least 100 beautiful lemons on it right now.
If you have never had Meyer Lemons, you are really missing out! They are sweeter than grocery store lemons and have a wonderful complex flavor.

INSTRUCTIONS
1. Have a strainer, suspended over a bowl, ready near the stove.
2. In a heavy noncorrosive saucepan, beat the egg yolks and sugar with a wooden spoon until well blended.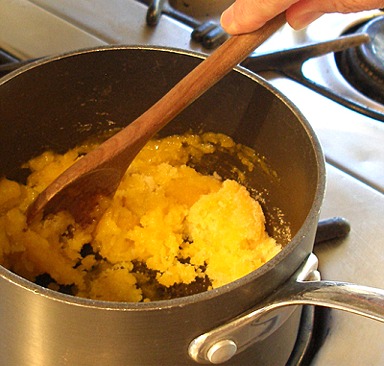 3. Stir in the lemon juice, lemon zest, salt and potato starch.
SARAH SAYS: I like cooking the zest in the curd for more flavor, and then, straining it from the curd at the end, for a smoother consistency.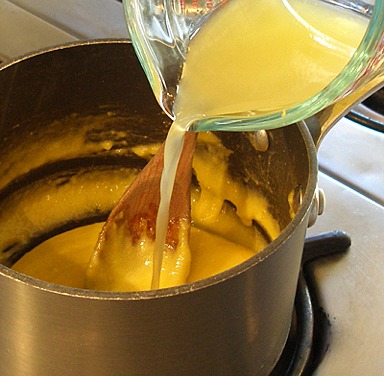 4. Cook over medium heat, stirring constantly, for about 10 minutes, until thickened and resembling hollandaise sauce, which thickly coats a wooden spoon but is still liquid enough to pour. The mixture will steam.

SARAH SAYS: The mixture will change from translucent to opaque and begin to take on a yellow color on the back of a wooden spoon.
The mixture will steam. It must not be allowed to boil or it will curdle. It will steam above 140 degrees F. Whenever steaming occurs, remove the pan briefly from the heat, stirring constantly to prevent boiling.)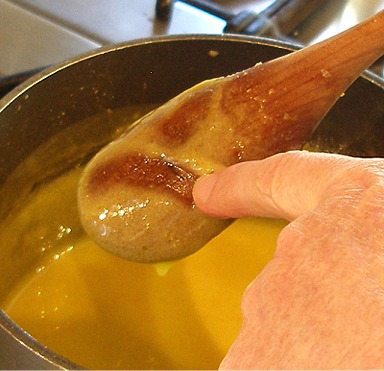 5. When the curd has thickened, pour it at once into the strainer set over a large bowl.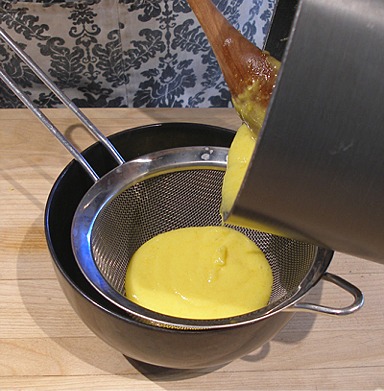 Press it with the back of a spoon until only the coarse residue remains and discard.

6. Let the mixture cool to body temperature - about 98 degrees F.
Whisk in the
margarine,
one piece at a time with an immersion blender or quickly, with a wire whisk until well blended.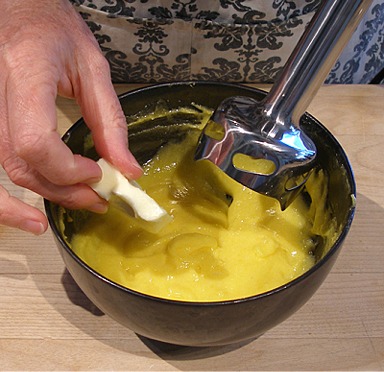 Make sure you really whisk in the margarine quickly, otherwise the curd will be greasy.

NOTE: Lemon curd thickens considerably upon cooling.

STORAGE
SARAH SAYS: Press a piece of plastic wrap on its surface and cut 6 small steam vents in the plastic to cool. Refrigerate the curd, preferably overnight, to thicken. Then, it can be frozen.

Store in the refrigerator in a covered container and consume within 1 week. Lemon curd can be frozen for up to 1 month without quality changes when thawed.
To thaw, move the container from the freezer to a refrigerator for 12 - 24 hours before intended use.