Recipe by Sarah Phillips and Kelly Hong; Food styling and photos by Kelly Hong © 2009 Sarah Phillips CraftyBaking.com

Key lime tart without meringue and photo by Orange Piggy © Sarah Phillips

Kelly went on a pie baking binge for a party and baked many of our pie recipes.
Kelly Says: I used the same crust for ALL the pies. I made them all ahead of time, patted them into disks, wrapped them in plastic wrap and stashed them in the fridge, that way, when I was ready to bake, I was all set to go!
The recipe I baked are:
1. Libby's Classic Pumpkin Pie
2. Blueberry Crumble Pie, Step-by-Step
3. Cherry Pie and Lattice Top Tutorial
4. Apple Galette was a variation of the Fresh Peach Galette Tutorial
5. And, this recipe, Key Lime Meringue Pie
PIE RECIPE HELP
To help prevent weeping meringue, a common problem with these types of pies and tarts, the meringue should be spread on a hot filling and spread to cover the crust's edges.
This also helps prevent shrinkage of the meringue.
Also, cooking the meringue, as I do in this recipe, also helps prevent weeping, because cooked egg whites tend to break down more slowly over time versus raw ones.
Nonetheless, meringue pies will tend to weep when refrigerated, so if yours does, it's normal.
INGREDIENTS
For Crust:
1 recipe How to Roll, Flute, and Prebake Pie Crust using Kelly's Food Processor Pie Crust for a 9-inch standard or 9 1/2-inch deep-dish pie; bake in a 9- or 10-inch tart pan and cool crust

Lime Filling:
1/2 cup freshly squeezed key lime, or lime juice
4 teaspoons key lime zest, or lime zest
4 large egg yolks
1 can sweetened condensed milk (14-ounces)
1/2 teaspoon vanilla extract

Meringue:
4 large egg whites
1/3 cup sugar
pinch cream of tartar
1/4 teaspoon vanilla

INSTRUCTIONS
Make the lime filling:
1. Position the oven shelf to the middle of the oven and heat the oven to 350 degrees F.

2. In a large bowl, combine the lime juice and zest, egg yolks, sweetened condensed milk, and vanilla. Whisk till well combined.

3. Pour into pre-baked pie crust and bake for about 15 minutes, or until set.

4. When filling is set, remove pie from oven and increase oven temperature to 425 degrees.

Make the meringue:
1. Put the egg whites, sugar, and the cream of tartar and vanilla extract into a heatproof bowl.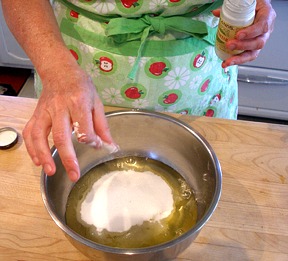 2. Set the bowl over a pan of simmering water. With a hand-held mixer fitted with beater attachments, beat on low until the sugar has dissolved and the mixture reaches 160 degrees, measured with an Instant Read or Candy Thermometer. Remove from heat.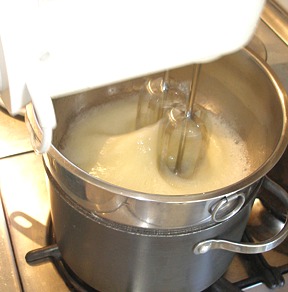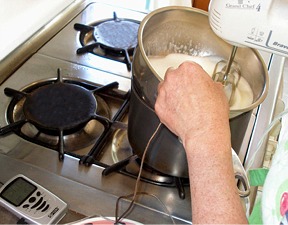 3. Beat on medium-low speed for 5 minutes.

4. Raise the mixer speed to high, and beat until stiff, glossy peaks form, about 4 minutes.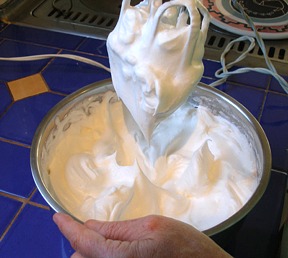 Finish the tart:
1. Immediately spread the meringue over the filling, carefully sealing to the edge of the crust to prevent shrinking or weeping.

2. Make decorative swirls and peaks with the back of a large spoon.
All the little peaks you create will be browner than the surrounding area, making the pie more beautiful, when baked.

3. Place pie back in the oven and brown meringue till the meringue tips are nicely browned. This takes only about a minute or so.



Key lime tart without meringue and photo by Orange Piggy © Sarah Phillips