Recipe by dillonsmimi, Premium Member © 2008 Sarah Phillips CraftyBaking.com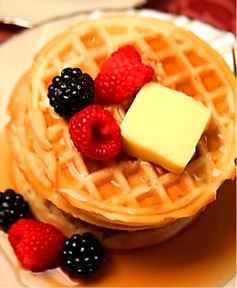 stock photo
Waffles are great for dinner or any time of the day! I went digging in the drawer that currently stores all my favorite recipes (the ones I am someday going to bind for the family). It was my mom's and of course I had to alter it slightly (vanilla). These are just darn good!
QUICK-BREAD RECIPE HELP
INGREDIENTS
2 cups unbleached all-purpose flour; spoon into measuring cup and level to rim
2 teaspoons baking powder
3 tablespoons granulated sugar
1 teaspoon salt

2 large eggs
1 cup evaporated milk
1 cup water
3 tablespoons butter, melted
1 teaspoon good vanilla extract

INSTRUCTIONS
1. In a large mixing bowl, stir together the flour, baking powder, sugar and salt. Make a well in the center,

2. In a medium size mixing bowl, whisk together the eggs a bit and add in milk, water, melted butter and vanilla.

3. With the same whisk add into the flour mixture. Go ahead and beat until no lumps remain. (This recipe doesn't follow the treat tenderly rule of quick bread)

4. Proceed as per directions on your waffle iron.