Vegan Whole Wheat Olive Oil Tart Crust
Recipe
 by Sarah Phillips and Kelly Hong; Food styling and photos by Kelly Hong © 7-27-2015 Sarah Phillips CraftyBaking.com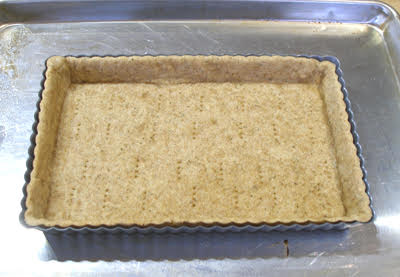 The tart crust prebaked or blind-baked
Our flavorful and healthy Vegan Whole Wheat Olive Oil Tart Crust is just perfect to use with our Heirloom Tomato Tart recipe, and there, we have included rolling instructions. We've added dried herbs to ours for more flavor, but you can certainly add spices, instead, or eliminate them all together. This pastry crust is a snap to make in a food processor, and couldn't be easier. It rolls like a charm or could be used as a pat-in-the-pan crust. Olive oil crusts are more forgiving then butter pastry crusts.
PASTRY RECIPE HELP / VEGAN VEGETARIAN RECIPE HELP
INGREDIENTS
1 cup unbleached all-purpose flour
1/2 cup whole wheat flour
1 teaspoon salt
1 1/2 teaspoons vegan sugar, optional
1/4 teaspoon baking powder
1/4 teaspoon dried basil or herbs, optional; use for a savory crust
1/3 cup extra-virgin olive oil
4-5 tablespoons water
INSTRUCTIONS
1. Place the two flours in the bowl of a food processor, fitted with the metal blade.

2. Add the salt, sugar, basil, and baking powder.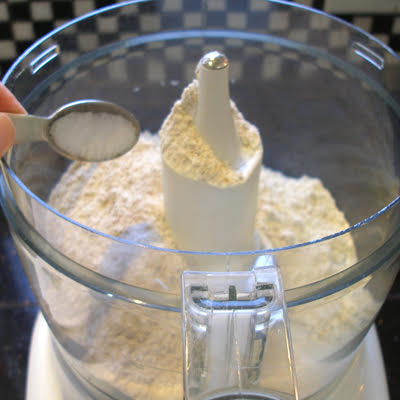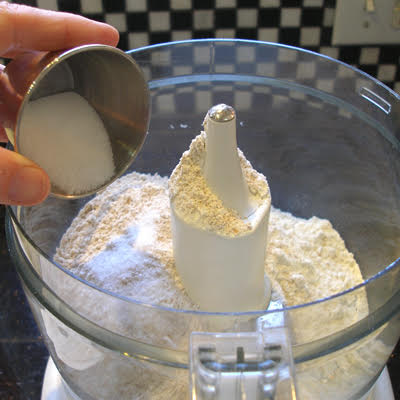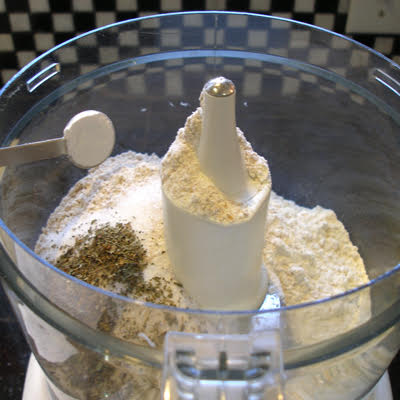 3. Put the lid on and pulse until combined.
4. Combine the olive oil and add 4 tablespoons of water, keeping one tablespoon of water aside, if needed.

5. Add the water/oil mixture through the feed tube with the machine running, then pulse a few times.
If the mixture is still dry, add the 5th tablespoon of water, a little at a time, until the dough starts to clump together.
You may not need the whole tablespoon of water.
DO NOT overmix!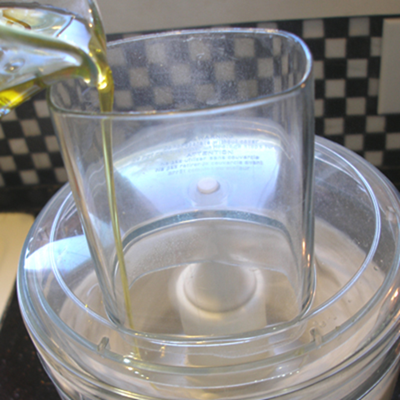 6. Form the dough into a disk, and wrap it in plastic wrap.
7. Place the wrapped dough disk in the refrigerator, and chill for at least one hour before using.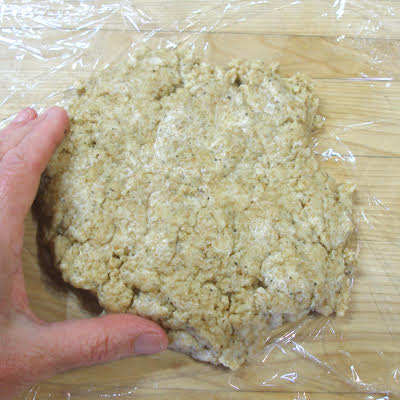 STORAGE
Keeps for two days in the refrigerator. Can freeze for a month or more, but best used within the month. Let thaw in the refrigerator before using.

The prebaked (blind baked) tart crust!