The Ultimate Apple Pie Recipe with a Rum Raisin Sauce
Recipe by Sarah Phillips; Food styling and photos by Kelly Hong © 2008 Sarah Phillips CraftyBaking.com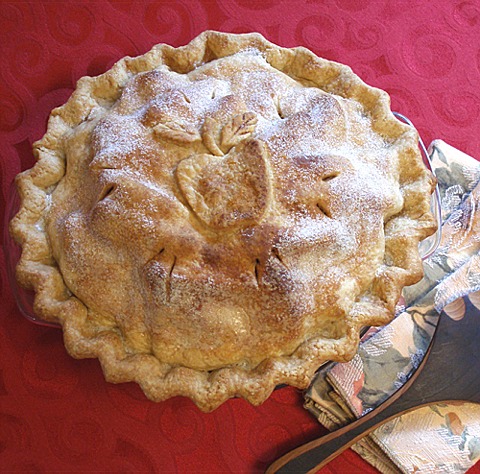 Ever been disappointed when you've cut into a tall apple pie only to find that the apples have shrunk and left a big space between the fruit and crust? Most recipes indicate that precooking the apples will help solve this problem - But, I say the problem lies with how you handle the crust and "Why, fuss?" I have discovered that the real problem is if you use too much flour and the crust is stiff and the initial oven temperature is very high, the crust sets early in the baking process and/or becomes stiff like cardboard. Then, the filling shrinks beneath, causing a gap between the filling and the crust.

I like Golden Delicious apples, which are tasty and juicy, but you can also experiment with other varieties. Honeycrisp is one of my favorites, too. For something different, serve with a Rum Raisin Sauce, below.
PIE RECIPE HELP
SARAH'S SECRETS
My apple recommendations: Granny Smith (very tart), Honeycrisp, or McIntosh (tart) or Cortland (less tart), Fuji or Pink Lady (sweeter), Jonathan (good balance) apples or mixture.
Do not use more than one or two Golden Delicious apples, great mixed with Granny Smith.
BASIC PIE DOUGH
INGREDIENTS
2 cups unbleached all-purpose flour; spoon into measuring cup and level to rim
2 tablespoons sugar
3/4 teaspoon salt
2/3 cup chilled vegetable shortening or unsalted butter, cut into 1/2-inch cubes, chilled
1/2 cup ice water, approximately

APPLE PIE FILLING
INGREDIENTS
4 pounds apples, peeled, cored, and cut into thin 1/4-inch wedges
2 tablespoons fresh lemon juice
2/3 cup packed dark brown sugar
2 - 3 tablespoons unbleached all-purpose flour
1/2 teaspoon ground cinnamon
1/2 teaspoon ground allspice
1/4 teaspoon salt
1/8 teaspoon ground cloves

6 tablespoons unsalted butter

Finishing touches:
1 tablespoon heavy cream or milk
1 to 2 teaspoons granulated or sanding sugar

NOTES:
Be sure to pack the brown sugar firmly into the dry measuring cup and level it to the rim.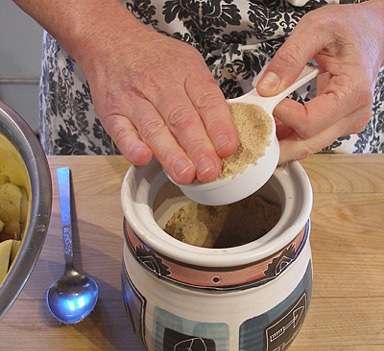 RUM RAISIN SAUCE, OPTIONAL / Recipe alone
INGREDIENTS
1/3 cup raisins
1/4 cup dark rum
1/2 cup sugar
1/4 cup orange juice or water
1 tablespoon unsalted butter
2 teaspoons cornstarch

KELLY SAYS: Seriously, I could eat that rum raisin sauce with a spoon!

INSTRUCTIONS
STEP I: MAKE THE BASIC PIE DOUGH
1. In a medium bowl, mix the flour, sugar and salt. Using a pastry blender, cut in the shortening until the mixture resembles coarse cornmeal with a few pea-sized pieces.

2. Stir in enough of the ice water until the dough is completely moistened and begins to clump together.

3. Gather up the dough and divide into two flat disks, in two-third and one-third portions. Wrap each in waxed paper and chill for 1 hour.

For old-fashioned flavor and a flaky texture, I use vegetable shortening with my apple pies. If no one is looking, I often substitute lard, which really makes a great crust.

STEP II: MAKE THE APPLE PIE FILLING
NOTES: Here's a fast and easy way I cut my apples; I do not core them!
After peeling my apples, I cut 4 slabs of apple, staying well away from the core, and then I simply cut the 4 slabs into slices. It's a lot faster, and easier than using an apple corer.

1. In a large bowl, toss the apple wedges with lemon juice.

2. Toss the apples with sugar. Mix in the flour, cinnamon, allspice, salt and cloves.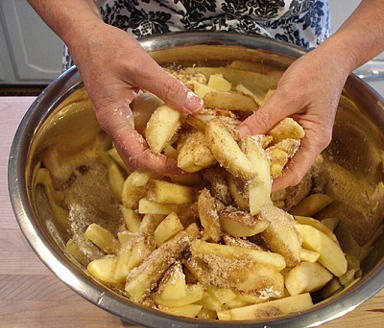 STEP II: PREHEAT THE OVEN AND ROLL THE BOTTOM PIE CRUST DOUGH. FILL THE PIE AND TOP WITH SECOND THE PIE CRUST DOUGH.
1. Place an oven shelf on the lowest rung.

Place a baking sheet or baking stone in the shelf and preheat oven to 375 degrees F.
SARAH SAYS: This gives the pie an especially hot surface to bake the pie on, and promotes a well-baked bottom crust.

2. On a lightly floured work surface, roll out the larger portion of dough into a 1/8-inch thick circle. Fit into 9-inch pie pan, trimming overhang to 1-inch beyond edge of pan.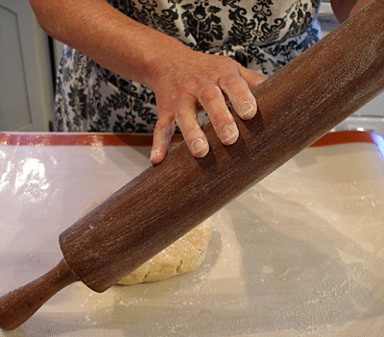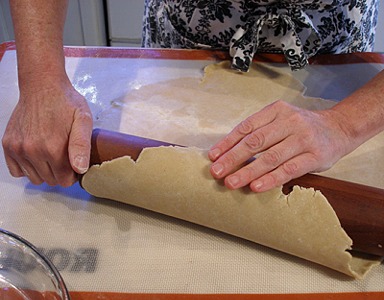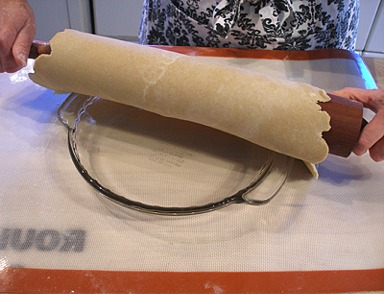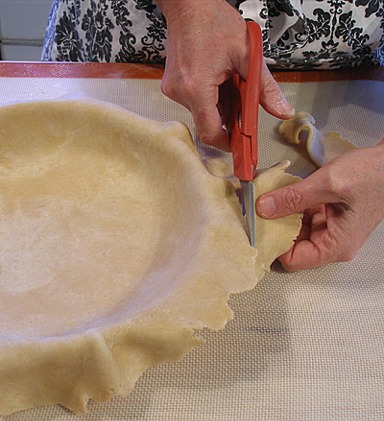 3. Fill the crust with the apple mixture. Dot with butter.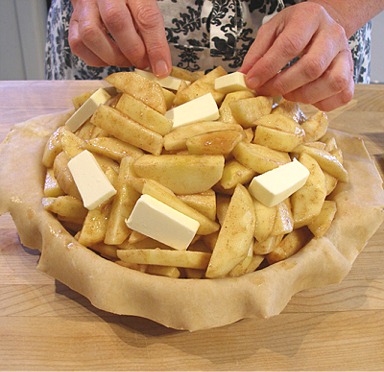 4. Roll out the remaining dough into a 1/8-inch thick circle. Fit over apple mixture to cover.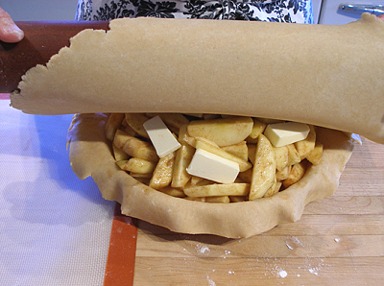 5. Trim the dough, leaving a 1-inch overhang.

6. Press the edges of the dough together and crimp the edges (flute).
Fold the top crust under the bottom crust, all the way around your pie.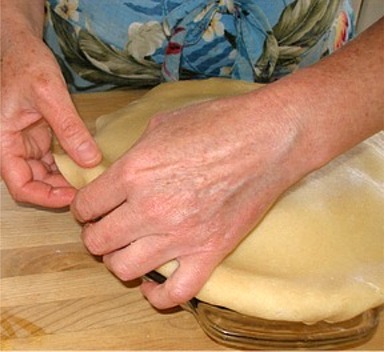 Every baker has their own crimping style, so to speak. I usually push the dough with my index finger and gently pinch with the index finger and thumb of my other hand.

7. Brush the top of pie lightly with the cream and sprinkle with the sugar. Cut several steam vents in the pie dough.

OPTIONAL
If you want to decorate the pie, for a special occasion, you may use the excess trimmed dough to make an embellishment for the top.
For an apple pie, cut out an apple shape, two leaves and a stem.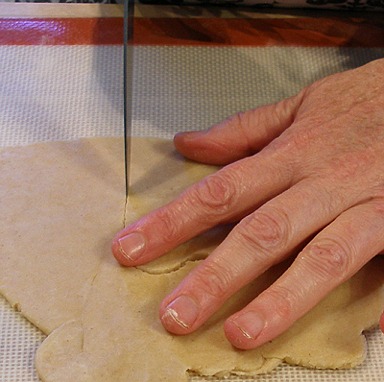 Use a paring knife to impress veins in the leaves, being sure not to cut all the way through.

Brush the top of pie lightly with the cream.
Carefully and lightly press the design on top of the pie.
Sprinkle the pie, except for the apple design, with sugar.
Then, cut the steam vents.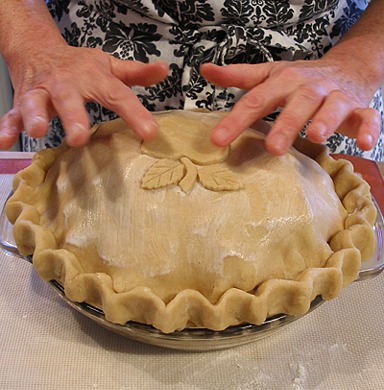 STEP III: BAKE THE PIE, MAKE THE RUM RAISIN SAUCE, SERVE AND STORE
1. Bake the pie on the preheated baking sheet until the pie crust is golden brown and the filling is bubbling through the hole (or vents),
about 1-1/4 hours.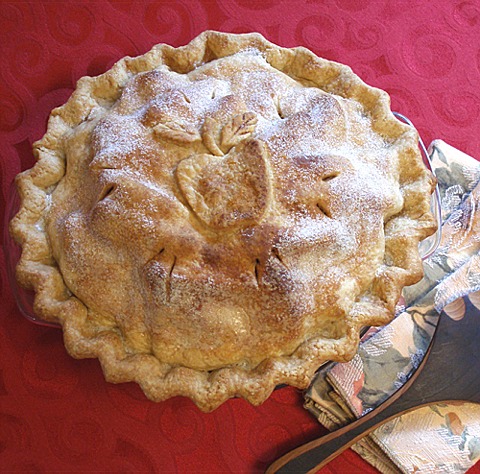 2. Cool on a wire cake rack until warm.

3. Serve warm or cooled to room temperature, optionally with rum raisin sauce.

PREPARE THE RUM RAISIN SAUCE
1. While the pie is baking, prepare the rum raisin sauce.
Combine the raisins and rum in a small bowl and let stand 20 minutes.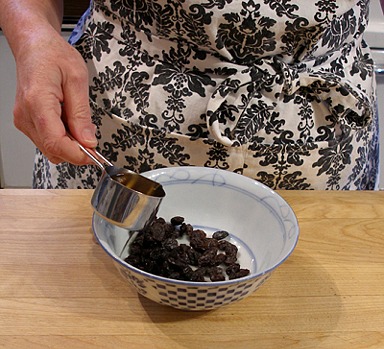 2. In a small saucepan, over medium heat, combine sugar and 1/4 cup water and stir until mixture comes to a boil.
Boil 5 minutes and remove from heat.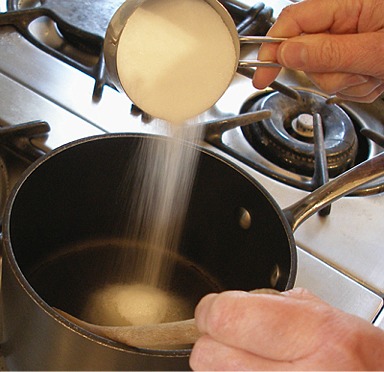 3. Dissolve the cornstarch in orange juice.

4. To the boiled sugar mixture, stir in the orange juice / cornstarch mixture, raisin / rum mixture, and butter.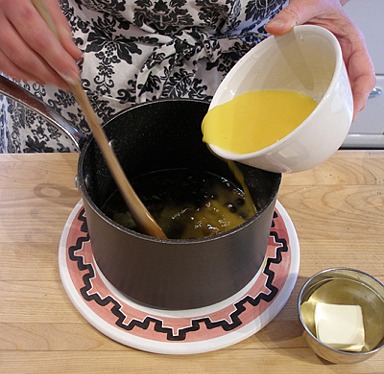 5. Return mixture to heat and bring to a boil, stirring constantly, until it thickens.

6. Remove from heat and cool until warm.

Spoon Raisin Rum Sauce over a slightly cooled pie slice.



STORAGE
Baked pie stores at room temperature for 3 - 4 days.
Unbaked pie can be frozen for a month or more. No need to thaw before baking.