Sarah's Pumpkin Scratch Cake from a Mix
Recipe by Sarah Phillips © 2009 Sarah Phillips CraftyBaking.com
Variations: Funfetti Scratch Cake from a Mix; Sarah's Scratch Cake from a Mix and Variations; Sarah's Applesauce-Spice Scratch Cake from a Mix; Sarah's Banana Scratch Cake from a Mix; Sarah's Pumpkin Chocolate Chip Scratch Cake from a Mix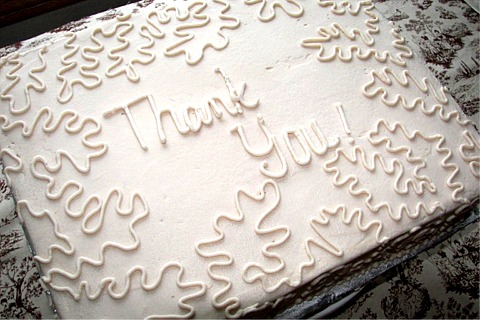 Cake and photo by kake, Premium Member © Sarah Phillips
This cake is very moist with the inclusion of pumpkin puree! You won't even be able to tell it is from a cake mix!
I created something that tastes so much like a bake-from-scratch recipe, that noone could tell it was made from a mix at all! Not even my family or taste testers who have had my cakes for years! I think I created a monster! I took a different approach from everyone else (of course) who has ever doctored a cake mix!

Baker's can add flour, sugar, milk, sour cream and eggs to a boxed mix to increase its density and to give it a sturdier texture. Recipes are not new, however, I could never figure out why so many are written with added all-purpose, instead of cake flour? After all, cake mixes are made with the latter type.

I decided to use cake flour, instead, and the result was astounding - a denser cake, that didn't taste anything like a boxed mix - but, rather a bake-from-scratch cake with a moist and tender texture. It also lost it's usual boxed mix chemical taste. When I tried using all-purpose flour, it yielded a drier result with a less satisfactory texture and flavor, with it's underlying chemical flavor! I thus decided to name the cake, Scratch Cake from a Mix!

I use all dairy ingredients cold from the refrigerator. With today's modern electric mixers, they quickly warm the ingredients to room temperature from the friction from the beater's. Allowing them to come to room temperature before mixing is old fashioned and I believe is no longer necessary.
CAKE RECIPE HELP

kake, Premium Member, Says: "This is a last minute cake for teacher appreciation lunch for tomorrow... baked pumpkin scratch cake from a mix by Sarah.
Guess what! It was so yummy!!!!...When I made Sarah's pumpkin spice cake box cake, I double the recipe, for 12- x 18- x 2-inch pan.
I baked it on 325 (degrees)F.... it turned out perfect."
INGREDIENTS
One 18.25 oz. box Duncan Hines® Moist Deluxe® Spice Cake Mix or any cake mix*
1 1/4 cups bleached cake flour (not self-rising); spoon into measuring cup and level to rim
1 cup sugar
NOTE: If you are using a white or yellow cake mix, add in the following spices:
2 teaspoons ground cinnamon
1 teaspoon ground nutmeg
3/4 teaspoon ground ginger
1/4 teaspoon ground cloves

1 1/2 cups (from one 15-ounce can) solid pack pumpkin puree; I like Libby's brand - do not use pumpkin pie filling
1 cup evaporated milk; do not dilute
1/2 cup sour cream; do not use fat free
1/4 cup vegetable oil; do not use olive oil
4 large eggs
1 tablespoon vanilla extract
*NOTE As a result of the cake mix size changes, please add to the recipe:
You have two choices:
CHOICE #1: Buy two boxes and weigh out a TOTAL of 18.25 ounces of the baking mix to use in my recipe. Save the rest in an airtight bag for the next recipe. Proceed with the rest of the recipe, such as add in 1 1/4 cups bleached cake flour, etc.
CHOICE #2: OR, add in extra cake flour to the 1 1/4 cups bleached cake flour, as follows, to the recipe:
If your cake mix is now 16.5 ounces = ADD in 1.75 ounces cake flour or 6 to 7 tablespoons
If your cake mix is now 15.25 ounces = ADD in 3 ounces cake flour
NOTES: Cake mixed using a KitchenAid Professional 600 Series Mixer, 575 watts

INSTRUCTIONS
1. Position the oven shelf in the middle of the oven and preheat to 350 degrees F.
SARAH SAYS: Reduce oven heat by 25 degrees F if using dark, nonstick or ovenproof glass baking pans.

Grease two 9 x 2-inch baking pans with cooking oil spray. Set aside.

2. In a mixer fitted with a paddle attachment, add the dry ingredients. Turn mixer to stir speed, for 10 seconds, to combine ingredients.

3. Add in the pumpkin, evaporated milk, sour cream, oil, eggs and vanilla.
Turn the mixer on low, Speed #4, for 30 seconds, just to combine the ingredients. The ingredients will be lumpy.
Stop the mixer and with a large rubber spatula, scrape the side and bottom of the bowl.

4. Turn the mixer on medium-high, Speed #8, and beat the ingredients for 2 minutes until the batter is light and fluffy and smooth.
SARAH SAYS: Use a timer to help you keep track of the time.

5. Unclamp the bowl and with a large rubber spatula, fold the batter once or twice, making sure you scrape the side and bottom of the bowl.

Divide the cake batter evenly between the pans. The batter will fill the pans about 3/4- full.

6. Bake for 45 to 60 minutes or until lightly browned, and when a toothpick is inserted in the middle and removed, it has a few moist crumbs, but not batter attached.

7. Cool pans on wire cake racks for 10 minutes before unmolding to cool layers upright.

STORAGE
Frosted cake keeps for 3 days at room temperature, well covered.

VARIATIONS
Funfetti Scratch Cake from a Mix
Sarah's Scratch Cake from a Mix and Variations
Sarah's Applesauce-Spice Scratch Cake from a Mix
Sarah's Banana Scratch Cake from a Mix:
Substitute 1 1/2 cups pumpkin puree with 1 1/4 cups MASHED banana PLUS 1/4 cup unsweetened applesauce

Sarah's Pumpkin Chocolate Chip Scratch Cake from a Mix:
Fold in 3/4 cup chocolate chips to the mixed cake batter right before baking.