Recipe by Sarah Phillips; Food styling and photos by Kelly Hong © 2-15-2015 Sarah Phillips CraftyBaking.com
VARIATION: Pastry Cream Tutorial


This creamy and smooth Pomegranate Pastry Cream is used in our Pomegranate Pistachip Chocolate Eclairs recipe. It's so divine and flavorful, that it can be eaten alone, right from bowl with a spoon!
CUSTARD RECIPE HELP
INGREDIENTS
Pomegranate Syrup:
1 cup unsweetened pomegranate juice, such as POM
1/2 cup sugar
Pastry Cream:
1/4 cup cornstarch
3/4 cup sugar, divided in 1/4 cup and 1/2 cup
2 cups whole or 2% milk, divided into 1/2 cup and 1 1/2 cups
4 large egg yolks, lightly beaten
1/4 teaspoon salt
2 teaspoons vanilla extract
2 tablespoons unsalted butter
2 tablespoons pomegranate syrup, recipe above
Red food coloring, you may use natural food coloring, if desired; ie: Red Chefmaster Natural Food Coloring
INSTRUCTIONS
STEP I: MAKE THE POMEGRANATE SYRUP
1. Put the pomegranate juice and sugar in a small sauce pan.
Stir over medium heat to dissolve the sugar.

2. Simmer for 20 minutes, checking often to make sure it doesn't boil completely away, and burn.
Pour the syrup, which should be slightly thick, into a heatproof container or bowl and let cool at room temperature.



STORAGE
Store in the refrigerator in a covered or an airtight container for about a week.

STEP II: MAKE THE PASTRY CREAM. ADD THE POMEGRANATE SYRUP.
1. Prepare an ice-water bath by filling a roasting pan or large mixing bowl half full with water and ice; reserve for later use.
2. In a large size bowl, combine the cornstarch with 1/4 cup of the sugar in a mixing bowl.

3. Stir in 1/2 cup of the milk. Then, with a wire whisk, blend the yolks into the cornstarch mixture, until smooth.

4. In a medium size heavy-bottomed saucepan, combine the remaining 1 1/2 cups milk with the remaining 1/2 cup sugar and the salt. Cook over medium heat and bring to a boil while stirring to prevent the mixture from burning. Remove pan from heat and let it cool slightly.

5. Temper the egg mixture so the eggs won't cook or curdle:
First dribble a small amount of hot milk in a steady stream into the eggs while quickly whisking the two together. This raises the temperature of the egg gradually and cools the milk slightly.
Continue to dribble about 1/3 of the hot milk mixture to the egg mixture in the mixing bowl, whisking constantly.
Add the remaining milk mixture to the eggs, whisking constantly.
Return the mixture back to the saucepan.

6. Turn on the heat to medium and continue cooking, vigorously stirring with a whisk, until the mixture comes to a boil and the whisk leaves a trail in the pastry cream, taking about 5 to 7 minutes.

7. Remove from heat and strain through a fine mesh strainer.
Then, stir in vanilla extract, and pomegranate syrup.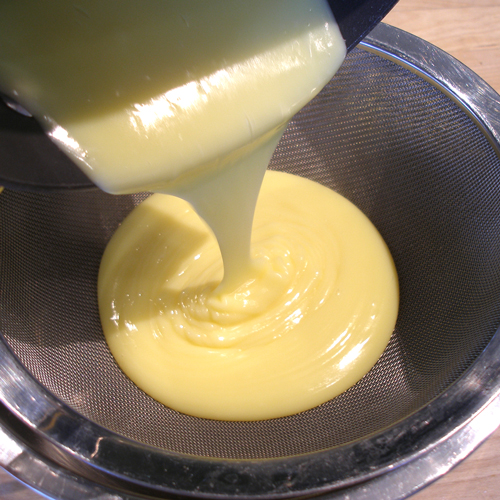 9. The color of the pastry cream needed a little help, so we added 1 drop of red gel paste food coloring.
We wanted to keep the food coloring to a minimum, and red food coloring tends to get stronger as it sits, so we decided to adjust the color, if needed, after the pastry cream cooled.
After the coloring is stirred in, add the butter.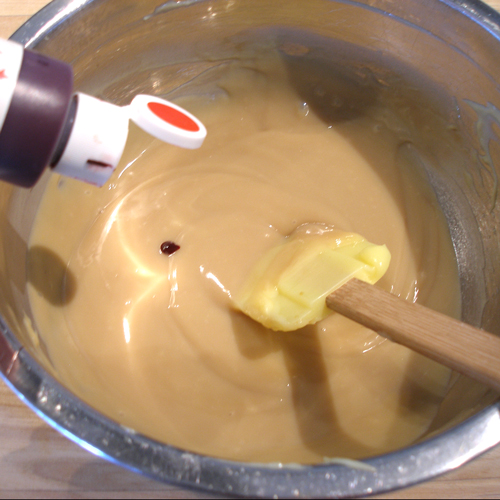 10. Transfer the bowl to the ice water bath, stirring occasionally, until the pastry cream is cool, about 30 minutes. Between stirring, cover surface of pastry cream with plastic wrap, to keep a skin from forming.
11. When cool, place plastic wrap directly on the surface, to prevent a skin from forming. Refrigerate until needed.
STORAGE
Transfer the pastry cream to a covered storage container and refrigerate for up to 3 days. Pour off excess liquid that forms on top and then stir before using. Does not freeze.

VARIATION
Pastry Cream Tutorial