Recipe by Sarah Phillips and Kelly Hong; Food styling and photos by Kelly Hong © 2011 Sarah Phillips CraftyBaking.com

A great way to re-purpose your gingerbread boy cookie cutter at Halloween time.
These would be a fun and tasty addition to any Halloween party.
Thy are ghoulishly delicious!
COOKIE RECIPE HELP
INGREDIENTS
You will need:
1 recipe Sarah's Creative Cut-out Sugar Cookie Dough
1/2 recipe Marshmallow Fondant or MMF
24 sugar dot candies, or other round decorations or candies
black paste food coloring
black edible marker
Corn syrup (for "glue")

INSTRUCTIONS
1. Cut-out sugar cookies, using a gingerbread man cookie cutter. Bake sugar cookies,, according to the recipe, making sure to leave at least 1 inch between each cookie.

2. Knead white marshmallow fondant to soften, then remove about three tablespoons of fondant and knead in enough black food coloring to make it a rich black.
Rewrap both colors of fondant, to keep it from drying out.

3. Roll out a 1/4 cup portion of white fondant on a cornstarch dusted surface. You want the fondant to be less than 1/4-inch thick.



4. Cut out the fondant, using the same cookie cutter you used to cut the cookies.



5. Lightly brush the surface of the cookie with corn syrup, then place the fondant cut out on the cookie.
Adjust the positioning, then gently press the fondant into place.



6. Roll out a small piece of the black fondant very thin, then cut out a small leaf shape.
Brush a little water in the center of the head of the cookie, and press the black fondant into place.



7. Put a little water in the place where the eyes will be set, then take two of the round candies, of whatever color you want, and press them into place.



8. Reroll the white fondant, that is left over from cutting out the body, very thin. You do not want the fondant layer to get too thick, or the cookies will be too sweet.
Use a straight edge and an x-acto knife or a pizza cutter to cut the fondant into thin strips.
It is OK if they are not even, or if the edges are ragged. This just adds to the "mumminess" of the mummy.



9. Brush a little water around the perimeter of the head and start placing the strips, overlapping as you go.
Cut the excess fondant off the edge of the cookie with your cutter.
Use your fingertips to press the edges of the fondant to the bottom layer of fondant.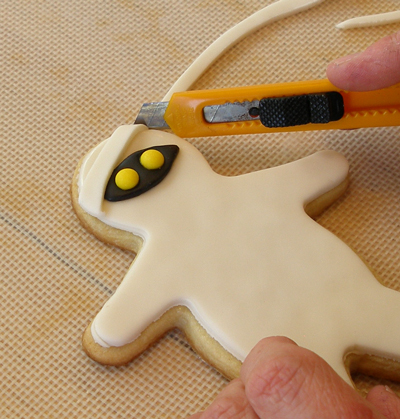 10. Continue to add overlapping strips, using the water to glue them to the fondant beneath them, until the mummy is completely covered with strips.



11. Use the edible marker to draw the pupils of the eyes.



12.Repeat with the remaining cookies.

STORAGE
Already baked cookies can be stored at room temperature or frozen. Crisp cookies should be stored in an airtight container. They will keep for about 4 days.