Cheddar Cheese, Cabbage, and Apple Lattice Tart
Recipe by Sarah Phillips; Food Styling and Photos by Kelly Hong © 11-4-2014 Sarah Phillips CraftyBaking.com
Variation: Cheddar Cheese, Cabbage, and Apple Lattice Tart with Bacon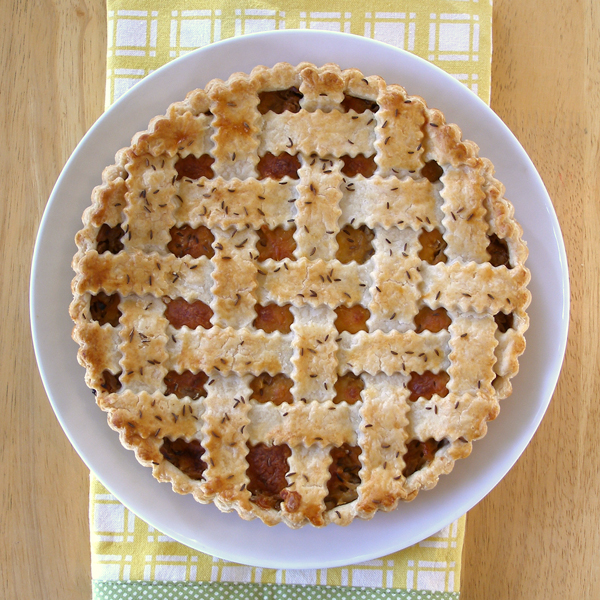 Pies do not have to sweet; they can be savory such as this recipe. Ours has a unique combination of cabbage and tart Granny Smith apples, combined together with savory cheddar cheese. It's enveloped in a flaky pie crust. It would make a great side dish for Thanksgiving or served just as is for any lunch or dinner. I have often made it using left-over cooked and shredded turkey meat to the recipe as a Thanksgiving food left-overs meal. Another great variation would be to add in some crispy bacon pieces to the tart's filling. What's especially great about this recipe is that we show you how to weave a lattice crust following a simple step-by-step tutorial.
PIE RECIPE HELP
Paquettc, Premium Member Says: "What a really wonderful dish. Well received by friends and family."
SARAH'S SECRETS
A woven lattice is one the prettiest looking ways to top a pie or tart. It is especially good for juicy fruit and berry pies, or savory pies or tarts to allow for the steam to easily escape from any filling during baking, where you still want to have a crust on top. Though it may look fancy, you can quickly make a lattice top when you follow our simple, step-by-step weaving technique.
INGREDIENTS
Crust:
1 recipe Basic and Flaky Pie and Tart Crust (do not omit sugar); two-crust pie or tart, about 1- 1/4 pounds dough for tart with lattice top, divided in half, covered with plastic wrap and chilled
Filling:
1 head (about 2 pounds) cabbage (green or white)
1 tablespoon coarse salt, plus additional for garnish
3 tablespoons vegetable oil
1 large onion, cut into medium dice
1 tablespoon sugar
1 large Granny Smith apple, peeled, cored and cut into small, thin slices or shred
Salt and freshly ground black pepper to taste
1/2 cup cheddar cheese, shredded or cut into pieces (can use any cheese of your choice or any cheese you have on hand)
Egg wash for lattice top:
1 large egg white
2 teaspoons water
Garnish, optional:
Coarse salt
1/2 teaspoon caraway seeds

NOTES:
Cut 1 large onion into medium dice:



1 large Granny Smith apple, peeled, cored and cut into small, thin slices or shred: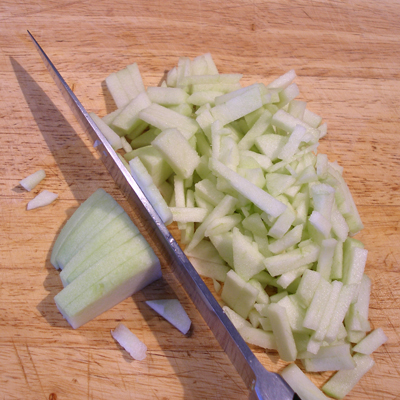 INSTRUCTIONS
STEP I: PREPARE THE FILLING
1. Discard the outer leaves of cabbage and cut cabbage into quarters then remove the core.
Cut the quarters into halves (so you have 8 wedges).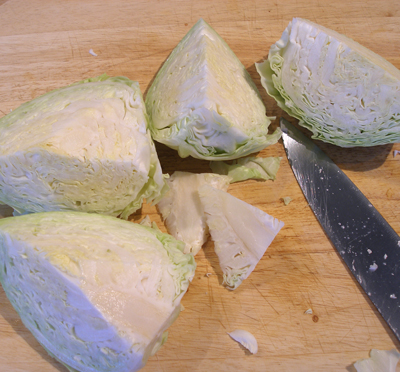 2. Using a food processor fitted with medium shredding disk, push lightly to shred the cabbage. You will have about 12 cups.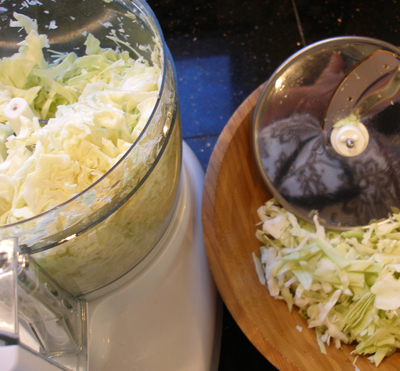 3. Place the cabbage in a large colander and sprinkle 1 tablespoon coarse salt. Toss cabbage with your hands.
Set colander over a large bowl and leave to drain about 30 minutes.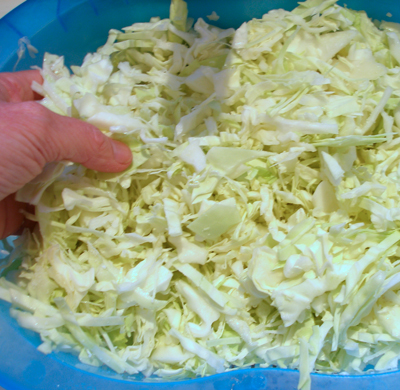 4. Then using your hands to squeeze excess water from cabbage. Place in a bowl and set aside.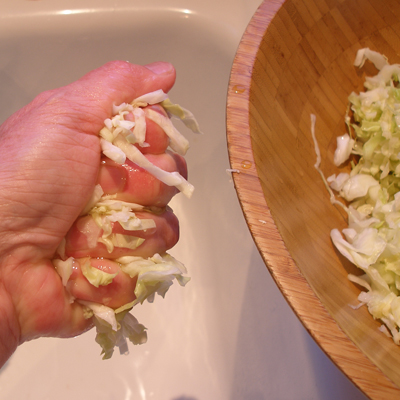 5. Heat vegetable oil in very large skillet or sauté pan over medium high heat.
Add the onion and sugar and sauté until the onion is wilted. Blend in apple and cabbage.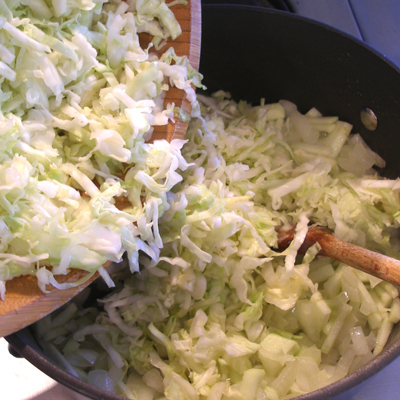 6. Reduce heat to low and cook for 20-25 minutes or until vegetables are very soft and lightly brown.
Stir occasionally to prevent sticking and burning.
Add salt and pepper to taste.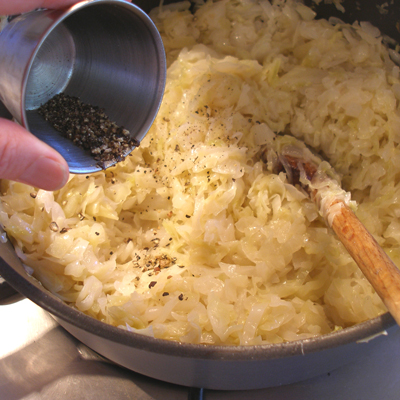 7. Remove from heat. Let the mixture cool to room temperature.
NOTE: Spreading the hot filling into a thin layer on a baking sheet will make it cool much faster.

STEP II: PREHEAT THE OVEN. ROLL THE TART DOUGH AND FILL THE TART.
1. Position a rack on lower third of the oven. Preheat the oven to 425 degrees F
2. Take one half of the pastry dough from the refrigerator.
Roll into a 13-inch circle, about 1/8-inch thick. Line the tart pan with the pastry.
Trim the edges by rolling the rolling pin over the edge of the tart pan. Remove the scraps.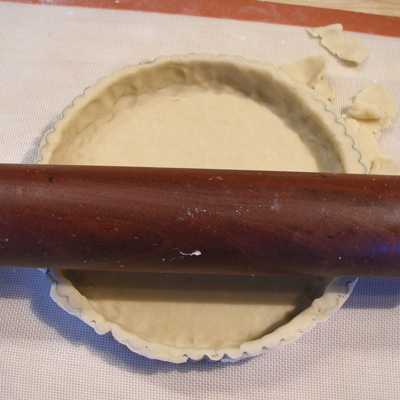 3. Empty the cooled cabbage filling into the pastry crust and smooth the surface. If the filling contains a lot of liquid, drain some off; leave a few tablespoons up to 1/4 cup.
SARAH SAYS: Our filling was pretty dry and contained only a few tablespoons liquid, which is typical.
Make sure the filling is not warm because it will melt the butter in the pastry dough, causing it to lose its flakiness and remain mushy.

4. Scatter the surface of the filling with the shredded cheese. Refrigerate temporarily.

STEP III: MAKE THE LATTICE TOP. FINISHING TOUCHES.
Make the lattice top:
1. Remove the second piece of dough from the refrigerator and roll the second piece of dough into 13-inch circle,about 1/8-inch thick.
2. Using a pastry wheel cutter, divide the dough into ten 1-inch strips to make the lattice with.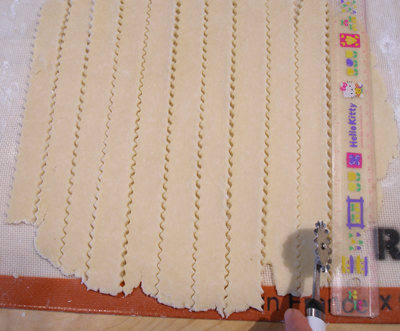 3. Center 5 strips of pastry dough evenly over the filled tart shell, leaving a space in between each. Make sure you place the longest strip in the center of your tart.
Make sure there is excess dough from the strips hanging over each side of the tart.



4. Gently fold back every other strip (the second and fourth) to a little past the center.
Choose another long strip of dough, hold it perpendicular to the other strips, and set it across the center of the pie.

5. Unfold the two folded strips so they lie flat on top of the perpendicular strip.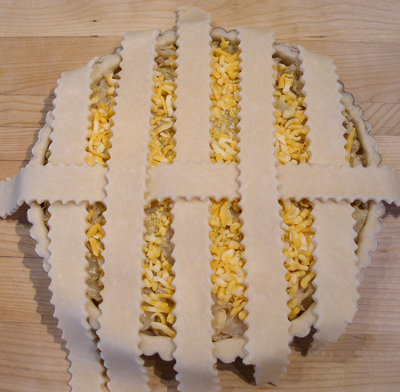 6. Fold back the strips that weren't folded back last time (the first, third, and fifth ones).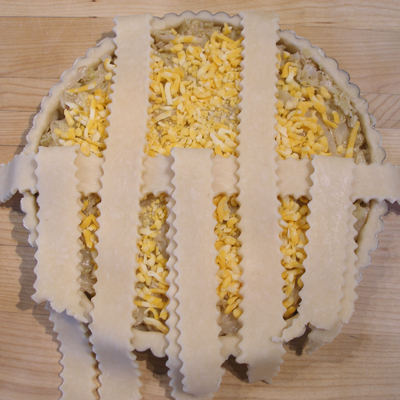 7. Lay a strip of dough about 3/4 inch away from the last one.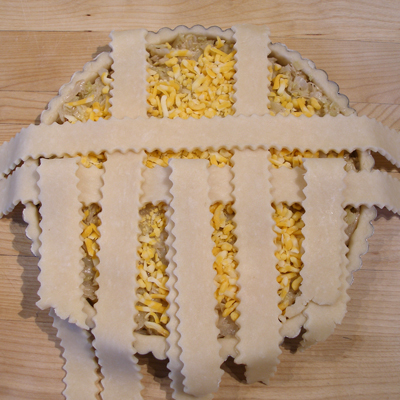 8. Unfold the three folded strips.
Fold back the original two strips (the second and fourth), set a strip of dough 3/4 inch from the last one, and unfold the two strips.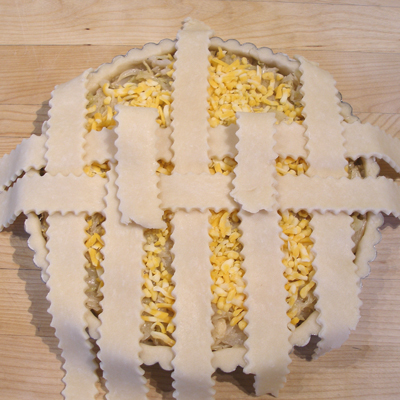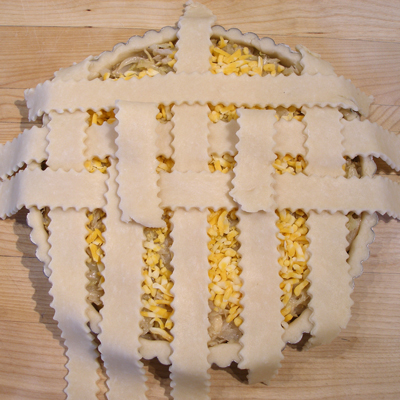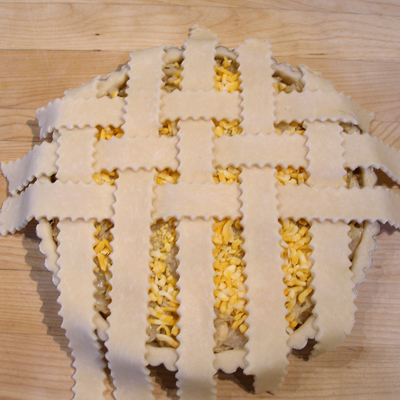 9. Repeat on the other side with the two remaining strips: fold back alternating strips, lay a strip of dough on top, and unfold.
Remember to alternate the strips that are folded back to produce a woven effect.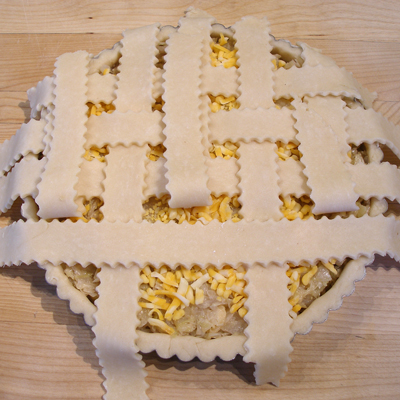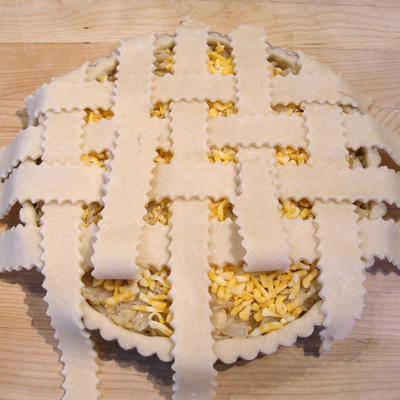 10. Trim the strips by rolling the rolling pin over the edge of the tart pan. Remove the scraps.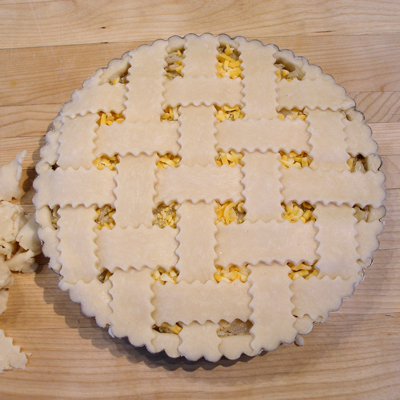 Finishing touches:
1. Make the egg wash by beating the egg white and water together with a fork. Brush the lattice with it and optionally sprinkle the top with coarse salt and caraway seeds.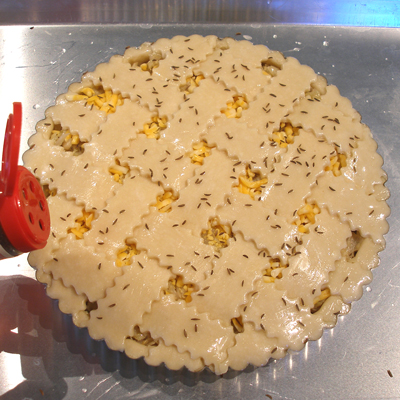 STEP IV: BAKE THE TART
1. Set the tart on a foil-lined cookie sheet and bake for 15 minutes.
2. Reduce the temperature to 375 degrees F and continue baking for 20 minutes until the pastry is golden brown.
3. Remove to a wire cake rack. Let stand for 10-15 minutes before serving.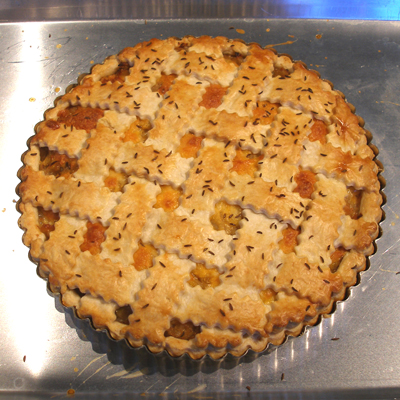 SERVE
1. While still warm, carefully release the tart from tart pan.
2. Cut into wedges and serve with a dollop of sour cream or yogurt cheese.
STORAGE
1. Cover any leftover with waxed paper then aluminum foil and refrigerate for up to 4 days.
2. Reheat by loosely placing a piece of aluminum foil on top and bake in preheated oven at 350 degrees F for 10-15 minutes.
VARIATION:
Cheddar Cheese, Cabbage, and Apple Lattice Tart​ with Bacon
INGREDIENTS
1/3 pound sliced bacon, fried until slightly crispy, patted dry, and cut into small pieces; Do not over-crisp the bacon, because it will get too hard when baked in the recipe.
Instead of 3 tablespoons vegetable oil, use 3 tablespoons bacon fat saved from frying the bacon or a combination of a total of 3 tablespoons bacon fat and vegetable oil
INSTRUCTIONS
1. Make the filling recipe, but add in the crispy bacon pieces to the cabbage filling right after cooking before it has a chance to cool.