Candied Walnuts or Pecans
Recipe by Sarah Phillips; Food Styling and Photos by Kelly Hong © 11-13-2014 Sarah Phillips CraftyBaking.com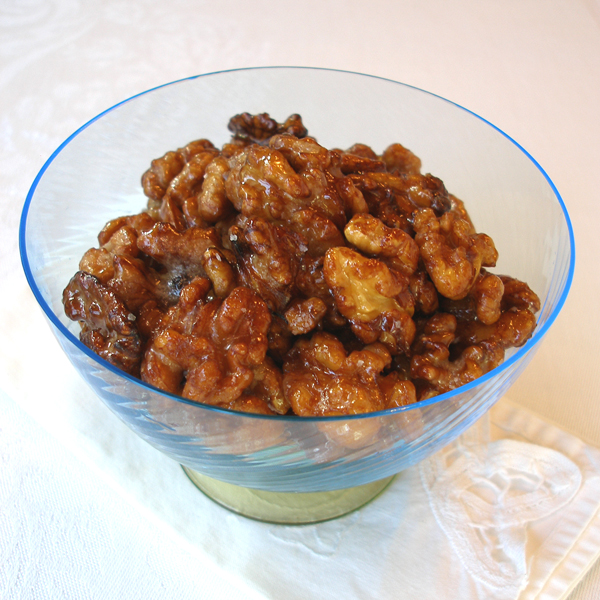 This recipe can be used as a topping on a sweet or savory dessert or served at a thinly sliced apple alongside cheese for a great after dinner treat. This recipe has been adapted from by the famed Union Square Cafe's Executive Chef and Partner Carmen Quagliata, in New York City, New York, where I first tasted it. There were a couple of errors in the recipe which we corrected in this version. I now make it all the time and use it as a garnish or serve it as a welcomed snack. Guess what we use them with? Our Roasted Brussels Sprouts with Squash, Apples and Candied Walnuts​!
CANDY RECIPE HELP
INGREDIENTS
1 quart (4 cups) walnut or pecan halves; make sure you use the freshest you can find
2 quarts water
1 1/2 cups powdered sugar, sifted; measure and then sift
1 1/2 quarts vegetable oil, such as canola
Kosher salt
INSTRUCTIONS
1. In a large pot, bring the water to a boil.

2. In at least a 6-quart stock pot, fill it half or 2/3rds full with vegetable oil.
Heat the oil to 380 degrees F as measured with a Deep Fry or Candy Thermometer.

3. Add the walnuts to the boiling water for 15 seconds. Remove with a slotted spoon or spider, drain for a few minutes, and add them to the baking sheet.
SARAH SAYS: DO not cover the baking sheet with paper towels, as the walnuts will stick.



4. Sprinkle the powdered sugar, through a fine mesh strainer, over the nuts and toss to coat with a large spoon.



5. Let the nuts rest for 4 to 5 minutes to dry a little. Some will clump together, which is fine.

6. Add a portion of the nuts into the hot oil at once with a long handled slotted spoon; do not crowd the pot - fry in small batches. Stand back because the oil will bubble up violently.



7. Stir the nuts only once. Fry them for 10 to 15 seconds. They will float to the top of the oil when they start to brown; look for a dark brown coloring on the nuts when done.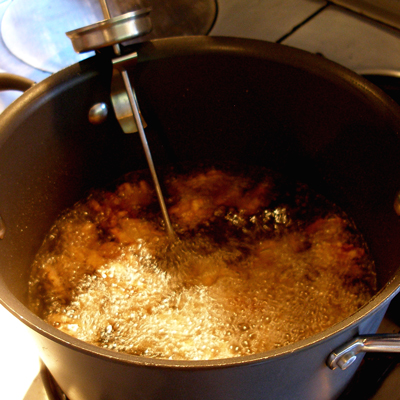 8. Remove the nuts with a slotted spoon or spider onto a clean baking sheet (do not cover with paper towels, as they will stick).
Immediately sprinkle with salt and allow to come to room temperature.

SERVE
Serve whole or the nuts can be chopped into smaller pieces.
STORAGE
Store in an airtight container in a cool place for up to 4 to 5 days.