Poured and Whipped Chocolate Ganache Tutorial
Variations: Satiny and Shiny Chocolate Ganache Glaze; Whipped Ganache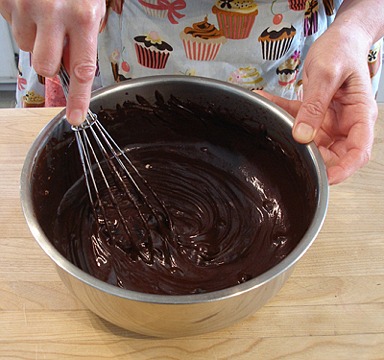 Ganache can be used as a glaze, icing or whipped: To use immediately, stir it over a larger bowl of ice until cooled; less for pouring (should pour like corn syrup), more for spreading consistency (like buttercream) and the most for whipping (stiff, but not hard). Don't let it get too cold. To re-warm, place the heat-proof bowl over a pan of hot water while stirring -- do not reheat.
CHOCOLATE RECIPE HELP


For this, I held it upside down and dipped it in a bowl of this chocolate ganache glaze.
After the ganache hardened, I piped on some Swiss Meringue Buttercream Flavored with Jam. The frosting was delish...with a bright raspberry flavor. The cake is the Ultimate Chocolate Butter Cake or UCBC.

This is the Cream Cheese Pound Cake Recipe baked as cupcakes, filled with Vanilla Bean Pastry Cream and iced with whipped chocolate ganache.