Poured Fondant for Cakes and Cookies
Variation: Chocolate Poured Fondant for Cakes and Cookies


This easy and shiny vanilla-flavored Fondant is perfect for decorating cookies, petit fours and even to glaze a cake with. It gives a shiny surface, when dried. It shouldn't be too thick, or it will not pour over cakes or cookies smoothly. Simply use a teaspoon of water at a time until a thinner consistency is reached, but make sure you add it in a few drops at a time, and stir after each addition. It will also thicken as you work; thin with water as necessary. If you see thin crystals forming on top of the fondant as you work just stir them back in and you should be fine. We use this recipe with our Spring Blossom Petits Fours or Petit Four Squares. See our step-by-step tutorial on How to Glaze Baked Goods.
FROSTING, ICING, ETC RECIPE HELP
This recipe was used to glaze Almond Cake Petits Fours or Petit Four.
INGREDIENTS
2 pounds powdered sugar (about 8 cups), sifted
2/3 cup water
3 tablespoons light corn syrup
2 teaspoons clear vanilla* (You don't want the extract to color the fondant -- clear is available from cake decorating shops. Use 1/4 to 1/2 teaspoon lemon or almond extract if not available.)
Note: For this tutorial, I used 1 teaspoon vanilla and 1/4 teaspoon pure almond extracts,.

Food color (optional); I used a very small amount of green gel food coloring, AmeriColor for this tutorial

NOTES: After measuring, sift the powdered sugar into a large bowl.



INSTRUCTIONS
1. Into a large saucepan, combine the powdered sugar, water, and corn syrup.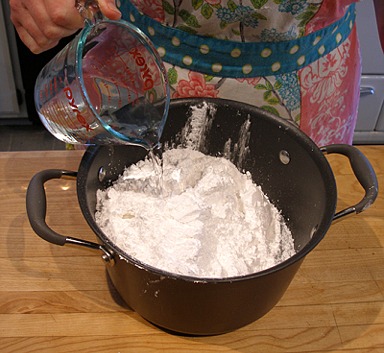 2. On low heat, stir the mixture, until the sugar is dissolved and the mixture is smooth, to about 92 degrees F. Use an Instant Read Thermometer to be sure it doesn't go above 100 degrees F.

3. Remove the pot from the heat. Stir in the flavoring(s).

4. Place the finished fondant in its pot into a large bowl of warm water, to keep it at about 92 degrees F longer.
NOTE: Change the water when you see the poured fondant beginning to thicken. Stir the fondant to make it smooth and uniform again.

5. Add the food color in very small amounts, one drop at a time. The color becomes dark very quickly. remember to stir in the color thoroughly.
NOTE: I knew I wanted a very pale celadon green color, so I added a very small amount of green gel food coloring with a toothpick.

TO GLAZE A CAKE
To cover cake, ice smoothly with buttercream and let icing crust, or cover with apricot glaze. Place the cakes on a wire rack over a pan to catch the drippings, inverting them in order to have the golden layer on the bottom. If the fondant has become stiff, just whisk until smooth again. If the fondant is has not become to stiff, proceed to the next step. Place the uncoated petits fours on a wire cake rack set over a parchment paper lined 1 1/2- or 2-inch high baking pan. Make sure the wire cake rack is well elevated over the pan - if not, place four upside-down glasses in each corner of the wire cake rack so it sits up high. Then, ladle the fondant over the cakes, flowing from center and moving out in a circular motion and making sure all sides are coated. Touch up sides with a spatula. Once they are set, they can be coated again. Let dry.

STORAGE
Press a piece of plastic wrap against the surface of the warm fondant before storing. Fondant can be stored, tightly covered, in refrigerator for weeks. Reheat to about 92 degrees F to use again.

VARIATION
Chocolate Poured Fondant for Cakes and Cookies