Pat-in-the-Pan Cookie Dough
Variation: Lactose-free and Kosher Pat-in-the-Pan Cookie Dough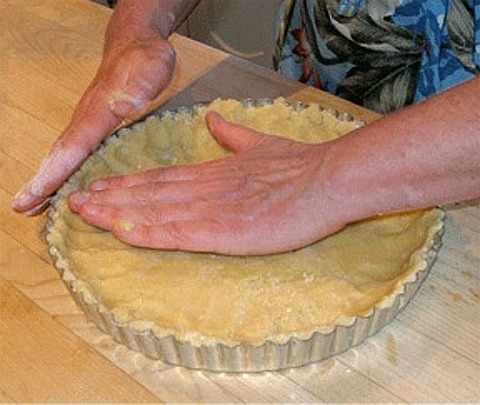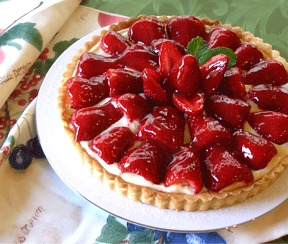 We use this tart crust with the Easy-Breezy Strawberry Cream Tart Recipe
Pat-in-the-Pan crusts are so easy to make! A cookie-like pastry dough, also known as short dough or pate sucree or pate sablee, with a "sugary" and "sandy" texture, is best used when making pastries to hold creamy fillings and custards because it won't turn soggy. Because of the sugar in the dough, it is far more forgiving than the traditional flaky pie crusts, and can be re-worked without fear of it losing its texture.
PASTRY RECIPE HELP
INGREDIENTS
unsalted butter: 1/2 cup (1 stick) / 4 ounces / 113.5 grams; use cold

unbleached all-purpose flour: 1 1/2 cups; spoon into measuring cup and level to rim / 6.62 grams / 187.5 grams
sugar: 1/4 cup / 2 ounces / 50 grams
baking powder: 1/4 teaspoon / 1.25 grams
salt: 1/4 teaspoon / 1.67 grams

egg yolk: 1 large / 0.65 ounces / 18.6 grams; use cold
vanilla extract: 1 teaspoon / 4 grams
ice water, if needed

INSTRUCTIONS
MAKE THE CRUST
1. Fit a piece of parchment paper in the bottom of the tart pan. Heavily grease the bottom and side of 9- or 10-inch tart pan with nonstick cooking oil spray.
Make sure you evenly spread it in the indentations of the tart pan sides. Wipe off excess with a paper towel. Set aside.

2. Cut the butter into tablespoon-sized pieces and chill.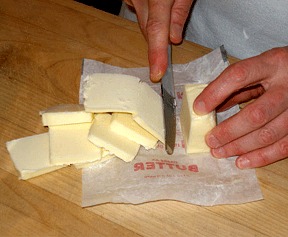 3. In a medium mixing bowl, whisk the flour, sugar, baking powder and salt to combine. Add the butter and toss.
Using a pastry blender or two knives, cut in the butter until it resembles coarse cornmeal -- no distinguishable pieces of butter should remain.
SARAH SAYS: If you wish, use your fingertips to rub the butter into the flour mixture, but a pastry blender is much quicker.
Be sure to use only your fingertips, not the palms, which are warmer. The butter must stay cold.

4. In a small bowl, beat the egg yolk and vanilla extract in a small bowl.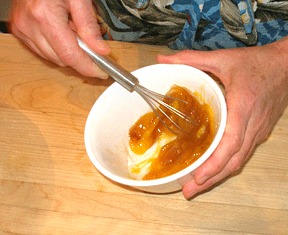 Make a well in the center of the flour ingredients and pour the egg into the well of the flour ingredients.

5. Blend together ingredients with a fork until incorporated thoroughly and just clumps together.
NOTE: I did not have to add any water to get the consistency shown.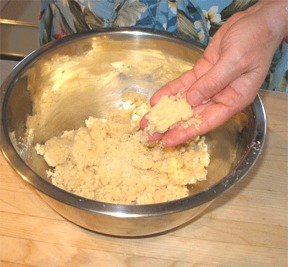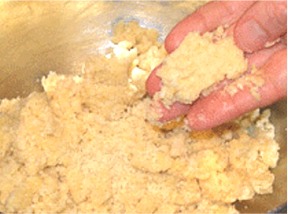 SARAH SAYS: To test the consistency, press the dough between your thumb and forefinger -- it should just hold together.
If it won't, sprinkle ice water over the mixture, 1 teaspoon at a time, and toss with a fork to incorporate.
Do not add so much liquid that the dough clumps into a solid ball -- wet dough bakes into a tough pie crust.

6. Press dough evenly on bottom and side of prepared tart pan. Trim the edge of the tart with a sharp knife.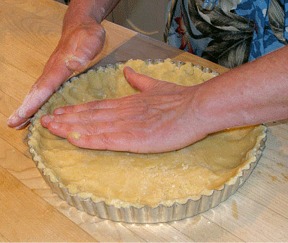 PREBAKE
1. Dock the crust by pricking all over the bottom and side with the tines of a fork.
SARAH SAYS: I do not chill my pastry crust before baking; it is not necessary with this recipe.

2. Position the shelf to the middle of the oven and preheat it to 400 degrees F.

3. Place tart pan on baking sheet. Optionally, press foil into docked tart shell and fill with pie weights, beans or rice.
SARAH SAYS: I do not find it necessary to use pie weights when pre-baking this crust. It does not shrink or puff.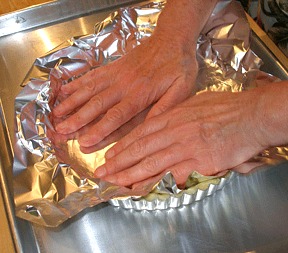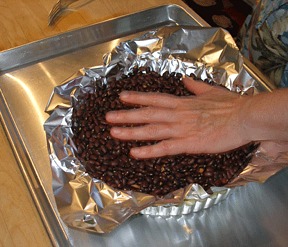 4. Bake for about 10 - 20 minutes and then remove foil and weights. Bake for about 5 - 10 more minutes or until golden brown.

5. Cool crust thoroughly on wire cake rack before using.

STORAGE
Store prebaked crust at room temperature for a few days, wrapped, or freeze for a month or more. Thaw in wrappers at room temperature.
VARIATION
Lactose-free and Kosher Pat-in-the-Pan Cookie Dough
Substitute the 1/2 cup (8 tablespoons) butter with 6 to 8 tablespoons Earth Balance Soy Buttery Sticks or Earth Balance Vegan Shortening in Sticks. Make sure the soy butter or shortening is well-chilled because butter substitutes are softer. At any time the crust becomes too soft to handle, place it in the freezer for about 5 to 10 minutes until it hardens slightly. Follow instructions above. After making the crust, chill it for 1/2 hour before pre-baking.