Orange-Clementine Chocolate Drizzle Thumbprint Cookies

Buttery orange thumbprint cookies, filled with homemade Orange-Clementine Marmalade are always in style. They are especially great when drizzled with chocolate. They make a wonderful holiday gift.
Our homemade marmalade is made from ​a sour batch of Cuties, and when you do, this is a great way to avoid wasting them.
We want to help prevent food waste and show you ways to use what we call misshapen or ugly produce.
Join our Ugly Produce is Beautiful℠ Educational Campaign, helping to bring awareness to our Nation's enormous food waste problem. This recipe shows you how to use ugly produce in beautiful and delicious ways!
COOKIE RECIPE HELP
INGREDIENTS
For the cookies:
1 1/4 cups unbleached all-purpose flour; spoon into measuring cup and level to rim
1/2 teaspoons salt
1/2 cup (1 stick or 8 tablespoons) cold unsalted butter
1/2 cup powdered sugar
1 large egg yolk
2 tablespoons orange juice or water
1 tablespoon grated orange zest
1/2 teaspoon vanilla extract
1/4 cup Orange-Clementine Marmalade or any flavor preserves
For the Glaze:
1/2 cup semi-sweet chocolate chips
1/2 teaspoon shortening, optional; helps the chocolate flow and set better
INSTRUCTIONS
STEP I: MAKE THE COOKIE DOUGH AND CHILL.
1 . In a medium bowl, combine the flour and salt. Set aside.

2. Into a stand mixing bowl, cut cold butter into tablespoon size pieces.
Set on medium speed, with a paddle attachment, beat butter until softened.
Add the sugar and beat on medium until light and fluffy, about 2 minutes.



3. With the mixer on low, mix in the egg yolk, orange juice, zest and vanilla extract. Scrape sides of bowl often.

4. With a large rubber spatula, or on low speed in a stand mixer, fold or add in the flour mixture.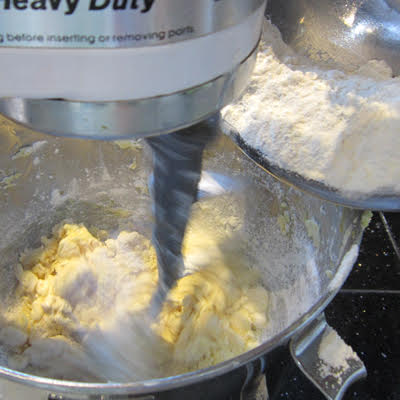 5. Form the dough into a flat disk and wrap in plastic. Chill for 30 minutes or until cold and stiff.

STEP II: FORM THE COOKIE DOUGH. BAKE AND FILL.
1. 20 minutes before you are going to bake the cookies, position an oven rack in the center of the oven. Heat the oven to 350 degrees F.
You'll need two UNGREASED non insulated cookie sheets or sheet pans. You can also cover them with parchment paper (not waxed) or a silpat (silicone) mat liner, if desired.
2. Pinch off small portions of the cold dough and shape into 1-inch balls. Place on the baking sheet 2 inches apart.
NOTE: We put 12 cookies on one tray, and the remaining 8 on another.

3. With a floured finger, or a tool with a rounded end, make an impression in center of each ball (edges may crack slightly). Do NOT fill.

4. Bake the cookies for about 10 minutes.
Then when the cookie is almost done, remove and fill the impressions with preserves, then bake for another minute or two or until the cookies are set and the bottoms are lightly browned.
The total baking time will be about 12 to 14 minutes.

5. Let sit on cookie sheet for 1 minute before removing to rack to cool completely.
STEP III: PREPARE AND DRIZZLE WITH CHOCOLATE
Meanwhile, prepare the chocolate drizzle.
1. Put the chocolate chips and shortening in a small bowl, and microwave, at 30 second intervals, stirring in between, until the chocolate is completely melted and smooth.

2. Pour the chocolate into a parchment cone, disposable piping bag or a small ziplock bag.
Snip and small hole in the bottom(or corner of a ziplock bag) and pipe the chocolate over the cookies in a zig zag pattern.

3. Let the cookies set until the chocolate hardens.

STORAGE
Store in an airtight container up to 1 week, in between layers of wax paper. Cookies freeze well for a month or more.