Naturally Dyed Easter Eggs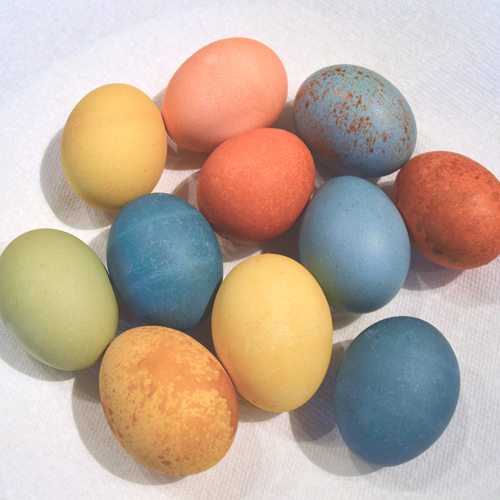 If we ever knew that vegetables could make such beautiful Easter eggs, we would have done this a long time ago! We artfully arranged them in our Natural Easter Egg Bread Basket to liven up our Easter table.
EGGS INGREDIENT HELP

The natural dye does not color the egg as quickly as artificial dye does, but you can create quite a range of colors, simply by letting some of the eggs sit in the dye longer than others.
INGREDIENTS
Hard boiled eggs

For the red cabbage egg dye:
1/2 red cabbage, cut into strips
4 cups water
2 tablespoons white vinegar
2 teaspoons salt
For the yellow onion skins egg dye:
The brown dry skin from the outside of 4 large onions
4 cups water
2 tablespoons white vinegar
2 teaspoons salt
For the turmeric egg dye:
3 tablespoons turmeric
4 cups boiling water
2 tablespoons white vinegar
2 teaspoons salt
For the espresso splatter dye:
1 tablespoon instant espresso powder
2 tablespoons boiling water
INSTRUCTIONS
STEP I: MAKE THE NATURAL EGG DYES
YELLOW ONION SKINS AND THE RED CABBAGE EGG DYE: The method for both of these colors is the same.
1. Place the red cabbage in a medium saucepan, then add the water, vinegar and salt.
Stir to combine, then bring to a boil.
2. After the mixture comes to a boil, lower the heat and simmer for 30 minutes, stirring occasionally.

3. After 30 minutes, strain out the solids.

4. Repeat the above steps and make the yellow onion skins dye.
TUMERIC EGG DYE
1. Add the turmeric to the boiling water. Then add the vinegar and salt and stir to combine.

ESPRESSO SPLATTER EGG DYE
1. Add instant espresso powder to a small bowl. Add in boiling water, and stir to dissolve.

2. Set aside to cool.
STEP II: DYE THE HARD BOILED EGGS
In General:
Gently submerge the hard boiled eggs into the dye.
You can add more than one egg at a time, but do not crowd the bowl.
For pale colors, ten minutes will usually suffice.
Darker colors can take longer than 30 minutes in the color bath.

When the eggs reach the desired color, gently blot them on paper towels…DO NOT RUB.
Refrigerate the eggs for storage. For food safety, they should stay out of refrigeration no longer than two hours.
To dye the eggs:
1. Look what red cabbage dye does!
The longer you let the egg sit in the dye, the deeper the color will get, and the eggs will eventually turn a lovely shade of teal.

2. The yellow onion skin dye makes the most beautiful orange-colored eggs.

3. The turmeric eggs are a lovely golden yellow.



NOTE: If you take a turmeric dyed egg and then put it in the red cabbage dye, you can create a beautiful Spring green egg.
ESPRESSO SPLATTER EGGS
1. Dip a toothbrush into the Espresso Splatter Egg Dye mixture and spatter the dyed an dried egg with it, by flicking the bristles with your thumb.
Carefully move the egg to a clean paper towel and let the espresso spatters dry.



STORAGE
The Naturally Dyed Easter Eggs are perishable and can stay out of refrigeration for 2 hours maximum.