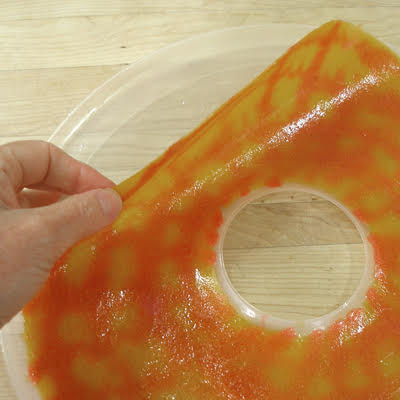 Making homemade fruit leather is a great way to use up fruit that is very ripe, or if you are lucky enough to have a bumper crop from your garden. We use this is our Natural Fruit Leather Flower Decorations recipe tutorial.
It is also a wonderful way to use imperfect looking fruit, that you might not like to serve whole. We have the Ugly Produce is Beautiful℠ Educational Campaign to help bring awareness on how to use this good fruit that would be typically thrown out as food waste.
We sweetened the fruit leather with a touch of honey and have used NO artificial coloring.
We used strawberries and mangos to create the fruit leather. The mango leather shown, is swirled with a bit of strawberry, to create a marbled pattern.
FRUIT AND PUREES INGREDIENT HELP

This recipe is a great way to use "ugly" or imperfect fruit or produce past its prime where ever possible.
This helps stop food waste rather than throwing out old fruit - re-purpose it!
Strawberries:


Mangoes:

If the fruit leather is too thick, it is not flexible enough, causing the Natural Fruit Leather Flower Decorations recipe tutorial to not work. Using 1 cup of puree per dehydrator tray makes them the right thickness. If you use a sheet pan, use a half sheet pan, lined with a silpat mat, with 2 cups of puree to get the same results. Set the oven to the lowest temperature. It will take about 4 to 6 hours to dry.
INGREDIENTS
Puree for the Strawberry Fruit Leather:
Makes 2 1/2 cups
1 1/2 pounds strawberries, washed
2 small apples; apples add more pectin to the recipe, to help it set up correctly when dried.
1/2 cup water; more if needed
1 teaspoon lemon juice
2-3 tablespoons mild honey
Puree for the Mango Swirled Fruit Leather:
Makes 2 cups
4 large very ripe mangos, pitted and chopped
1 teaspoon lemon juice
2-3 tablespoons of mild honey
1/2 cup strawberry fruit puree from the strawberry fruit leather recipe, above.
Equipment:
We used a food dehydrator to make the fruit leather, and it IS the best tool for the job.
1 Nesco FD-37A American Harvest Food Dehydrator, 400-watt
2 (4 total) Nesco LSS-2-6 Fruit Roll Sheets
You can, however, make it in the oven, on the lowest possible oven temperature. Use two rimmed sheet pans, lined with silpat mats.
Spray the silpat mats with a little non-stick spray first, to make sure the leather doesn't stick.
Toothpicks
small piece of cardboard
INSTRUCTIONS
STEP I: MAKE THE STRAWBERRY AND THE MANGO FRUIT PUREES
Make the strawberry fruit puree:
1. Hull the strawberries and cut into large pieces.

Peel and core the apples and rough chop them.

2. Put the chopped apples in a skillet with water.
3. Cook over medium heat, stirring occasionally, until the apples start to break down and soften.
Add more water, if needed.

4. When apples have softened, add the chopped strawberries, and cook for an additional 3 minutes.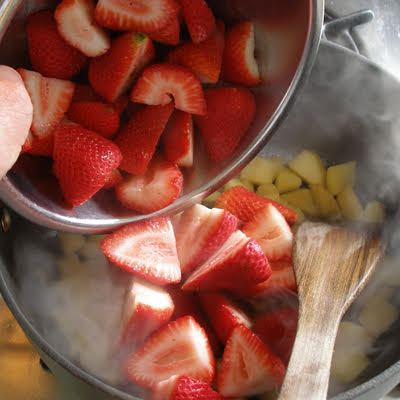 5. Pour the cooked fruit into a food processor ftted with a steel blade, or blender, and puree the fruit until it is a smooth puree.

6. Force the puree through a fine mesh strainer with a rubber spatula, into a medium sized bowl.

7. Add the lemon juice and honey and stir to combine. At the end of this process you should have about 2 1/2 cups of strawberry puree
Set aside, while you make the mango puree.

Make the mango fruit puree:
1. Cut the mango flesh off the large center pit and chop into pieces.

2. Put the mango in a food processor, fitted with a steel blade, or blender and puree until smooth.
NOTE: You do not have to cook the mango, or add apple because mangos are naturally rich in pectin.

3. Force the puree through a fine mesh strainer, with a large rubber spatula, into a medium size bowl.

4. Add the lemon juice and honey and stir to combine.

STEP II: MAKE THE FRUIT LEATHERS
1. Spray 4 fruit roll food dehydrator inserts with non-stick spray.

2. Spread one cup of the mango puree on an insert, then smooth it with a small offset spatula.
Repeat on another insert.

3. Put 1/2 cup strawberry puree in a squeeze bottle, and squeeze out a spiral pattern over both mango inserts, using 1/4 cup on each insert.

4. You may swirl the two purees together with the tip of a butter knife or insert some toothpicks into a piece of cardboard and make a "comb" to make a pattern in the puree.

When done, gently tap the tray on the counter to level the puree.
5. Pour one cup of strawberry puree, each into the two remaining trays.
Level the puree with a small offset spatula.

6. Put the trays in a food dehydrator and dry the leather for 5-6 hours, or until it is set, and there are no wet spots.
Turn off the machine, and let the leather cool, on the trays, for at least 30 minutes.
7. When the leathers are cool, carefully remove it from the trays, and wrap each sheet separately between two sheets of plastic wrap.

Look how pretty!!

STORAGE
Store the fruit leather in between two pieces of plastic wrap. Then store in an airtight bag or a plastic lidded container.
It will remain pliable for about 3 days.