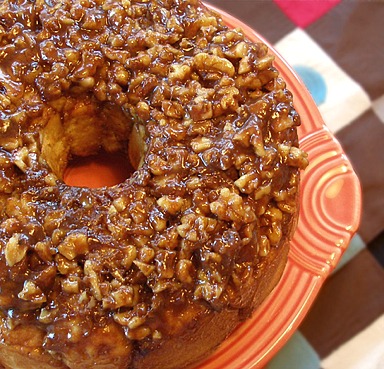 Monkey bread is a pull apart bread baked in a tube pan with the pieces drenched in a caramel-like sauce. It is the ultimate comfort food and I remember it so well from my childhood. I add in an secret ingredient to make these especially soft and tender. Cinnamon, nutmeg, butter, honey, brown sugar, and nuts flavor the bread and makes the whole house smell wonderful. Did you know that this recipe also goes under the names of Pull-Apart Ring, Cinnamon Puffs or Lumps of Back Fat? This is my favorite recipe.
BREAD RECIPE HELP
I add in mashed potatoes in the recipe. It results in especially soft and tender bread rolls. You cannot even taste the potatoes in the recipe.
INGREDIENTS
Dough:
3 1/2 cups bread or unbleached all-purpose flour, divided, plus more, if needed; spoon into measuring cup and level to rim
SARAH SAYS: The dough is very sticky after mixing with 3 cups flour. Knead in about a 1/2 cup more during the kneading process.
The dough was still very soft, but no longer sticky.
1/2 cup mashed boiled potato
2 large eggs
1/4 cup honey
2 teaspoons instant active dry yeast; one 1/4-ounce package contains or 2 1/4 teaspoons instant active dry yeast
1 teaspoon salt; do not reduce the amount

1/2 cup water
1/4 cup whole or 2% milk
3 tablespoons unsalted butter

1 tablespoon orange peel or 2 teaspoons lemon peel

Glaze:
1/2 cup brown sugar
1/2 cup granulated sugar
3/4 cup whipping cream
2 teaspoons cinnamon
1/4 teaspoon nutmeg
1 teaspoon vanilla extract

1 cup roughly chopped pecans or walnuts
1/2 cup raisins, optional

SARAH SAYS: The amount of flour used in the recipe will vary depending on the time of year and where and when the flour was milled. I have made them many times, and during the winter I have used more flour. In the summer, I have used less.

NOTE:
Boil peeled potatoes until soft. Mash potatoes thoroughly or run cooked potatoes through a food mill. You should have about 1 packed cup of mashed potatoes; use 1/2 cup in the recipe. (You can freeze any leftovers in an airtight container for the next batch).



KELLY SAYS: After measuring, I always like to sift the flour though a strainer to make sure there are no lumps. I just push the lumps through, with my fingers.

INSTRUCTIONS
STEP I: MAKE THE MONKEY BREAD DOUGH
1. Grease a 12-cup tube pan, without a removable bottom, and set aside.
SARAH SAYS: Do not use a tube pan with a removable bottom, such as an angel food cake pan, because the glaze at the bottom will leak out of the pan.



2. Fit a stand mixer with a paddle attachment, and combine 1 cup flour, mashed potato, eggs, honey, undissolved yeast, and salt with the mixer on low.

Heat milk, water, and butter, in a saucepan, under low heat, until very warm or about 120 to 130 degrees F, measured with an Instant Read Thermometer.

Gradually add the milk mixture to the flour mixture, with the mixer on low. Add the the orange peel. Increase the mixer speed to medium, and beat for 2 minutes at medium speed, occasionally stopping the mixer and scraping the bowl.

3. With the mixer on low, add in enough remaining 2 cups flour to make a soft, sticky dough.

4. Turn dough out on lightly floured work surface. The dough will be very sticky. Knead for 8 to 10 minutes until dough is smooth and elastic.
SARAH SAYS: You may need up to 1/2 cup flour during the kneading process, but do not use it all at once; gradually and lightly flour the work surface as you knead, but do not over-add flour. You do not want to dough to become dry. If it does, lightly grease the work surface with vegetable oil and knead for a minute or two until the dough becomes pliable, again.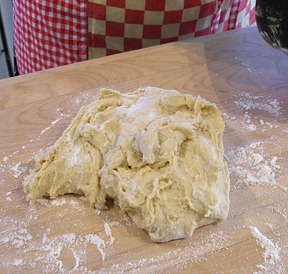 Lightly cover with plastic wrap; let rest on a lightly floured surface for 10 minutes.



STEP II: PREPARE THE GLAZE INGREDIENTS AND THE BAKING PAN
1. Meanwhile, combine glaze ingredients in medium bowl: the sugars, whipping cream, cinnamon, nutmeg and vanilla extract. Stir to blend.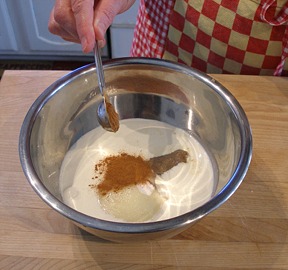 2. Pour 1/3 of the glaze evenly on bottom of the prepared tube pan.



Sprinkle with the nuts and raisins.



STEP III: SHAPE THE MONKEY BREAD, BAKE AND SERVE
1. Divide the dough into 36 equal pieces. Cut the dough straight down with a bench scraper or sharp knife; do not tear or pull at the dough. You can weigh each piece to make sure each portion is of equal weight.
KELLY SAYS: I divided the dough in fourths, then I divided each fourth into thirds (that makes 12 pieces), then each of those 12 pieces into thirds = 36 pieces of dough!



2. Roll each piece into a smooth ball. Roll dough in between the palms of your hand quickly to round it; do not press down while doing so. You do not want to deflate the dough, but rather just shape it into a smooth ball shape as quickly and lightly as possible.
SARAH SAYS: If the dough sticks to your hands, lightly grease them with vegetable oil; do not use any more flour.



3. Arrange balls in 3 layers in prepared pan; pour 1/2 of the remaining glaze in between each layer. Kelly shows you how she does it:
LAYER ONE: Arrange 12 balls evenly in the pan and then, pour 1/2 of the glaze over the dough balls: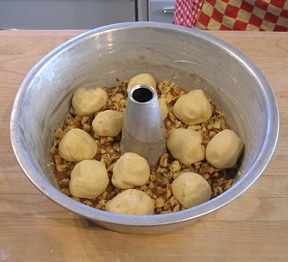 LAYER TWO: Arrange 12 balls evenly in the pan on top of layer one and then, pour 1/2 of the glaze over the dough balls:

LAYER THREE: Arrange 12 balls evenly in the pan on top of layer two.



4. Cover with greased plastic wrap, greased side down and let rise in warm, draft-free place until doubled in size, about 1 hour.



KELLY SAYS: After 1 hour of rising, the dough looks like this:



5. Meanwhile, 30 minutes before the bread is done rising, position an oven shelf in the middle and preheat oven to 350 degrees F.

6. Bake for 40 to 45 minutes or until done, covering with foil during last 10 minutes to prevent excess browning.



Transfer the pan to a cooling rack and gently run a knife down the side here and there to loosen the loaf.

Cool in pan on wire rack 10 minutes and then, invert onto rimmed serving plate.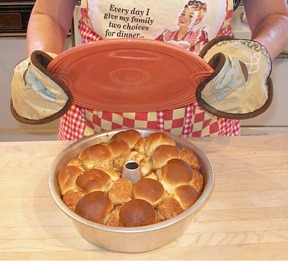 If there is excess glaze left in the pan, immediately spoon it onto the bread.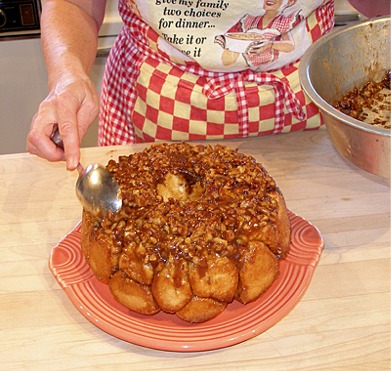 SERVE
Serve warm.

STORAGE
It should be kept refrigerated because of the topping, where it will keep for a couple of days, but will dry slightly. Reheat before serving. The baked bread freezes well.