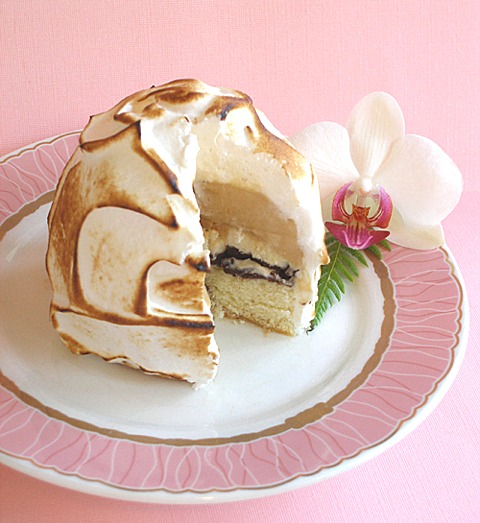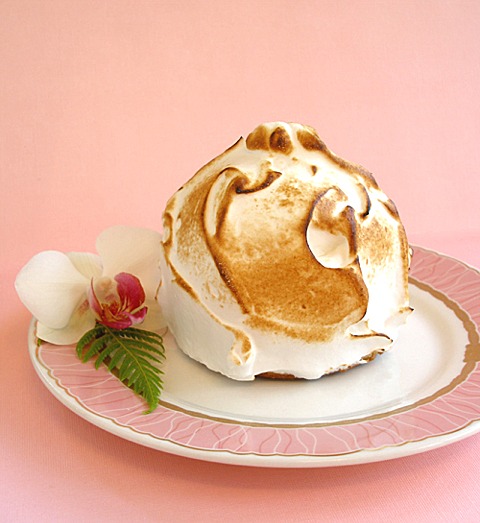 Baked Alaska is one of those desserts that makes you feel like a VIP, when you eat it. Baked Alaska (also known as glace au four, omelet à la norvégienne, Norwegian omelet and omelette surprise) is a dessert made of an outer shell of meringue, and a frozen ice cream and cake center; it seems like it would be an impossible feat to accomplish. The entire dessert is then placed in an extremely hot oven for just long enough to firm and toast the meringue. Yet, the insulating powers of the swirly meringue blanket makes the seemingly impossible, possible. It's magical, tasty, and downright impressive!

We make ours with a toasted marshmallowly-meringue exterior, with homemade caramel ice cream, sliced ripe banana, chocolate ganache on a moist yellow cake base. DE-LISH!
CAKE RECIPE HELP

KELLY SAYS: "When my hubby was a little boy, he and his family lived in Japan, because his dad was in the U.S. Army.
Many times, he told me about eating at the officer's club on special occasions. He said that he ALWAYS ordered Baked Alaska because he loved it so much....the warm, toasted marshmallow-like exterior and the cold ice cream within...it was almost magical to him.
Last week was his birthday, so I invited some friends over for dinner and made 6 individual Baked Alaskas for dessert. The recipe can make up to 9."