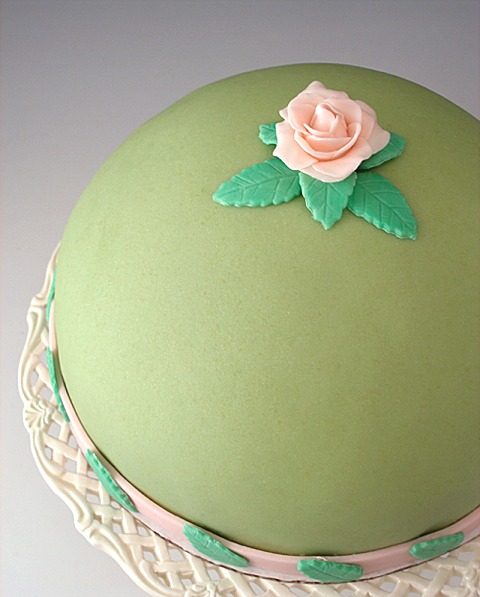 Our marzipan covered Princess Cream Cake (Prinsessins Kramkake) Recipe! We also use this recipe with our Italian Cassata alla Siciliana Cake.
Marzipan is a pliable, edible and very sweet mixture that is traditionally made from almond paste as its base, confectioner's sugar, corn syrup and flavorings. The ingredients are mixed and kneaded together and optionally flavored and/or tinted. It has to contain at least 25 % or more of almonds, otherwise it is called almond paste. You can use this recipe to mold figurines from or use our other Marzipan Recipe.
FROSTING, ICING, ETC RECIPE HELP
If at any time the marzipan smells rancid, toss -- because it is made from nuts whose oils are perishable.
Large Quantity (Yield: 2 pounds)
INGREDIENTS
1 pound of almond paste
1 pound (4 cups) powdered sugar, sifted; measure and then, sift
6 tablespoons (3 ounces) light corn syrup*
1 teaspoon of vanilla extract (or any flavoring)
1 tablespoon of rum or any liqueur (optional)

Small Quantity (Yield 1 pound)
INGREDIENTS
1/2 pound of almond paste
1/2 pound (2 cups) powdered sugar, sifted; measure and then, sift
3 tablespoons (1 1/2 ounces) light corn syrup*
1/2 teaspoon of vanilla extract (or any flavoring)
1/2 tablespoon of rum or any liqueur (optional)

**Light corn syrup is the best to use, but can be substituted with the same amount of: honey (colors), molasses (darkens), maple syrup (colors) or glucose (thicker than corn syrup).

INSTRUCTIONS
1. Cut up almond paste in to small chunks and place in a stand mixer bowl (a hand held one does not work well with this recipe; the motor is not strong enough).
Attach paddle (or dough hook if making the larger amount) and pulse (turn on and off in slightly fast succession) on low speed until the paste is broken up, for about 35 - 45 seconds.

2. Add half of the powdered sugar and continue to pulse while slowly pouring in the vanilla, rum and corn syrup until the dough come together and sticks to paddle or dough hook.

3. Place remaining powdered sugar in a mound on the countertop. Put dough in the center of it and knead in all of it. Marzipan should have a fine smooth texture and feel like heavy pie dough when done.

4. If it sticks to the countertop, it needs a bit more powdered sugar.
Flatten the marzipan and lightly sprinkle more sugar on top. Knead it before deciding if you need more.
Do not make it too stiff. Marzipan can be softened by adding small amounts of light corn syrup to it.

5. It can then be tinted, if applicable:
HOW TO TINT MARZIPAN
Color a walnut size piece of marzipan with the green food coloring until the marzipan is deep green.

INGREDIENTS
Example:
1 to 2 pounds marzipan
Green food coloring
Powdered sugar for rolling

INSTRUCTIONS
1. Using a sifter or a fine mesh strainer, dust a scrupulously clean work surface with powdered sugar.

2. Tear off a pea-sized piece of green marzipan and knead it with the remaining marzipan until it is uniform in color.

Add additional pieces from the green marzipan until it achieves a light green color (it should be the color of a Granny Smith apple). Eat the leftover deep green marzipan.
NOTE: Coloring the marzipan takes A LOT of kneading! You might need a coffee break when you're finally done. Plus, your hands and nails will turn a lovely shade of green.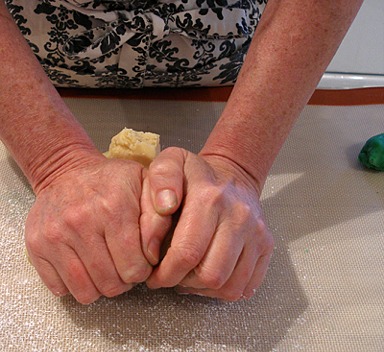 STORAGE
Once made, store marzipan in a plastic bag placed in an airtight container for 1 month in the refrigerator. It can also be frozen for about 6 months.
Thaw in refrigerator overnight and then warm to room temperature before using. (I like to use mine at slightly cooler than room temperature).

Knead to soften, but don't let it get oily. If it does, press paper towels on its surface to absorb.
SARAH SAYS: To make it soft and easy to work with, put it in a warm place, such as next to the stove while the oven is on,
or heat it in the top of a double boiler or a steamer set over simmering water. DO NOT OVERHEAT, otherwise it will get greasy.

Once tinted, molded and dried, store marzipan in an airtight container.