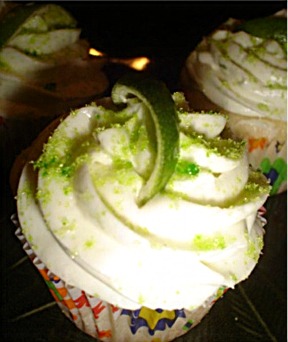 Cupcakes and photo by dillonsmimi, Premium Member © Sarah Phillips
A nice lime flavor...just strong enough...
CAKE RECIPE HELP
INGREDIENTS
Cupcakes
1 box (18.25 oz.) cake mix (white, no pudding)*
1 10 oz can margarita mix (thaw to room temp)
2 large egg whites
1 large egg
3 tablespoons vegetable oil
1 tablespoon lime zest
*NOTE: SARAH SAYS: As a result of the cake mix size changes, please add to the recipe:
You have two choices:
CHOICE #1: Buy two boxes and weigh out a TOTAL of 18.25 ounces of the baking mix to use in the recipe. Save the rest in an airtight bag for the next recipe. Proceed with the rest of the recipe.
CHOICE #2: OR, add in extra cake flour, as follows, to the recipe:
If your cake mix is now 16.5 ounces = ADD in 1.75 ounces cake flour or 6 to 7 tablespoons
If your cake mix is now 15.25 ounces = ADD in 3 ounces cake flour
INSTRUCTIONS
1. Preheat oven 350 degrees F. Line 24 standard cupcake tins with liners of your choice.
2. In large bowl, combine all ingredients and mix as per cake box instructions.
3. Fill cupcake liners 2/3 full.
4. Bake for 18-20 minutes or until toothpick inserted reveals a few moist crumbs still attached.
5. Place on rack to cool 10 minutes...remove to rack and cool completely.

KEY LIME CREAM CHEESE FROSTING
INGREDIENTS
4 oz. unsalted butter (softened)
8 oz. cream cheese (softened)
2 tablespoon key lime juice or lime juice
1 teaspoon key lime zest
4-5 cups powdered sugar, sifted; sift after measuring

INSTRUCTIONS
In large bowl, cream first 4 ingredients until light and fluffy.
Add 4 cups powdered sugar (one at a time), until light and fluffy. If mixture appears thin add one T. sugar at a time until spreading consistancy is achieved.
Must be refrigerated, rewhip before using.
Garnish with lime twist.

STORAGE
The cupcakes must be refrigerated.

MIMI, Premium Member, Says: I always use Duncan Hines mixes in my doctored cake recipes (18.25 oz). I also always sift any mix be it cake or pudding...that way I don't overmix trying to get the lumps out of the batter. I custom color granulated sugar with color gel. I think I used Americolor electric green for this recipe. I ran a taste test for these...I took a spoonful of frosting, sprinkled the sugar and then ground just a hair of sea salt on top (a little tiny amount). I liked the salt...I got the sweet lime flavor then a little salty (very fleeting) hint.