Variations: Chocolate Coconut Mini Cakes with Chocolate Ganache Dessert Sauce; Lime Coconut Mini Cakes with Boysenberry Compote; Vanilla Coconut Mini Cakes with Roasted Balsamic Strawberry Sauce

These little cakes are light as a cloud and the tang from the Meyer lemons and raspberries reminds me of a Summer's day. See the flecks of vanilla bean in the filling? YUM! They are perfection!
For the photo, I cut the cake into three layers, took a whisk to the Meyer lemon cream, to fluff it up again, and used Raspberry Puree to decorate the cake with.
I turned the cupcake upside down and layered it with the Meyer lemon cream and garnished it with the raspberry sauce and a fresh raspberry.
I think it looks so elegant.
CAKE RECIPE HELP
HELP! I've overbeaten my egg white mixture. Do I have to throw them out and start again! I just wasted twelve eggs and all of the time separating them...I'm heart broken!
SARAH SAYS: If the egg whites are beaten beyond the stiff peak stage, they lose their gloss and look curdled. Unfortunately, there is no more stretch left for them to rise when baked -- some or will pop during the whipping stage and will collapse. To fix, try whisking in another large egg white with a wire whisk -- DO NOT use the electric mixer. If you can't fix them, unfortunately, you have to start over again with fresh egg whites...
RECIPES NEEDED:
1 recipe Meyer Lemon Curd
1 recipe Raspberry Puree or Raspberry Compote
1 recipe Lemon Coconut Mini-Cakes
1 recipe Lemon Cream
Powdered sugar, for serving
Mint springs, for serving

INSTRUCTIONS
STEP I: MAKE THE MEYER LEMON CURD
MEYER LEMON CURD
Makes about 1/2 cup
INGREDIENTS
4 tablespoons freshly squeezed Meyer or regular lemon juice; from about 3 - 4 Meyer lemons
1/2 cup plus 2 tablespoons sugar
2 large egg yolks
2 tablespoons unsalted butter
1 vanilla bean, split lengthwise, seeds scraped or 1 teaspoon vanilla extract
1/2 teaspoon salt

KELLY SAYS: I love to use the Meyer Lemons, freshly picked from my backyard tree, for this recipe. But, you can use regular lemons, instead!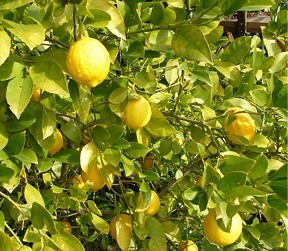 Photo of Kelly's Dwarf Meyer Lemon Tree
KELLY SAYS: My Meyer Lemon Tree is a mere 4 1/2 feet tall and it must have at least 100 beautiful lemons on it right now.
If you have never had Meyer Lemons, you are really missing out! They are sweeter than grocery store lemons and have a wonderful complex flavor.

To scrape the seeds from a vanilla bean, use a sharp knife to slice the beans in half lengthwise. Separate the seeds from the skin by scraping the blade of the knife along the inside of the bean.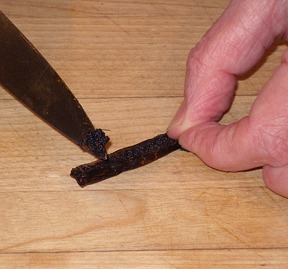 INSTRUCTIONS
1. In the top of a double boiler, whisk together the lemon juice, sugar, egg yolks, butter, vanilla seeds and salt.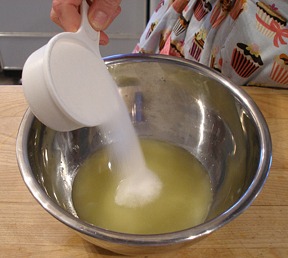 2. Set the bowl over a pot of simmering water, whisking constantly, until thick, about 15 minutes.
NOTE: Lemon curd will thicken even more, as it cools.

3. Transfer the lemon curd to another bowl, taking care not to scrape the bottom of the pan. Press a piece of plastic wrap on its surface. Let cool, then refrigerate for at least 1 hour.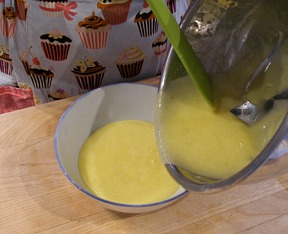 STORAGE
SARAH SAYS: Press a piece of plastic wrap on its surface to cool. Refrigerate to thicken. Then, it can be frozen.

Lemon curd can be frozen for up to 1 year without quality changes when thawed. To thaw, move the container from the freezer to a refrigerator for 24 hours before intended use.
After thawing, store in the refrigerator in a covered container and consume within 4 weeks.
STEP II: MAKE THE LEMON COCONUT MINI-CAKES
LEMON COCONUT MINI-CAKES
Makes 12
INGREDIENTS
2 tablespoons melted unsalted butter
1/2 cup sugar, divided, plus additional for the pans

3 large eggs, separated
pinch salt
1/8 teaspoon cream of tartar, optional

1 large egg yolk
Grated peel of 1 lemon
1 teaspoon vanilla extract
Pinch of salt

1/2 cup unbleached all-purpose flour; spoon into measuring cup and level to rim
1/2 cup shredded unsweetened coconut

INSTRUCTIONS
A. PREHEAT THE OVEN AND PREPARE THE MUFFIN TINS
1. Position an oven shelf in the middle and preheat the oven to 350 degrees F.

Brush a 12-cup muffin tin with the melted butter.

Sprinkle the greased cups with sugar to coat. Place the muffin tin in the refrigerator so the butter can harden.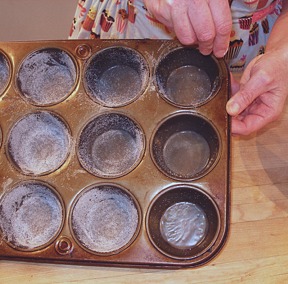 B. BEAT THE EGG YOLKS
1. In a mixing bowl, combine the four large egg yolks, lemon peel, vanilla and salt with 1/4 cup of sugar.

2. Beat with the whisk attachment at medium speed until very light and fluffy, about 2 minutes. Cover and set aside momentarily.

C. BEAT THE EGG WHITES
1. Using an electric stand mixer fitted with a whisk attachment, place three large egg whites in a mixer bowl; make sure both the whisk and bowl are clean and grease-free.

Beat on medium-low speed until the egg whites become foamy.

SARAH SAYS: As air is beaten into the egg whites, they will start to lighten in color. This beginning step is one of the most overlooked and important steps. A slower mixer speed will not deflate the early stages of the foam; if you do, it will never whip to its fullest!
If egg whites are beaten too quickly at the beginning, the structure of the foam will not be as strong, and later the egg whites will not beat as high as they should.

Keep mixing the egg whites on medium-low speed. The egg white foam will increase in volume and become white and have large bubbles. With the mixer running, immediately add the pinch of salt and the cream of tartar at the side of the bowl.

SARAH SAYS: Adding a small amount of acid, such as cream of tartar or lemon juice, stabilizes egg whites and allows them to reach their full volume and stiffness. It does this by making the egg coagulate faster. Salt enhances flavors and should be added with the recipe's ingredients.

The bubbles in the egg white foam will become smaller and more even in size. When it reaches this stage, increase the mixer speed to medium-high. Then, add the remaining 1/4 cup sugar slowly in a steady stream at the side of the bowl. After the sugar has been added, increase the mixer speed to high.

SARAH SAYS: Always add sugar in a stream, slowly at the side of the bowl while the whites are being whipped; do not dump it in the center -- you don't want to risk deflating the whites.

Beat until the egg whites are white, fluffy, very stiff and still very glossy. They will form lumps as the mixer beats. STOP beating when they start to form lumps around the beater as shown in the photo. If egg whites are beaten to dry and dull, they are overbeaten -- Watch carefully, because egg whites can go from stiff to dry and overbeaten in as little as 30 seconds.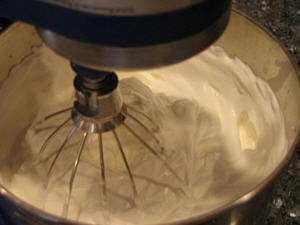 SARAH SAYS: Use your whites in the recipe immediately upon beating them. If they sit for more than 5 minutes, they start to deflate, so whip again by hand with a hand wire whisk. They will keep a bit longer if the foam contains sugar or an acid, such as cream of tartar or lemon juice.

D. FOLD THE BEATEN EGG WHITES INTO THE BEATEN EGG YOLK MIXTURE. FOLD IN THE FLOUR AND BAKE. FILL WITH LEMON CREAM AND SERVE WITH RASPBERRY COMPOTE.
1. Stir the beaten egg yolk mixture.
Using a large rubber spatula, fold about half of the egg whites into the beaten egg yolk mixture to lighten it. Repeat again with the remaining egg whites until the mixtures are homogenous and smooth.

2. Sift the measured flour over the egg yolk / egg white mixture and fold it in.

3. Fold in the coconut.

4. Divide the batter equally among the prepared muffin tins. They will be about 3/4 full.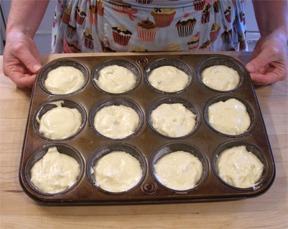 5. Bake the cakes about 10 minutes, or until a toothpick inserted into the center of a couple, comes out with a few tiny moist crumbs, but not batter. Let cool in the pans (the cakes will sink a little as they cool).

STEP III: MAKE THE LEMON CREAM
LEMON CREAM
INGREDIENTS
1 recipe lemon curd
1 cup heavy cream

INSTRUCTIONS
1. Whip the heavy cream to medium-stiff peaks.

2. Then, with a large rubber spatula, fold 1/3 of the whipped cream into the cold lemon curd. Repeat two more times.

3. The final lemon curd and whipped cream mixture should be homogenous and smooth.

4. Transfer the mixture to a pastry bag fitted with a plain tip for piping the cream into the cakes.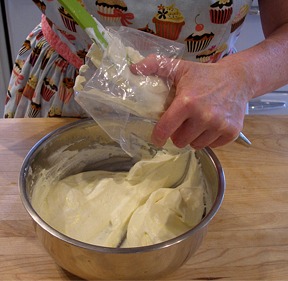 STORAGE
Keep refrigerated for 2 to 3 days. Does not freeze.

STEP IV: ASSEMBLE AND SERVE THE RECIPE
INGREDIENTS
1 recipe Lemon Coconut Mini-Cakes
1 recipe Lemon Cream
1 recipe Raspberry Puree or Raspberry Compote
Powdered sugar, sifted, for serving
Mint springs
INSTRUCTIONS
1. To fill the cooled lemon coconut cakes, insert a paring knife into the bottom center of each cake.
Rotate it to form a hole that comes about three-fourths of the way up towards the top of the cake, making sure you don't cut through the top of the cake.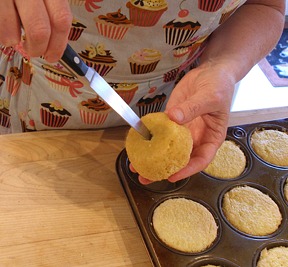 2. Insert the pastry tip into this hole and pipe in lemon cream until the bottom of the cake begins to swell slightly.

3. Serve each cake: Dust the cakes with powdered sugar.
Sprinkle the individual serving plates with a light dusting of powdered sugar.

Here we used Raspberry Compote:
Place a filled mini-cake on top of a large spoonful of raspberry compote and then, garnish with a raspberry and a mint sprig.
Serve immediately; the cake will start to soak in the raspberry compote and become mushy.

VARIATIONS
Chocolate Coconut Mini Cakes with Chocolate Ganache Dessert Sauce
RECIPES NEEDED
1 recipe Pastry Cream Tutorial instead of 1 recipe Lemon Curd
1 recipe Chocolate Ganache Dessert Sauce instead of Raspberry Compote

1 recipe Chocolate Coconut Mini-Cakes Recipe
To make: TAKE OUT 2 tablespoons flour from the Lemon Coconut Mini-Cakes Recipe, above
ADD IN 4 tablespoons cocoa powder, Dutch-process or Natural, preferably Hershey's Special Dark
TAKE OUT Grated peel of 1 lemon
INCREASE Vanilla Extract from 1 teaspoon to 1 1/2 teaspoons
ADD IN 1/2 teaspoon instant espresso powder, optional
1 recipe Lemon Cream: Instead of 1 recipe Lemon Curd, use 1 Recipe Pastry Cream Tutorial folded in with the Whipped Cream
Powdered sugar, for serving
Mint springs, for serving

Serve with Chocolate Ganache Dessert Sauce

Lime Coconut Mini Cakes with Boysenberry Compote
RECIPES NEEDED
1 recipe Lime Curd
1 recipe Boysenberry or Blueberry Compote, below, instead of Raspberry Compote
1 recipe Lime Coconut Mini-Cakes: Use Lemon Coconut Mini-Cakes Recipe, but
Instead of Grated peel of 1 lemon, use grated peel of 2 limes

1 recipe Lemon Cream: Instead of 1 recipe Lemon Curd, use 1 Recipe Lime Curd folded in with the Whipped Cream

Powdered sugar, for serving
Mint springs, for serving

Boysenberry or Blueberry Compote
2 pounds boysenberries or blueberries, fresh or frozen
1/2 cup sugar, or to taste
1 1/2 cups orange juice
1 teaspoon lemon peel
2 tablespoons cornstarch
1/3 cup warm water (to dissolve cornstarch in)

For the compote, in a large saucepan, combine the boysenberries, sugar to taste, orange juice and lemon peel. Dissolve the cornstarch in the warm water and set aside. Bring the fruit mixture to a boil and remove from heat. Pour about half of the cornstarch liquid into the boysenberry mixture and return the saucepan to the heat. Whisking constantly, bring the compote back to a boil. The compote should be thick enough to coat the back of a spoon. If necessary, add the remaining cornstarch in the same manner as before. Keep warm.
Vanilla Coconut Mini Cakes with Roasted Balsamic Strawberry Sauce
RECIPES NEEDED
1 recipe Pastry Cream Tutorial instead of 1 recipe Lemon Curd
1 recipe Roasted Balsamic Strawberry Sauce instead of Raspberry Compote
1 recipe Vanilla Coconut Min-Cakes Recipe: Use Lemon Coconut Mini-Cakes Recipe, but
To make: TAKE OUT Grated peel of 1 lemon
INCREASE Vanilla Extract from 1 teaspoon to 2 teaspoons IN:
1 recipe Lemon Cream: Instead of 1 recipe Lemon Curd, use 1 Recipe Pastry Cream Tutorial folded in with the Whipped Cream
Powdered sugar, for serving
Mint springs, for serving

Serve with Roasted Balsamic Strawberry Sauce