Variation: Lime Chiffon Pie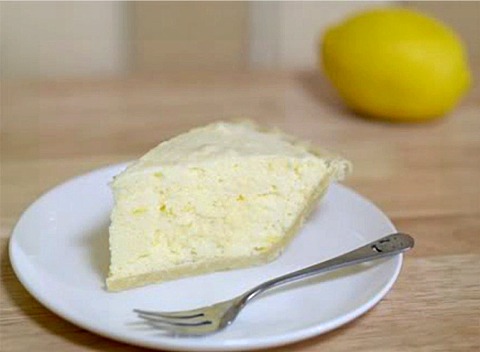 Pie and photo by Orange Piggy © Sarah Phillips
Premium Member, Orange Piggy, requested a recipe for Lemon Chiffon Pie! I thought she would love this wonderful zesty recipe! One version of this recipe is made with key limes; substitute them where the recipe calls for lemon.
PIE RECIPE HELP
If you are worried about using uncooked raw egg whites when making the meringue for this recipe, freeze the separated egg whites for another use. Instead, use powdered pasteurized egg whites for the recipe or follow my tips for How to Eggs - Cooking Techniques for Safe Soft Meringue.
INGREDIENTS
1 recipe How to Roll, Flute, and Prebake Pie Crust using Kelly's Food Processor Pie Crust for a 9-inch standard or 9 1/2-inch deep-dish pie; bake and cool crust
Filling:
4 large eggs, separated
2/3 cup sugar, divided
1/4 cup fresh lemon juice
1 1/2 teaspoons powdered gelatin
1/3 cup cold tap water
2 teaspoons finely grated lemon zest

Whipped cream, for garnish
INSTRUCTIONS
1. In a medium size mixing bowl, whisk together the yolks and 1/3 cup sugar until fluffy, then whisk in the lemon juice.

2. Place the bowl and over a saucepan of simmering water, and cook, whisking, until thickened, about 7 to 8 minutes.

3. Meanwhile, sprinkle the gelatin over cold water and let dissolve.

4. Remove the yolk mixture from the heat and whisk in the gelatin until dissolved.
Strain the yolk mixture through a fine mesh strainer back into the mixing bowl.

5. Place the egg yolk / gelatin mixture over an ice bath and stir with a rubber spatula to cool it.
Once it's room temperature remove it from the ice bath and stir in the lemon peel.
Press a piece of plastic wrap on the surface of the mixture and let it sit on the countertop while you whip the egg whites and sugar (meringue).

6. Place the 4 large egg whites in a clean dry stand mixer bowl, fitted with a whisk attachment, and whip on medium speed until foamy; then turn up to high and continue whipping until soft peaks form.
Gradually add the remaining 1/3 cup sugar and whip until the 4 large egg whites are stiff and glossy, but not dry.

7. Fold 1/3 of the whites into the lemon mixture; then fold in the remaining whites in 2 more batches.

8. Scoop the mixture into the cooled pie shell and smooth the top.

9. Chill the pie at least 2 hours before serving.

SERVE
Serve slices with dollops of whipped cream.

STORAGE
The pie should remain refrigerated. It keeps for a few days, but is best consumed within a day or two.

VARIATION
Lime Chiffon Pie: replace the lemon juice with freshly squeezed lime juice. Use 1 tablespoon lime peel instead of lemon peel.
SARAH SAYS: Remember to zest the lime for its peels before squeezing them for their juice.