Some say that this well-loved Southern layer cake earned its name because every bite you take makes you hum with delight. Another theory is that it's as sweet as the sugared water used to attract its hovering namesake. This particular recipe for Hummingbird Cake has won its share of blue ribbons. But we decided to shake things up a bit and covered this classic with a rich chocolate cream cheese frosting instead of the more traditional vanilla cream cheese frosting. The combination is absolutely irresistible!
I use my special Healthy Oven Mixing Method to aerate the cake batter, which results in a tender, moist, and more finely-textured cake than most traditional recipes. I'll also tell you how to select the perfect bananas as well as the best method for mashing them so your cake doesn't sink in the middle or turn out rubbery, so often a problem found with banana cakes.
CAKE RECIPE HELP
For baking, I like to use bananas are just starting to get covered with brown flecks, and aren't overly ripe (but not underripe either!). I find they work best because they contain more pectin than bananas that are riper. Pectin is an indigestible soluble fiber which, when combined with water, forms a colloidal system and gels; this, in turn, gives baked goods a better structure when they bake. In other words, the less pectin a banana contains, the more apt the baked item, like cake or bread, will sink in the middle. Of course, riper bananas do tend to be sweeter, so feel free to judge for yourself what degree of ripeness is the best.
INGREDIENTS
Cake:
3 cups unbleached all-purpose flour; spoon into dry measuring cup and level to rim
1 teaspoon baking soda
1 teaspoon ground cinnamon
1/2 teaspoon ground nutmeg
1/2 teaspoon salt

1 3/4 cups lightly mashed ripe bananas; from about 3 large
1 (8-ounce) can crushed pineapple, undrained; contains 3/4 cup crushed pineapple and 1/4 cup juice
3 large eggs
2 cups sugar
3/4 cup vegetable oil
2 teaspoons lemon peel or 1/4 teaspoon lemon flavored oil
2 teaspoons vanilla extract

1 cup chopped pecans
1/2 cup dried cranberries (craisins)

Frosting:
1 recipe Traditional Chocolate Cream Cheese Frosting, Can pipe with this frosting; or use 1 1/2 times the Traditional Cream Cheese Frosting
2 cups coconut flakes, toasted* or pecans, lightly chopped and toasted, optional

Small chocolate candies, such as Sixlets, pecan halves or dried banana slices, for garnish

*NOTE:
If using coconut or pecans on the sides of your cake, toast them in a dry skillet under medium to medium-low heat, stirring frequently. Remove to parchment paper to cool.



INSTRUCTIONS
STEP I: MAKE AND BAKE THE CAKE LAYERS
1. Position one oven shelf in the lower and one in the upper-third positions in the oven.
Preheat the oven to 350 degrees F.

2. Spray three 9- x 2-inch cake pans with cooking oil spray. Line bottoms with parchment paper and spray paper. Set aside.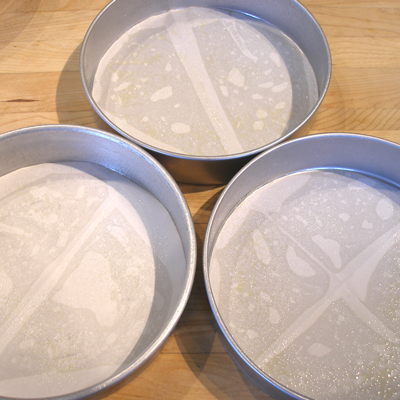 3. In a large bowl, combine the flour, baking soda, cinnamon, nutmeg and salt. Make a well in the center and set aside.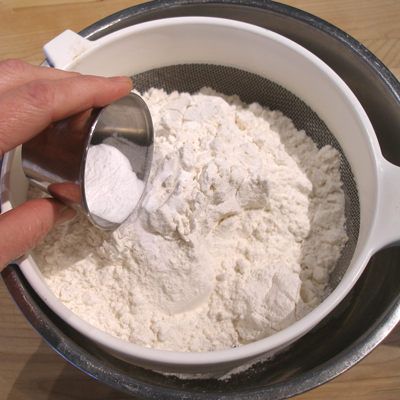 4. In a medium bowl, combine the bananas, pineapple, eggs, sugar, oil, lemon peel and vanilla extract.



5. Beat for 1 minute with a handheld mixer on medium, until frothy (small bubbles appear at edge of bowl).
SARAH SAYS: If using a stand mixer, use paddle attachment and beat these ingredients on medium until frothy.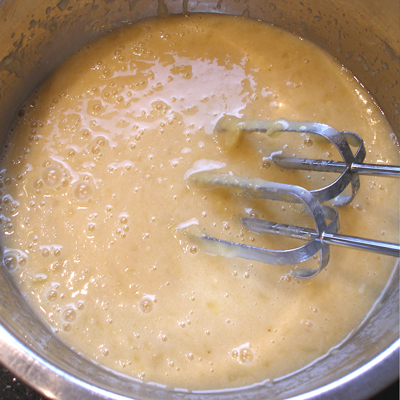 6. Pour egg/sugar ingredients into the well made in the dry ingredients. Quickly combine ingredients with a large rubber spatula in a folding motion until almost mixed.
SARAH SAYS: If using a stand mixer, turn the mixer on low, and add dry ingredients in a steady stream at side of bowl. Immediately stop mixing when last ingredients have been added. Do NOT overmix, otherwise the cake will be rubbery.



7. With the same large rubber spatula, fold the nuts and dried cranberries into the cake batter until a few wisps of flour remain. Do not overmix.
SARAH SAYS: If using a stand mixer, unclamp bowl, and fold nuts and dried cranberries into the cake batter.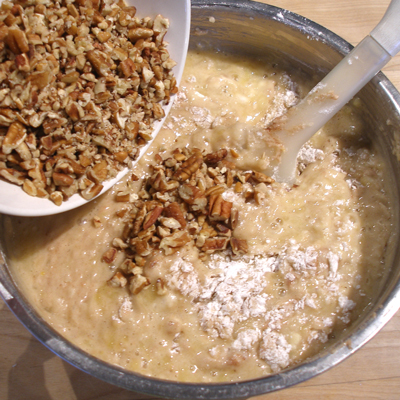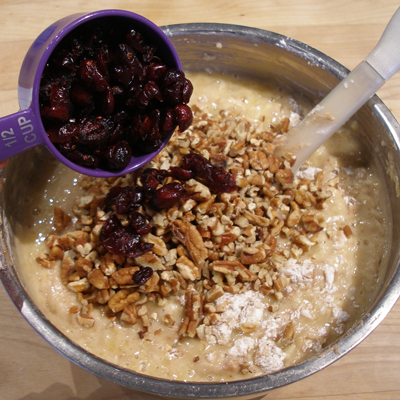 8. Divide the batter evenly into the prepared pans.



9. Place two cake layers on the lower oven rack and center the third on the upper oven rack.
Bake the cakes for 23 to 28 minutes or until a wooden pick inserted in center comes out with a few moist crumbs, but not batter. Do not overbake.



10. Cool in pans on a wire cake rack for 10 minutes and then unmold cakes. Remove the parchment paper.



STEP II: FILL AND FROST THE CAKE. SERVE AND STORAGE.
Fill and frost cake layers with the Traditional Chocolate Cream Cheese Frosting.
1. Place one layer, bottom up, on cake stand.
SARAH SAYS: I like to put strips of waxed paper around the cake, to keep the cake plate clean, before I fill and frost the cake.
Place the waxed paper strips on the platter, first, and then place the cake layer centered on top.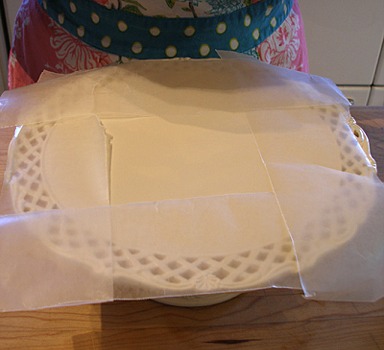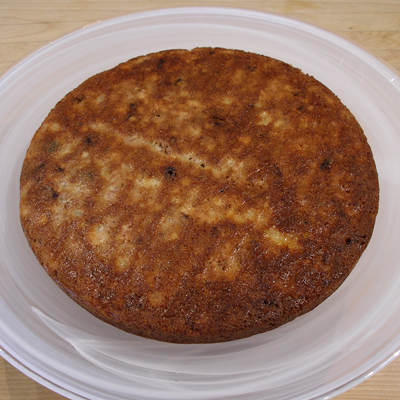 2. Add a generous amount of frosting, about 1 cup, on the layer and spread it evenly with an offset spatula.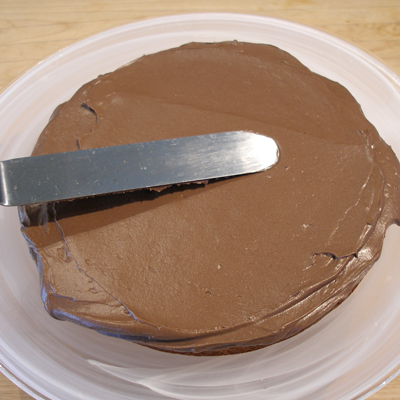 3. Place second layer on top, bottom side up, and repeat steps with the frosting.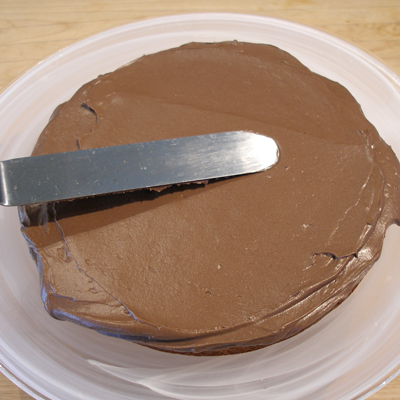 4. Place the third layer on top, top side up this time.



5. Smooth any frosting that has gone over the edge then frost the top and sides of the cake with additional frosting.



6. Press toasted coconut or pecans into the icing on the sides of the cake.
SARAH SAYS: If using the waxed paper strips to keep the platter clean, carefully pull out each piece of wax paper under the cake and then just neaten up the edges.



7. Place remaining frosting in a disposable piping bag, fitted with a Wilton 1M piping tip and pipe rosettes around the edge of the cake.



8. Top each rosette with a garnish, such as a Sixlet candy, a pecan half, or a dried banana slice.



STORAGE
Since the cake is frosted with Cream Cheese Icing is perishable, the cake must be refrigerated.
Frosted cake can remain at the cool side of room temperature for 2 hours maximum.

The unfrosted baked layers can be refrigerated for a day or two. It is because cakes baked with fruit tend to get sticky and/or moldy when stored at room temperature, so refrigeration is recommended.
Unfrosted cake layers can be frozen for a month or more. Thaw in the refrigerator in its wrappers.