Healthy Oven Do It Your Own Way Muffins
Variations: Healthy Oven Berry Muffins; Healthy Oven Bran Muffins; Healthy Oven Chocolate Chip Muffins; Healthy Oven Cranberry-Pumpkin Muffins; Healthy Oven Fresh Banana Muffins; Healthy Oven Nut Muffins; Healthy Oven Winter Fruit Muffins;


Muffins and photo by Orange Piggy © Sarah Phillips
Every cook needs a base healthy muffin recipe to whip up a batch whenever the mood strikes. Mix in blueberries, raspberries, cranberries... whatever is in season. Just do it your way!
QUICK-BREAD RECIPE HELP / LOW / REDUCED-FAT RECIPE HELP
MSBREEZ, Premium Member, Says: "Sarah,
I made this today and I have to say: THANK YOU! You are right, this is a great base recipe to have in mind. I made cherry/pecan muffins and kept the cinnamon and nutmeg...I think they are incredibly moist and delicious.I made mini-muffins, 48 of them, and they baked in 13 minutes. I also used papers and maybe suggest lightly spraying the papers with oil so they release the muffin easier. Now I'm off to think of other combos to make and keep in the freezer for 'on-hand' breakfast or snacks!
I know I always say it, but I mean it: Thanks for such a great recipe!
Shelly"
MsBreez Says: "I used a combination of 1/2 cup chopped cherries and pecans and kept the cinnamon and nutmeg in this recipe. I like to use my kitchen shears on a lot of things, they are quick and easy to clean, so I used them to "chop" the cherries into smaller pieces."
SARAH SAYS: Make sure you spray the scissor's blades with oil first to prevent the dried cherries from sticking.

INGREDIENTS
Nonstick canola oil spray

2 cups unbleached all-purpose flour; spoon into a measuring cup and level to rim; Can substitute with 1 cup all-purpose and 1 cup whole-wheat flours
1 1/2 teaspoon baking powder
1/2 teaspoon baking soda
1 teaspoon ground cinnamon
1/2 teaspoon grated fresh nutmeg
1/4 teaspoon salt

3/4 cup low-fat buttermilk
3/4 cup unsweetened applesauce
2/3 cup dark brown sugar, packed
1 large egg
1 1/2 tablespoon canola oil
1 teaspoon vanilla extract
1/2 cup raisins

INSTRUCTIONS
1. Position a rack in the center of the oven and preheat to 350 degrees F. Lightly spray twelve standard size nonstick muffin cups with oil.

2. In a medium bowl, whisk the flour, baking powder, baking soda, cinnamon, nutmeg, and salt until well combined. Set aside.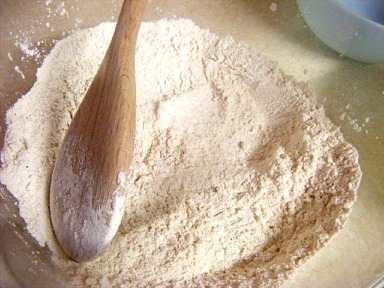 3. In another medium bowl, using a handheld electric mixer set at high speed, beat the buttermilk, applesauce, brown sugar, egg, oil, and vanilla until frothy, about two minutes.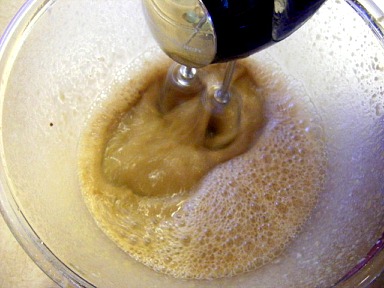 Make a well in the center of the dry ingredients and pour in the buttermilk mixture. Using a spoon, mix just until moistened. Gently fold in the raisins until the flour is incorporated. Do not overmix.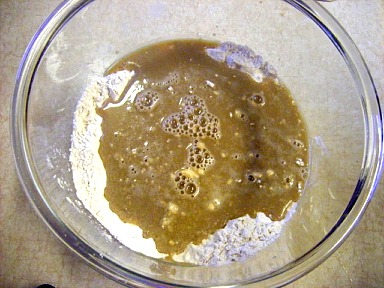 4. Divide the batter equally among the prepared muffin cups.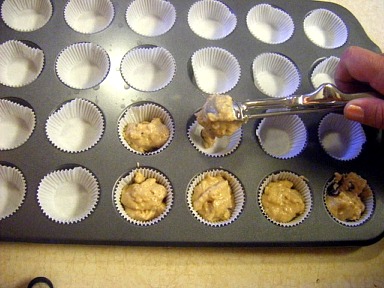 Bake until the tops spring back when pressed gently in the center, about 20 minutes. Do not overbake. Cool in the pan on a wire cake rim for 10 minutes before removing from cups. Serve warm or cool.

VARIATIONS
Healthy Oven Berry Muffins: Substitute 1/2 cup fresh or frozen (do not thaw) blueberries or raspberries for the raisins.

Healthy Oven Bran Muffins: Add in 1/2 to 1 cup unprocessed (raw) bran flakes

Healthy Oven Chocolate Chip Muffins: Omit the raisins; add 1/4 cup mini-chocolate chips.

Healthy Oven Cranberry-Pumpkin Muffins: Substitute 1/2 cup solid pack pumpkin for 1/2 cup of the applesauce and 1/2 cup fresh or frozen (do not thaw) cranberries for the raisins.

Healthy Oven Fresh Banana Muffins: Substitute 1/2 cup mashed bananas for 1/2 cup of the applesauce and 1/2 cup dried cranberries (craisins) for the raisins.

Healthy Oven Nut Muffins: Omit the raisins; sprinkle 1/4 cup chopped walnuts or pecans over the tops of the muffins and press gently into the batter before baking.

Healthy Oven Winter Fruit Muffins: Substitute 1/2 cup prune baby food for 1/2 cup of the applesauce and 1/2 cup dried currants for the raisins.

Each muffin (with raisins): 176 calories (8% from protein; 79% from carbohydrates; 13% from fats), 3 grams protein, 35 grams carbohydrates, 3 grams fat (less than 1 gram saturated fat), 18 milligrams cholesterol, 124 milligrams sodium, 2 grams fiber
From The Healthy Oven Baking Book, by Sarah Phillips, Doubleday, 1999