Healthy Oven Chocolate Zucchini Fudge Cake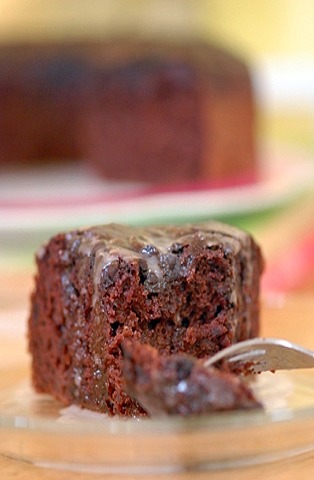 Cake and photos by Orange Piggy, Premium Member © Sarah PhillipsCraftyBaking.com
I lightened the original recipe in calories and fat and reduced the amount of sugar for a simply moist, fudgy and delightful outcome. The original recipe had 547 calories per slice and 20 grams of fat, but my version has 284 calories and 4 fat grams. I reduced the cholesterol content from 88 mg per slice to 28 mg, with zero trans fats.

The cake is finished with a flavorful rum glaze. You can substitute the zucchini in the recipe with the same amount of grated carrots or shredded apples.
CAKE RECIPE HELP / LOW / REDUCED-FAT RECIPE HELP
INGREDIENTS
Cake:
3/4 cup unsweetened applesauce
3/4 cup brown sugar
3/4 cup sugar
3 large eggs; can substitute with 2 large eggs and 2 large egg whites
2 cups (about 3 medium) zucchini squash; shred on the small holes on a grater and then measure
1/3 cup rum; can substitute with brandy or water
1 cup buttermilk, well shaken
1 tablespoon canola oil

2 1/2 cups unbleached all-purpose flour; spoon into measuring cup and level to rim
1/2 cup cocoa powder
1 1/2 teaspoons baking powder
1 teaspoon baking soda
1 teaspoon ground cinnamon
1/2 teaspoon salt

1/2 cup semisweet chocolate chips; mini's are best to use

Rum Glaze:
1 2/3 cups powdered sugar
3 tablespoons rum; can substitute with fruit juice or water

INSTRUCTIONS
Cake:
1. Position a rack in the center of the oven and preheat to 350 degrees. Grease and flour a 10-inch tube pan.

2. In a large bowl, combine the dry ingredients. Make a well in the center of the ingredients and set aside.

In a medium sized bowl, mix wet/sugar ingredients and beat for 1 minute with a handheld mixer on medium, until frothy.

3. Pour wet/sugar ingredients into the well made in the dry ingredients. Quickly combine ingredients with a large rubber spatula in a folding motion until almost mixed. Add the chocolate chips and fold into the batter until a few whisps of flour remain. Do not overmix.

4. Pour into a prepared tube pan and bake for 40-45 minutes or until done. The cake will spring back lightly when touched. Do not overbake. Let sit on a wire rack for 15 to 20 minutes and then unmold cake. Place right-side-up on a wire rack to cool completely.

Glaze:
1. Combine the powdered sugar and rum in a small bowl until well combined. The syrup should flow like glue.
If not, thicken with more powdered sugar or thin with more rum.
SERVE
Place on a rimmed cake plate and glaze with the rum glaze.

STORAGE
Store cake in the refrigerator for 2 to 3 days. It can be frozen for a month or more. Cakes with applesauce tend to "sweat" when stored because they draw moisture from the air, so refrigeration helps with this issue.


Cake and photos by Orange Piggy, Premium Member © Sarah Phillips