Healthy Oven Chocolate Fudge Cake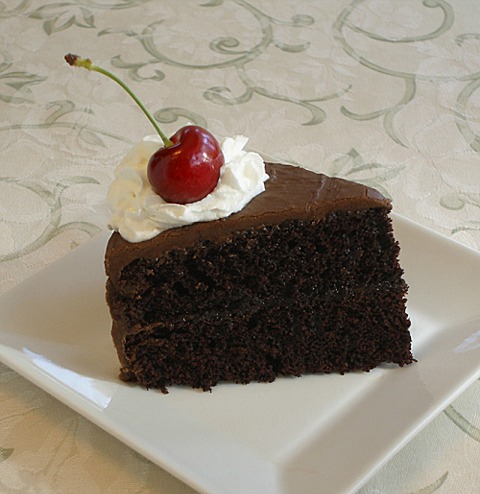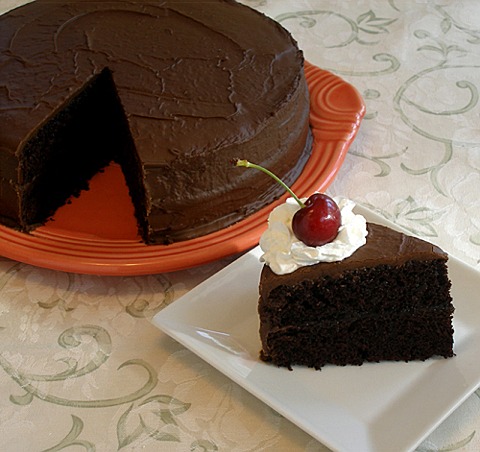 I reduced the fat in Mom's full-fat Chocolate Fudge Cake, an old family favorite. I have baked this version of the cake for family, cousins and other relatives. No one could tell that it wasn't Priscilla's Chocolate Fudge Layer Cake!
CAKE RECIPE HELP / LOW / REDUCED-FAT RECIPE HELP
KELLY SAYS: "It is amazingly moist and yummy...(my son) Devon LOVES this cake. It is super moist and definitely DOES NOT taste low fat!"

Review from another website: "I found this recipe by Sarah Phillips. Delicious, and lovely topped with the chocolate fudge icing included here, or with a coconut pecan frosting such as you'd find on a German Chocolate Cake. I love being able to enjoy all the goodness of rich chocolate without as huge a toll on my caloric intake! This is in part thanks to the use of part cocoa instead of all chocolate." — Sept 6, 2004
INGREDIENTS
Cake:
2 cups cake flour, not self-rising (spoon into measuring cup and level to top)
1/2 cup Dutch-process OR natural cocoa powder - can be used interchangeably in this recipe
1/2 teaspoon salt

2 ounces bittersweet chocolate (2 squares)

4 tablespoons (1/2 stick) unsalted butter, room temperature
1 3/4 cups sugar

1/2 cup buttermilk
1 large egg
2 large egg whites

1 cup hot, strong coffee (or, 2 teaspoons instant espresso or instant coffee powder dissolved in 1 cup hot water)
1 teaspoon baking soda (added last)

Frosting:

2 recipes Sarah's Healthy Oven Chocolate Fudge Frosting
NOTE: For this recipe, we used a little less than 2 times the frosting recipe. The nutritionals below, are based upon 1 recipe's worth.

INSTRUCTIONS
STEP I: MIX, BAKE AND COOL CAKE
1. Position a rack in the center of the oven and preheat to 350 degrees F.

Grease and optionally dust with flour, two 8- or 9- x 2-inch round nonstick cake pans. The batter is very soupy and will stick to the pans unless properly prepared.
NOTE: I used greased parchment circles in the bottom of the greased pans, instead.



2. Blend the flour, cocoa powder and salt together in a medium-size bowl and set aside.
Cocoa powder is lumpy, so sift after measuring, into the flour.



3. Melt the chocolate squares. Set aside and let cool until tepid.
NOTE: Before melting, be sure to chop the chocolate first, so it melts evenly.



4. In a medium bowl, using a handheld electric or stand mixer fitted with a paddle attachment, cream the butter and sugar together until it resembles coarse bread crumbs, and scraping down the sides of the bowl often, about 2 minutes.



5. Beat in melted and cooled chocolate. Stop the mixer and scrape the side of the bowl.



6. Add the buttermilk, eggs, egg whites and beat until smooth.



7. NOTE: UNCLIP the mixing bowl from the mixer; this part must be mixed by hand, otherwise you will overmix the cake batter.
With a large mixing spoon, add the flour mixture into the wet ingredients, scraping down the bowl often. Mix until smooth.



8. With a cup held over the mixing bowl, dissolve the baking soda in a cup of hot coffee. The mixture will bubble up and may spill. Add to the batter and mix until smooth. The batter will be very thin.

Divide the batter equally between prepared pans.

9. Bake until the cakes begin to pull away from the sides of the pans, about 30 minutes. Do not overbake. Do not open the oven until the last 5 minutes of baking.
Cool in the pans on wire cake rack for 10 minutes. Invert onto racks. Turn right side up and cool completely.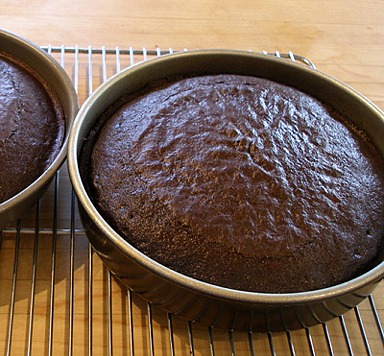 STEP II: ASSEMBLE AND FROST CAKE
1. Trim tops of cake layers, if necessary so they are flat.

2. Place one cake, flat side up, on a serving platter. Spread with 1/3 of Sarah's Healthy Oven Chocolate Fudge Frosting.
Work quickly with this frosting because it will start to set, and your spatula will start to drag across the surface once the frosting has crusted.

3. Top with the second layer.

4. Frost the top and sides of the cake with the remainder and serve.

STORAGE
Unfrosted or frosted cake layers can be frozen for a month or more, well-wrapped, or stored at room temperature for a few days, but the cake will get slightly sticky because it is very moist.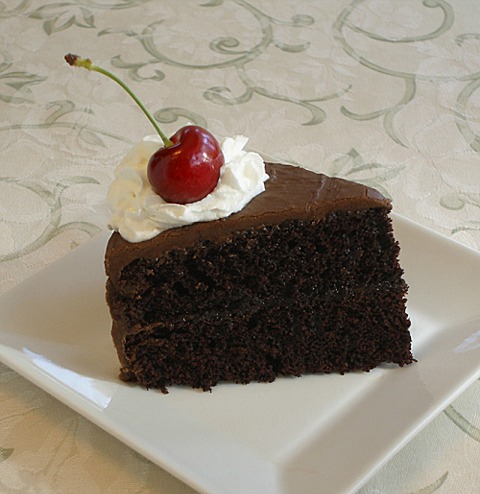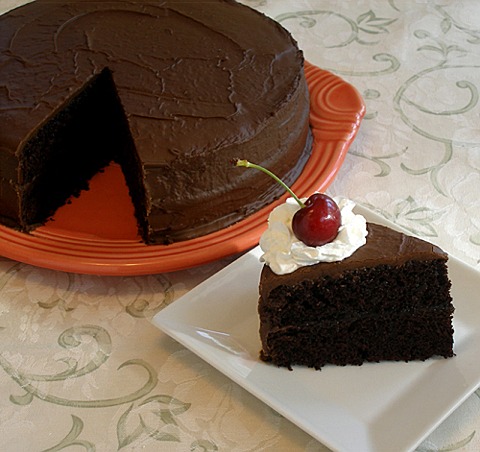 >>Nutritional Analysis: Per serving, frosted with 1 recipe Sarah's Healthy Oven Chocolate Fudge Reduced-Fat Frosting - About 322 calories (5 percent from protein; 70 percent from carbohydrates; 24 percent from fat), 5 grams protein, 61 grams carbohydrates, 9 grams fat (5 grams saturated fat), 31 milligrams cholesterol, 100 milligrams sodium, 1 gram fiber

Sarah Phillips, The Healthy Oven Baking Book, Doubleday, 1999