Variation: Whole Wheat Grown-up Pop Tarts


Kellogg's is credited with inventing the Pop-Tart or your very own individually wrapped piece of pie warmed in a toaster. If you want a real piece of pie (without all of the chemicals and artificial flavors) in your own toaster, try making it yourself. It is really a flaky pie crust encasing a filling. Ours is filled with frangipane, a classic French almond paste mixture called frangipane, used in croissants.

You can fill them with almost anything - the traditional is strawberry jam - but you can fill yours any good-quality jam you like, Nutella, a mixture of peanut butter and jelly, lemon curd, or chocolate ganache. If you use fresh fruit, make sure it is precooked and pre-thickened with cornstarch, flour or tapioca, and not runny.

After baking and cooling, you can frost your pop tarts with the Glaze Recipe provided below and top with sugar sprinkles - but those are optional. Serve your homemade delights for a snack, or for dessert with coffee. If you dare, use our whole wheat pastry crust version, and fill them with something savory, such as precooked and thickened pumpkin pie or chicken filling and sprinkle with sesame or poppy seeds, and bake so you can enjoy a hand-held dinner delight!~
PIE RECIPE HELP

See also:

Pumpkin Pielettes
Whatever you fill your tart with, just be sure to seal it tightly. Press the pieces of dough firmly together and crimp the sides with the tines of a fork. Don't forget to include air holes at the top of the pastry before you bake.
INGREDIENTS
Pie Dough:
1 recipe Kelly's Perfect Food Processor Pie Dough
Frangipane Filling:
Makes about 1 cup, or enough for 8 pop tarts

3/4 cup (about 7 ounces) almond paste (not marzipan)
2 tablespoons unsalted butter, softened
1/4 cup sugar
1/4 teaspoon vanilla extract
1/4 teaspoon almond extract
1 large egg

2 tablespoons unbleached all-purpose flour
1/4 teaspoon salt

INSTRUCTIONS
STEP I: MAKE THE PIE DOUGH
1. Make the pie dough. Put the pie dough rounds in the refrigerator to chill for at least an hour.

STORAGE
The dough keeps in the refrigerator for a few days and up to a month in the freezer, well-wrapped. Thaw in the refrigerator in its wrappers.

STEP II: MAKE THE FRANGIPANE FILLING
1. In the bowl of a food processor, pulse the almond paste until it is crumbly.

2. Add the butter, sugar, vanilla and almond extracts, egg, flour and salt, and continue to pulse until the mixture is combined and smooth.

3. Cover tightly and refrigerate until needed.

STORAGE
The filling will keep for up to 1 week.

STEP III: ASSEMBLE THE POP-TARTS
INGREDIENTS
1 recipe pie dough

About 1 cup filling (frangipane, Nutella, strawberry or any fruit preserves, or filling of your choice)

1 large egg, beaten

INSTRUCTIONS
Roll and cut the dough:
1. Line two rimmed baking sheets with a nonstick silpat baking mat or parchment paper. Set aside.
Take one chilled pie dough round out of the refrigerator at a time. Put it on a lightly floured work surface.

2. Roll the dough out with a rolling pin into a rectangle until it measures 13 x 11-inches.
Use a ruler to measure the sides and to keep them straight.
As you roll the dough out to the right shape, press the ruler up against the dough to keep the sides and the angles true.



3. Using a pizza dough cutter, trim the dough to 12- x 10-inch rectangle.

4. Cut the dough in half, across the ten inch side.

5. Then mark the dough every three inches and cut dough in fourths along the 12- inch side. That will give you 8 pieces, measuring 5- x 3-inch rectangles.

6. Cover the cut dough lightly with a piece of plastic wrap. Refrigerate.
NOTE: Sprinkle the dough trimmings with cinnamon-sugar; they make a wonderful snack. While the tarts are chilling, bake them for 13 to 15 minutes, until they're golden brown.

7. Repeat for the other pie dough round in the refrigerator. When done, you should have 16 squares total.

Fill the dough:
1. Using a pastry brush or a new paintbrush, brush half of the squares with the beaten egg, making sure you get to the edges.



2. Spoon a heaping tablespoon of filling into the center of each brushed rectangle, spreading it out a little but making sure that there's at least one-half inch of dough around the edges that does not have filling on it.

3. Gently lift a second rectangle of unbrushed pastry on top of the one with the filling on it, pressing down along the edges with your fingertips so that the two pieces of dough stick together. Repeat with the others.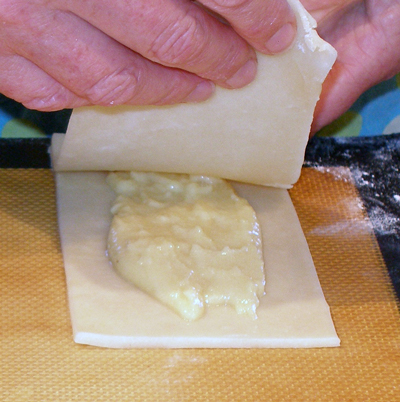 3. Using a fork, press the tines around the edges of all the tarts (dip it into your jar of flour to keep it from sticking). Place the tart on the prepared baking sheet.



4. Place the tarts in the freezer for half an hour before baking.
Bake the filled pop tarts:
1. Meanwhile, position 1 rack in top third and 1 rack in bottom third of oven. Heat your oven to 375 degrees F.

2. Just before putting the tarts in the oven, brush the tops with some of the remaining egg wash.



3. Prick the top of each tart multiple times with the tines of a fork; you want to make sure steam can escape, or the tarts will become billowy pillows rather than flat toaster pastries.



4. Bake the tarts until a light golden brown, 30 to 35 minutes. Cool in pan on a wire cake rack.

STORAGE
Store baked tarts at room temperature, well wrapped for a few days. Baked tarts freeze well for a month or more.
Reheat in a 350 degree F preheated oven, wrapped in foil, for about 20 minutes.

Unbaked and filled tarts: Cover and freeze up to 1 week. Bake uncovered right from frozen state, taking about 30 - 40 minutes.
VARIATIONS
Whole Wheat: Replace 1/2 cup unbleached flour with 1/2 cup whole wheat flour. Fill with precooked and thickened savory filling.

Various Fillings: If you use fresh fruit, make sure it is precooked and pre-thickened with cornstarch, flour or tapioca, and is not runny. Any good-quality jam you like, Nutella, a mixture of peanut butter and jelly, lemon curd, or chocolate ganache.
Glazed:
GLAZE INGREDIENTS
3/4 cup powdered sugar, plus more if needed
1 tablespoon whole or 2% milk, plus more if needed
1 teaspoon freshly squeezed lemon juice
1/4 teaspoon vanilla extract

Sprinkles

INSTRUCTIONS
1. Sift the measured powdered sugar into a medium size bowl.

2. Add the milk, lemon juice and vanilla and whisk until combined. The glaze should pour like corn syrup.
Adjust glaze consistency with more powdered sugar or milk.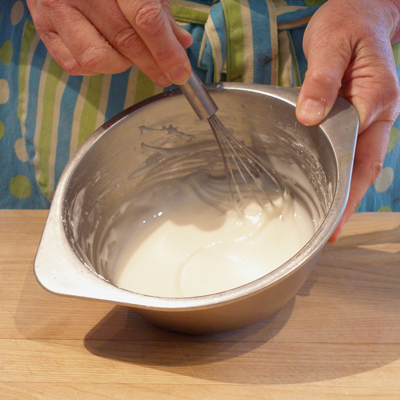 3. Set cooled pop-tarts on the wire cake rack over a rimmed baking sheet.
Using a spoon, drizzle about 1 tablespoon of the glaze over each tart.



4. Sprinkle with an ample amount of sprinkles.



5. Let glaze set for about 15 minutes before serving.