Gluten-Free Pie Crust Dough

This gluten free crust we developed is very tender, not tough at all and the texture is sort of cookie-like. Gluten-free pie dough tends to bake more quickly than a traditional pie dough. We use Sarah's New Gluten-Free Mixing Method. After making, roll and use in the recipe. We baked a Gluten-Free Classic Cherry Pie Recipe brimming with fruit using this crust.
PASTRY RECIPE HELP / GLUTEN-FREE RECIPE HELP
If you wish, use your fingertips to rub the butter into the flour mixture. Be sure to use only your fingertips and not your palms. The butter must stay cold and warm palms will melt it.

INGREDIENTS
8 tablespoons (1 stick or 1/2 cup) unsalted butter, chilled
2 cups Bob's Red Mill Gluten-Free Flour Blend; spoon into dry measuring cup and level to rim; or any Gluten-free flour blend, plus more for dusting
3 tablespoons sugar
1/2 teaspoon baking powder
1/2 teaspoon salt
2 large eggs
1/2 teaspoon xanthan gum
1 to 2 teaspoons ice water

STEP II: PREPARE THE GLUTEN-FREE DOUBLE-CRUST PIE DOUGH
INSTRUCTIONS
1. Using the large holes of a box grater shred the chilled butter onto a plate. Freeze the butter for 10 minutes.

2. In a large mixing bowl, whisk the flour, sugar, baking powder, and salt to combine.

3. Add the cold shredded butter, and toss it with the flour mixture.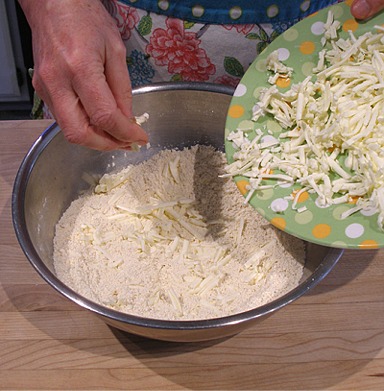 Using a pastry blender or two knives, cut in the butter until it resembles coarse cornmeal; no distinguishable pieces of butter should remain.
4. In another mixing bowl, add the eggs and then, the xanthan gum.

Thoroughly beat the eggs with the xanthan gum, for 1 minute, with a hand-held mixer on high speed.
You will see gummy strands formed in the mixture. This activates the xantham gum.

SARAH SAYS: This is a critical part of my new gluten-free mixing method. If mixed properly, the funny odor from the gluten-free ingredients should pretty much disappear.

5. Tossing the flour with a fork, gradually stir in the egg / xanthan gum mixture until the dough is thoroughly moistened but not wet, and clumps together.
You may not need all of the egg / xanthan gum mixture.

To test the consistency of the dough, press the dough together between your thumb and forefinger – it should just stick together with small dry cracks.
Gather the dough in the bowl to bring the clumps together. The dough should remain somewhat crumbly.

If the dough is too dry, sprinkle 1 teaspoon of ice water over the surface of the dough and toss the dough again.

Test the consistency with your fingers. If it is still to dry, sprinkle on one more teaspoon of ice water and toss the dough again.
NOTE: Be careful not to add too much water or the dough will become VERY sticky.

6. Gather the dough to bring the clumps together and press it into a ball.

7. Then cut the dough in half and form each half into a disk. Wrap each disk in plastic wrap and refrigerate for a minimum of 1/2 hour, preferably overnight.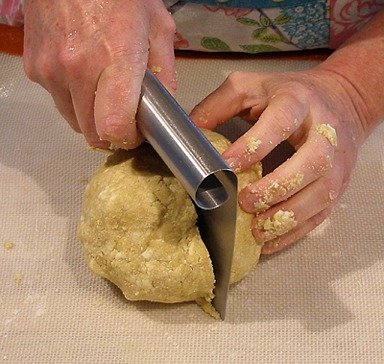 8. Roll and use in a recipe, such as the Gluten-Free Classic Cherry Pie.

STORAGE
Store dough in the refrigerator for a day or two before using.