Gluten-Free Buche de Noel or Christmas Yule Log Cake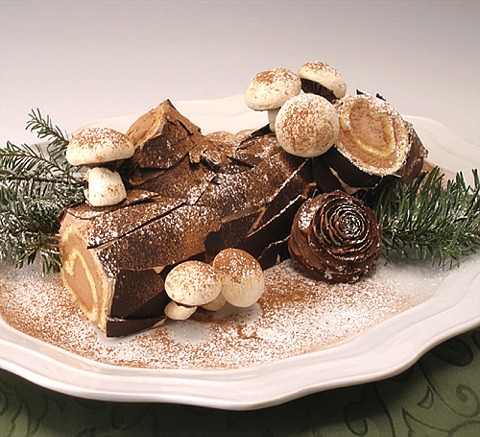 My beautiful traditional holiday gluten free vanilla scented Bûche de Noël or a French Christmas Yule Log Cake is made without wheat flour or any ingredients containing gluten, but you can always make this cake with our regular Vanilla Scented Biscuit Roulade Cake or Chocolate Cake Roll or Biscuit Roulade. I am now creating delicious desserts that can be served to all of my celiac family and friends without their telling it's gluten-free! This sets my achievement bar rather high because once you take away the wheat flour, the major component in baking, the whole recipe has to change in order to still taste great, smell wonderful and look fantastic!

The Bûche de Noël is a classic holiday filled and rolled cake made from a jelly roll cake, also known as a biscuit roulade. We filled, frosted ours with Chocolate Whipped Cream, Optionally Stabilized, frosted it with luscious and fluffy Swiss Meringue Buttercream or SMBC, chocolate variation, and decorated it with thin chocolate shards to look like a log or branch that has fallen to the floor of the forest, instructions included. Meringue mushrooms decorate the completed log to make it look as though it has been on the forest floor for quite awhile. After midnight Mass, the French traditionally eat their cake for dessert, but is also appropriate to serve the cake until New Year's Day.
CAKE RECIPE HELP / GLUTEN-FREE RECIPE HELP
See also:

Bûche de Noël, Chocolate Cake - Uses a regular Chocolate Cake Roulade (Roll)
Kelly Says: "We just had a piece of this for dessert. O-M-G!!! SO rich and decadent!!!"
I swear, you CANNOT TELL that it's gluten-free!!!"

Tiffany Heidle-Lanza (posted on facebook): "I made your Buche De Noel...best cake I have ever made! I am going to attempt to make it into a cupcake (well kinda) at least with the same ideas with a vanilla cupcake."