Sarah Phillips' No-Cook Zesty Tomato Sauce

Chicago Metallic BakeWare Company, makers of the best baking pans, asked me to come up with a topping recipe for ready made dough to print on their pizza pan label. The recipe is so popular in my house that I decided to share it with you paired with a homemade crust.
There's nothing worse than soggy pizza from tomato sauce that's too runny. To reduce the amount of water in sauce, it has to be cooked for hours. I solved this problem by creating a sauce that is thick and easy-to-make, requiring no cooking. This recipe can be made a day or two ahead and stored in the refrigerator or made right before you need it in the recipe. The fun part about my recipe is that you can flavor it any way you desire! It worked perfectly in the Skillet Pizzas Recipe because there wasn't any excess water coming from the sauce to cause the crust to burn onto the skillet; the pizzas could be removed easily from their pans.
VEGETABLES INGREDIENT HELP

Recipe used with the:

Napoletana Pizza Recipe

Grilled Pizza Recipe - Three Variations

Gluten-Free Thick Crust Pizza Recipe

Gluten-Free Thin Crust Pizza Recipe
INGREDIENTS
6 ounces (2/3 cup) tomato paste
1/4 cup water
1 tablespoon olive oil
1 teaspoon dried oregano
1 tablespoon each dried basil and parsley flakes
2 teaspoons balsamic vinegar or lemon juice
1/2 teaspoon salt or to taste
1/4 teaspoon ground pepper or to taste

INSTRUCTIONS
1. In a medium size bowl combine tomato paste and water.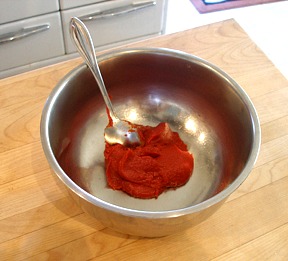 2. Add in olive oil, oregano, basil and parsley flakes, vinegar, salt and pepper. Stir well to combine. Set aside while doing the next steps or store, covered in the refrigerator for a day or two.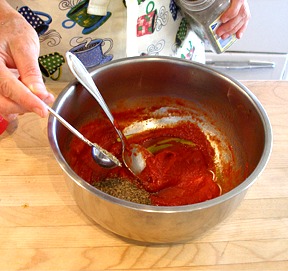 STORAGE
Extra sauce can be frozen in an airtight container for a month or more.