Funfetti Scratch Cake from a Mix
Variations: Funfetti Peeps Blossom Cake; Sarah's Scratch Cake from a Mix; Sarah's Applesauce-Spice Scratch Cake from a Mix; Sarah's Chocolate Scratch Cake from a Mix; Sarah's Pumpkin Scratch Cake from a Mix and Variations; Sarah's White Scratch Cake from a Mix


My kids love Funfetti Cakes, and we've been making them for many years. They are so fun and festive! But recently we discovered better color mix-ins that don't cause the colors to bleed (see below to find out what we use!). Because we make this colorful cake using cake mix, I'll also show you how to adjust the recipe to use different sized boxes of mix. We use this recipe to make our snazzy Funfetti Peeps Blossom Cake, but you can use it for a cheery multi-layered Happy Birthday Cake, frosted with Tami's or Perfect Buttercream.
CAKE RECIPE HELP

For pretty funfetti colors that won't bleed into your cake, Kelly found that a mixture of colors of the Wilton Colorburst Batter Bits work best.
This recipe calls for an 18.25 ounce box of cake mix. Pillsbury is currently 16.5 ounces and Betty Crocker is 15.25 ounces. To adjust the recipe you can do one of two things:
1) Buy 2 boxes and weigh out a TOTAL of 18.25 ounces of the cake mix. Save the rest in an airtight bag for the next time you use this recipe.
2) Add enough cake flour to the cake mix to equal 18.25 ounces. For example, if you use Pillsbury, add 1.75 ounces of cake flour, and if you use Betty Crocker, add 3 ounces cake flour.
INGREDIENTS
One 18.25 oz. box Pillsbury Moist Supreme Classic Yellow Mix or any cake mix*
1 1/4 cups bleached cake flour (not self-rising); spoon into measuring cup and level to rim
1 cup sugar
1 cup sour cream; do not use fat free
1 cup evaporated milk; do not dilute
3/4 cup vegetable oil; do not use olive oil
4 large eggs
1 tablespoon vanilla extract
3 boxes of Wilton Colorburst Batter Bits, we used a 1/2 cup total mix of green, pink and purple*, or 1/2 cup rainbow jimmies
NOTE:
Wilton Colorburst Batter Bits: we used a 1/2 cup total mix of green, pink, and purple.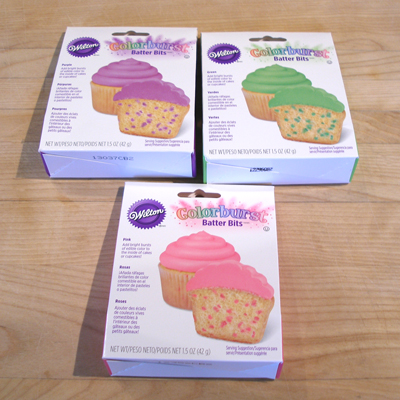 STEP I: MAKE THE CAKE BATTER.
1. Position the oven shelf in the middle of the oven and preheat to 350 degrees F.
SARAH SAYS: Reduce oven heat by 25 degrees F if using dark, nonstick or ovenproof glass baking pans.

Grease two 9 x 2-inch baking pans with nonstick cooking oil spray. Line bottoms with parchment paper and spray paper. Set aside.

2. In a mixer fitted with a paddle attachment, add the cake mix, cake flour, and sugar.
Turn mixer to stir speed, for 10 seconds, to combine ingredients.

3. Add in the sour cream, evaporated milk, oil, eggs and vanilla. Turn mixer on low, Speed #4, for 30 seconds, just to combine the ingredients. The ingredients will be lumpy. Stop the mixer and with a large rubber spatula, scrape the side and bottom of the bowl.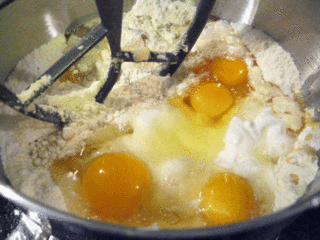 4. Turn the mixer on medium-high, Speed #8, and beat the ingredients for 2 minutes until light and fluffy and smooth.
SARAH SAYS: Use a timer to help you keep track of the time.

The batter should be thick and flow like thick glue.

STEP II: ADD IN THE COLORBURST BATTER BITS.
1. Unclamp the mixer bowl from the stand mixer.
2. With a large rubber spatula, add in half of the Colorburst Batter Bits and fold the batter once or twice, then add the remainder and fold again, making sure you scrape the side and bottom of the bowl.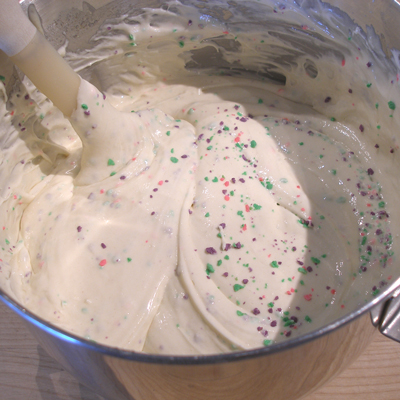 STEP III: BAKE THE CAKE
1. Divide the cake batter evenly between the two baking pans. The batter will fill the pans about half full.
(Ignore the small bowl in the photo; do not fill it with cake batter - we use that for our Funfetti Peeps Blossom Cake.)


2. Bake the small bowl cake on the upper shelf for 20-25 minutes.
Bake the layers in the lower shelf for 40 to 45 minutes or until lightly browned, and when a toothpick is inserted in the middle and removed, it has a few moist crumbs, but not batter attached.



3. Cool pans on wire cake racks for 10 minutes before unmolding to cool layers. Remove the parchment paper.



STORAGE
Unfrosted cake layers keep for 3 to 5 days at room temperature, well covered. They can be frozen for a month or more. Thaw at room temperature in their wrappers.


VARIATIONS
Funfetti Peeps Blossom Cake
Sarah's Scratch Cake from a Mix
Sarah's Applesauce-Spice Scratch Cake from a Mix
Sarah's Chocolate Scratch Cake from a Mix
Sarah's Pumpkin Scratch Cake from a Mix and Variations
Sarah's White Scratch Cake from a Mix