Fudge and Peanut Butter Ice Cream in Edible Gluten-Free Sundae Bowls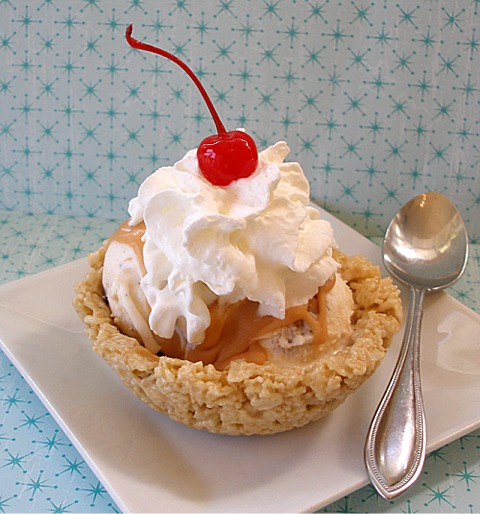 Kelly and I were chatting once again, trying to think up a new and creative recipe tutorial for this summer. The love our Basic Vanilla Ice Cream Recipe, which is both eggless and gluten-free, and we wanted to do something with it! We were thinking ice cream sandwich somethings.
I mentioned to Kelly that I wanted to invent a gluten free cookie or container to hold the ice cream with. I thought of rice krispies treats because they could be formed around the ice cream, but I knew they contained gluten. But, Rice Chex cereal is gluten-free, and wondered if they could be crushed and used instead of Rice Krispies. We both thought it could be done, and we discussed making a bowl shape or another type of shape from our own recipe. I wrote a Rice Chex Treats Recipe and sent it to Kelly.

Now people who can't tolerate gluten have a yummy alternative to waffle cone ice cream bowls. Kelly formed the recipe into a bowl shape and filled it with her luscious Peanut Butter and Fudge Swirl Ice Cream. And, yes, certain brands of maraschino cherries are gluten-free - just double check to make sure.
FROZEN RECIPE HELP / GLUTEN-FREE RECIPE HELP
FUDGE & PEANUT BUTTER SWIRL ICE CREAM - Gluten and egg-free
Makes about 1 quart

INSTRUCTIONS
STEP I: MAKE THE BASIC VANILLA ICE CREAM
BASIC VANILLA ICE CREAM / Recipe alone
Makes about 3 1/2 cups
INGREDIENTS
Ice cream:
2 cups whole milk or low fat milk, divided
1 tablespoon plus 1 teaspoon cornstarch
1 1/2 ounces (3 tablespoons) cream cheese, preferably Philadelphia Brand; can use lower fat cream cheese, not fat free!
1 1/4 cups heavy cream or whole milk
2/3 cup sugar
1 1/2 tablespoons light corn syrup
1 vanilla bean and its seeds, split and seeds scraped or 2 teaspoons vanilla extract or vanilla paste - NOTE: if using extract, add it after the ice cream base is cooked
1/8 teaspoon salt

Prepare the ice cream maker:
1. THE NIGHT BEFORE: Freeze or prepare the ice cream maker / cannister according to the manufacturer's instructions.

2. Fill a large bowl with ice water. Set aside.

3. In a small bowl, place the cornstarch. Add in the 2 tablespoons of the milk, and combine. Set aside.

4. In a large bowl, whisk the cream cheese until softened and smooth.

5. In a large saucepan, combine the remaining milk with the heavy cream, sugar, corn syrup, vanilla bean and its seeds, and salt.

6. Bring the milk mixture to a low boil and cook over moderate heat until the sugar dissolves and the scraped vanilla bean pod flavors the milk, about 4 minutes.
Take the pot from the heat.
Remove the vanilla bean pod and discard.
NOTE: If you are using vanilla extract, instead, added later in Step 7, you only need to heat the mixture until the sugar dissolves and it reaches a low boil. Cooking over moderate heat for 4 minutes
allows the vanilla bean's flavor to infuse into the milk.

7. Gradually whisk in the cornstarch mixture.
Place pan back on the stove and under medium high heat, return the mixture to a boil, whisking constantly.
Cook until the mixture is slightly thickened, about 1 minute.

8. When done, and while it is still hot, gradually whisk the thickened milk mixture into the softened cream cheese. Mix until smooth.
Make sure you hold the mixing bowl with pot holders, as it may become hot.
NOTE: Whisk in the vanilla extract here, if not using a vanilla bean pod and seeds in Step 4, above.

9. Set the bowl in the ice water bath and let stand, stirring the milk / cream cheese mixture, also known as your ice cream base, occasionally, until cold, about 20-30 minutes.

10. While the ice cream base is cooling, make your peanut butter and chocolate mix-in sauces.

STEP II: MAKE THE FUDGE & PEANUT BUTTER MIX-IN SAUCES
Both sauces will freeze nicely.
FUDGE SWIRL MIX-IN SAUCE
Makes about 1 1/2 cups - use half in the recipe or more, if desired.
INGREDIENTS
8 ounces dark chocolate, chopped into 1/4-inch evenly sized pieces
3/4 cups heavy cream

INSTRUCTIONS
For the Chocolate Sauce Mix-in:
1. Place chopped chocolate in a medium bowl.
Warm cream to boiling in the microwave, or in a small saucepan on the stove.

2. Pour hot cream over the chocolate and shake the bowl so all the chocolate is covered.

3. Let mixture sit for two or tree minutes, to melt the chocolate, then whisk, in one direction, till all the chocolate is melted, and you have a smooth emulsion.

4. Cover bowl with plastic wrap, and let cool, at room temperature, stirring occasionally.

PEANUT BUTTER SWIRL MIX-IN SAUCE
Makes about 1 1/2 cups - use almost the full amount in the recipe or more, if desired.
INGREDIENTS
1/3 cup heavy cream
1/4 cup light brown sugar, packed

1/2 cup smooth or chunky peanut butter
1 1/2 tablespoons light corn syrup
1/4 teaspoon vanilla
pinch of salt

INSTRUCTIONS
1. Place the cream and brown sugar in a small saucepan. Warm mixture over low heat, and stir till the brown sugar is dissolved.
Remove pot from the heat.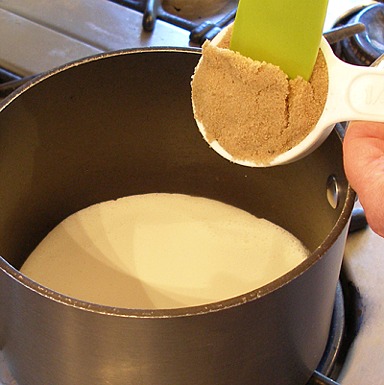 2. Immediately add the peanut butter, corn syrup, vanilla and salt to the saucepan, and stir till the mixture is smooth.

3. Place peanut butter sauce in a bowl and cover the bowl with plastic wrap. Let the sauce cool, at room temperature, stirring occasionally.

STEP III: FREEZE THE ICE CREAM BASE & SWIRL IN THE FUDGE & PEANUT BUTTER SWIRL MIX-IN SAUCES
Freeze the ice cream base:
1. While the sauces cool, check the temperature of your ice cream base made in STEP I.
If it feels cold to the touch, strain it and pour into an ice cream maker.
Freeze the mixture according to the manufacturer's instructions.

2. When the ice cream is done, place 1/3 of it into a 6 cup plastic container with a tight-fitting lid.

Swirl in the fudge & peanut butter swirl mix-in sauces:
1. Spoon dollops of the cooled chocolate sauce over the surface of the ice cream.
NOTE: You may use as much of the chocolate sauce as you want. I used about 1/2 the recipe, so the ice cream wouldn't be overly-chocolaty.

2. Place another 1/3 of the ice cream over the chocolate dollops, smoothing with a rubber spatula.

3. Place dollops of the cooled peanut butter sauce over the ice cream, and then cover with the rest of the ice cream.
NOTE: Any left over peanut butter topping can be re-warmed, and used as a warm peanut butter sauce on the sundaes.

4. Swirl the chocolate and peanut butter sauces through the ice cream by dragging a butter knife through the mixture repeatedly, in one direction, and then the other.
Do this rather thoroughly, so you do not end up with huge gobs of sauce in your ice cream.

5. Press a sheet of plastic wrap directly onto the surface of the ice cream and close with an airtight lid.

6. Freeze the ice cream until firm, about 4 hours. While the ice cream is freezing, make the gluten-free sundae bowls, recipe below.

NOTE: The swirled ice cream combination makes about 1 quart.

STORAGE
Ice cream can be kept frozen for a month or more.

STEP IV: MAKE THE GLUTEN-FREE RICE CHEX SUNDAE BOWLS
GLUTEN-FREE RICE CHEX SUNDAE BOWLS
Makes about 6 - 7 formed into 1 1/2 cup-size bowls
INGREDIENTS
1/2 cup(one stick) unsalted butter
1 package (10-ounce or about 40) large or 4 cups mini gluten-free marshmallows, such as Kraft's Jet Puffed or 1 jar (7 oz.) marshmallow crème (check with manufacturer); for best results, use fresh
Pinch of salt
1/4 teaspoon vanilla extract
6 cups General Mills' Gluten-free Rice Chex or similiar gluten free cereal of choice*

*NOTE: On a celiac blog, some have reacted negatively to eating General Mills' Rice Chex, so just be aware.

INSTRUCTIONS
1. Spray the insides of six or seven 1 1/2 cup-size bowls, with cooking spray. You will be using them as a mold to shape your the sundae bowls in.
Make sure the bottom of the inside of your mold is as flat as possible - because the bottom of the molded Chex Sundae Bowls need to sit on a flat plate when served.
Set aside.

Additionally, spray the outside of a smaller bowl to be used in Step#10. Set aside.

2. Place Rice Chex in a large bowl.

3. Crush them with your hands until they are broken up fairly small or the same size as Rice Krispies.
If you use a food processor, simply pulse them a few times, only. You do not want to pulverize them into crumbs, but there should be no large pieces.
Set aside.

4. Melt the butter in a large skillet, over medium heat.
Add the marshmallows.

5. Add the salt and stir the mixture constantly until all the marshmallows are melted.
Remove from the heat.

6. Stir in the vanilla extract.
Pour in the crushed cereal, and stir until all the cereal is coated with the marshmallow mixture.

7. Take the pan off the heat and let it cool for about 3 minutes.

8. Spray your hands with cooking spray. This is very important because the Rice Chex mixture is VERY sticky.

9. Grab about 1/2 cup of the cereal mixture in your hand, or enough to form the shape with, and press it into one prepared mold.
Working quickly, press the cereal mixture up the sides, to create a bowl shape, keeping the walls of the bowl as even as possible.
NOTE: The mixture will still be warm. Move quickly, because the shapes are easier to form when the mixture is warm.
If the cereal mixture cools too much while you are making the bowls, you may re-warm it in the microwave for 15 seconds or so.
Stir, again, before proceeding.

10. Press the prepared smaller bowl into the formed Rice Chex shape to refine, compact and strengthen it.

11. Remove the smaller inside bowl and keep the formed Rice Chex Sundae Bowl in its mold to cool and set until needed.
Remove from its mold when ready to use or store.

12. Repeat Step #s 8 - 11, and continue forming the Rice Chex Sundae Bowls.

STORAGE
The bowls are best used immediately after they are cool, but, if you want to make them 1-2 days ahead, store them in an airtight container, in a COOL place, resting on their rims.
If the shape of the bowls distorts in storage, just reshape them, in the bowl mold, and then build your sundae.

STEP V: PLATE AND SERVE
1. When you are ready to use the Rice Chex Sundae Bowl, place one on a plate at a time.

2. Fll each with 1-2 scoops of Fudge & Peanut Butter Swirl Ice Cream, add toppings of your choice, such as whipped cream and a (gluten free) maraschino cherry, of course.

3. Serve immediately.