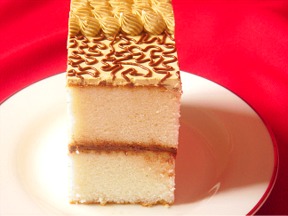 Cake and photos by sugarpie © Sarah Phillips
Sugarpie, Premium Member Says: "Very good and easy to make. Very fudgy, sweet and chocolaty. I used it to fill the White Almond Sour Cream Cake or WASC."
FROSTING, ICING, ETC RECIPE HELP
INGREDIENTS
1/2 cup (8 tablespoons or 1 stick) butter or margarine
2/3 cup Hershey's Brand Cocoa
3 cups powdered sugar, sifted; measure and the sift
1/3 cup milk or heavy cream; can use half and half
1 teaspoon vanilla extract

INSTRUCTIONS
1. Melt butter in small saucepan over low (medium low) heat.
2. Add cocoa (will be a paste); cook, stirring constantly, just until mixture begins to boil.
3. Pour mixture into medium bowl; cool completely.
3. Add powdered sugar alternately with milk (add milk first) to cocoa mixture, beating to spreading consistency. Stir in vanilla.
STORAGE
Frosting can be stored at room temperature, well covered, for a few days. It can be frozen for a month or more.