Easy Peanut Butter-Chocolate Frosting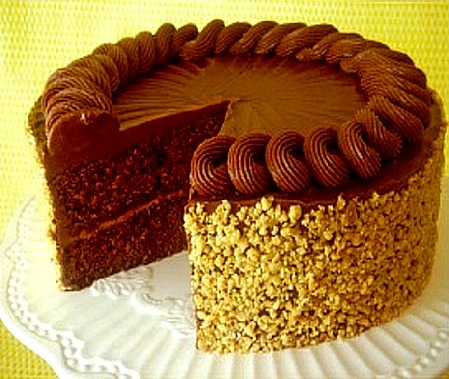 Photo and cake by sugarpie © Sarah Phillips, CraftyBaking.com
I love to pair chocolate and peanut butter together. So naturally my light and fluffy Scratch Chocolate Cake with Box Qualities Recipe was the perfect candidate to frost.
FROSTING, ICING, ETC. RECIPE HELP
QUESTION: When I stored my icing and then stirred it, it broke into chunks and did not get creamy. Is it ruined?
SARAH SAYS: No. You can revive it. Take your hand held mixer, fitted with beater attachments, and beat the icing on low. It should come together. If not, it probably dried out during storage. Add 1/2 teaspoon of milk and beat again. It should come to life and become creamy again. Add drops of milk and beat after each addition until it does. Do not add a lot of milk at a time because a tiny amount can revive an entire bowl of icing! Otherwise, you'll need to add more powdered sugar, 1 tablespoon at a time, beating after each addition, if the icing becomes too thin.
INGREDIENTS
2 cups (12 ounces) chocolate chips, semi-sweet
2 sticks (1 cup) butter
2 1/2 cups smooth or chunky peanut butter
1 1/2 teaspoons vanilla extract

1 cup powdered sugar, sifted, more if needed; measure and then sift

INSTRUCTIONS
1. Melt chocolate chips and butter in a double boiler. Remove from heat.

2. Immediately add the peanut butter.

3. When the mixture has cooled to tepid (100 degrees F) beat in the powdered sugar with a hand-held electric mixer on medium until smooth.
Add in vanilla and continue to beat frosting until it is of spreading consistency.

NOTE: You may need more powdered sugar to stiffen slightly. Adjust with 1 teaspoon milk if too stiff.

STORAGE
The icing does not need refrigeration. Cover and store at room temperature. It will become stiff. Stir well before using.