Dark Chocolate Caramel Tart
Variations: Dark Chocolate Tart with Caramel Sauce; Dark chocolate Pecan or Chocolate Chip Tart; Milk Chocolate Caramel Tart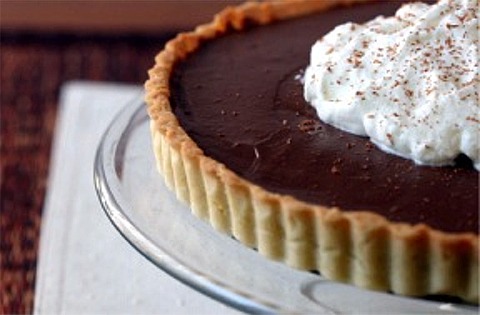 Tart and photo by Anita Chu © Sarah Phillips
I picked a dessert that showcases many of my favorite flavors and textures in pastry. I love chocolate, especially bittersweet, and I love pies, so the idea of a pudding-smooth, intensely chocolaty filling in a buttery, flaky crust sounds like dessert bliss to me. To give it an autumnal spin and take it into over-the-top indulgence, I've added a sweet, gooey layer of caramel. Served with a dollop of whipped cream, this would make a fabulous holiday dessert offering. Best of all, this is a wonderfully easy pie to customize to your desires – see some of the suggested variations at the end of the recipe.
Sarah's basic pie crust works beautifully for this recipe – just follow her excellent instructions. Do use your favorite bittersweet chocolate, and the best quality you can find; try to use baking bars instead of chocolate chips. Also, don't be afraid to take the caramel dark when you are cooking it; I find that it achieves a deeper, smokier flavor that goes with the dark chocolate really well. The pie is best served within a few hours of making it – if you're with not serving it right away, be sure to keep it refrigerated or the caramel will start melting.

I hope you enjoy this pie – I think it's a lovely and comforting dessert for the chilly weather and coming holiday season. Happy baking!
PIE RECIPE HELP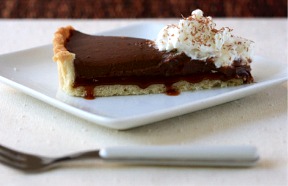 Tart and photo by Anita Chu © Sarah Phillips
INGREDIENTS
TART CRUST
One 9-inch tart crust from the Basic and Flaky Pie and Tart Dough, fully blind baked and cooled; how to instructions with recipe

CHOCOLATE CREAM FILLING
Ingredients
2 cups whole milk
4 large egg yolks
1/2 cup sugar
3 tablespoons cornstarch
1/8 teaspoon salt
7 ounces bittersweet chocolate, melted

CARAMEL FILLING
Ingredients
3/4 cup sugar
1/4 cup water
1/4 cup heavy cream
1 tablespoon unsalted butter
Whipped cream
Chocolate curls or shavings

INSTRUCTIONS
STEP I: MAKE CHOCOLATE CREAM FILLING
Chocolate Cream Filling:
1. Place the milk in a small saucepan and bring to a boil.

2. While the milk is heating, whisk the egg yolks, sugar, cornstarch and salt together in a medium saucepan.

3. Pour a little bit of the hot milk into the egg mixture, whisking vigorously the whole time to temper the eggs. Pour in the rest of the milk and whisk until combined with the egg mixture.

4. Place the mixture on the stove and bring to a boil over medium heat, whisking constantly to prevent curdling.
When the mixture is at a boil (it will thicken and bubble), whisk over heat for a couple of minutes and then take the mixture off.

Add the melted chocolate and whisk in to combine.

5. Scrape chocolate cream into a bowl, press a piece of plastic wrap against its surface, and place in refrigerator to chill about 30 minutes.

STEP II: MAKE CARAMEL RECIPE AND FILL BLIND BAKED AND COOLED TART CRUST
1. Place sugar and water in a small saucepan and bring to a boil over medium heat. Let sugar cook until it turns into dark amber in color (The deeper the caramel, the stronger the flavor- but don't let it burn!).

2. Take saucepan off heat and pour in the cream a little at a time – the caramel will bubble up furiously so add the cream slowly to prevent accidents.

3. When the cream is fully incorporated, add in the butter and stir with a wooden spoon until melted and combined into the mixture.

4. Pour the caramel filling into the pie shell in a smooth layer. Place the pie shell in the refrigerator for a few minutes to let the caramel cool and set up before you add the chocolate layer.

STEP III: ASSEMBLE TART
1. When the chocolate cream is about room temperature or colder (you just don't want it too hot or it will melt the caramel layer), you can scrape it onto the caramel in the pie shell and smooth out evenly with an offset spatula.

2. Chill until set.

SERVE
When you are ready to serve it, let the tart come to room temperature, and top with whipped cream and chocolate curls or shavings.

STORAGE
If you are not serving the pie right away, store in the refrigerator for up to 6 hours. This tart does not freeze well.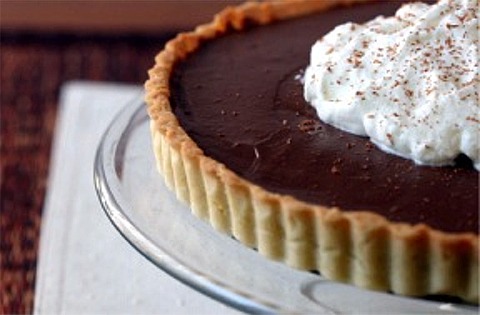 Tart and photo by Anita Chu © Sarah Phillips
VARIATIONS
Dark Chocolate Tart with Caramel Sauce
This is a fun and easy recipe to play around with. You can omit the caramel layer entirely. However, make more caramel filling and drizzle it warm over slices of pie as a sauce – store the caramel in a glass container, and if it hardens, just warm up in the microwave.
Dark Chocolate Caramel Pecan or Chocolate Chip Tart
You can sprinkle nuts over the caramel layer as it's setting up – pecans would go fabulously with this pie, or try chocolate chips.
Milk Chocolate Caramel Tart
Another idea is to substitute milk chocolate for the bittersweet chocolate, sprinkle in some peanuts, and you have an elegant rendition of a candy bar.
SARAH SAYS: For more flavor, when using nuts in this recipe, chop and then toast them first!