Creamy and Luscious No Crack Cheesecake
Variations: Almond Cheesecake; Cheesecake Cupcakes; Cheesecake with Strawberry Mousse; Decorated Layered Mini-Cheesecake and Pound Cakes; Denser Cheesecake; Dulce de Leche Swirled Cheesecake and Variations; Peanut Butter Cup Cheesecake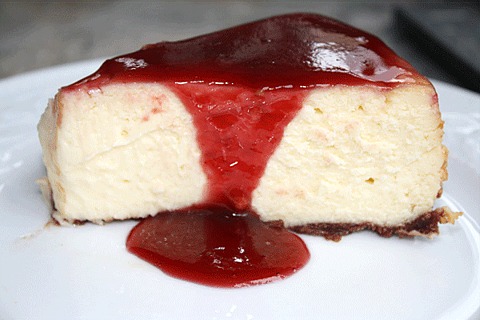 Cheesecake and photo by Sarah Phillips © Sarah PhillipsCraftyBaking.com
A cheescake''s soul is its filling: this one is creamy and rich - I have a denser variation posted at the end of the recipe. My recipe is simply flavored with vanilla extract and baked with a graham cracker crust . I wanted to develop a cheesecake that had less of a chance of cracking than a typical recipe - To get this right, I stopped counting at 30 pounds of creamcheese.

I found that with this particular recipe, because of the inclusion of cornstarch, a waterbath is not necessary. Rather, baking it in the oven with steam from a pan beneath sets the cheesecake, especially the middle better. You should not get any major cracks from this recipe because it contains cornstarch. However, tiny ones are typical on any cheesecake.

The recipe is best made with a stand mixer because you want to avoid struggling to mix the ingredients and causing air bubbles to form in the batter. Keep mixer on low at all times to avoid mixing too much air into the batter. If you do, the cheesecake tends to puff up and fall during baking, causing cracking. Stop the mixer frequently and scrap the bowl and beaters with a rubber spatula. Make sure you get the bottom of the bowl.

The initial 350 degrees F temperature gives the cheesecake its characteristic browned top and helps to set its structure, and the subsequent lower temperature by 25 degrees F, keeps the eggs from overcooking, which can make for a tough, dry filling.
CHEESECAKE RECIPE HELP

Cheesecake and photo by odetteganda © Sarah Phillips
odetteganda, Premium Member, Says: I made Sarah's Luscious Cheesecake as my first baking spree here with my new oven.... The topping is strawberry jam and the frosting is Swiss Meringue Buttercream or SMBC.... is my absolute favorite cheesecake to make and eat! I don't eat cheesecake in restaurants anymore after I had learned how to make this recipe.
INGREDIENTS
Note: If desired, you can use a Cookie Crust - with a Gluten-Free Variation, instead of a graham cracker crust, recipe below.
Graham Cracker Pie or Tart Crust / recipe alone
1 1/4 cups graham cracker crumbs, finely ground equals about 9 - 10 full size (2 cracker sheet) (each graham cracker comes in a flat, rectangular sheet)
1/4 cup sugar
1/3 cup unsalted butter, melted

Filling:
2 cups sugar
1/4 cup cornstarch
32 ounces (four 8-ounce packages) cream cheese; preferably Philadelphia Brand
1 tablespoon vanilla extract
3/4 cup heavy whipping cream
3 large eggs

INSTRUCTIONS
1. Position the oven rack to the middle and another shelf, one rung down. Place a 9x13-inch pan on the shelf below the middle rack. (You will later fill it with boiling water to produce steam in the oven.)

Preheat the oven to 350 F (don't reduce by 25 degrees F if using a dark, nonstick pan. )

2. Generously grease the bottom and side of a 9- or 10-inch springform or 10- x 2- inch cake pan (9- x 2-inch cake pan is not big enough) with vegetable oil spray. Optionally, put a disk or parchment paper in the bottom and grease that. (Place pan on paper and trace around, cut). Put ground graham cracker crumbs and sugar and combine right in the pan. Drizzle melted butter over the crumbs to moisten and mix until moistened. Press into the bottom of the pan. Set aside in the refrigerator.

3. Blend sugar and cornstarch together in a small bowl.

Place one 8-ounce package of the cream cheese and 1/2 cup of the sugar/cornstarch mixture in the bowl of a stand mixer bowl. Beat with the paddle attachment on low speed until creamy, about 1 minute.

4. Beat in the remaining 3 packages of cream cheese and the vanilla. Scrape down the side of the bowl.

5. With the mixer on low, beat in the remaining 1 1/2 cups of the sugar / cornstarch mixture.

6. Add the heavy cream in a steady drizzle at the side of the bowl.

7. Blend in the eggs, one at a time, until completely mixed after each one. Be careful not to overmix.

Stop the mixer and remove the bowl. Scrape and mix in any unblended ingredients. (If the batter has tiny lumps, it''s ok). Tap bowl''s bottom on the countertop about six times to get rid of air bubbles.

8. Gently pour the filling into the graham cracker crust. (If using a solid cake pan, the batter will come to the rim.) Tap the pan on its side with the side of the handle of a wooden spoon about a dozen times to get rid of air bubbles. Smooth the top, otherwise it may crack along any overlapping batter.

9. Place the cheesecake on a foil lined baking sheet and put in oven. Immediately pour about an inch of boiling hot water in the heated pan below and shut the door.

After about 10 minutes, reduce the heat to 325 degrees F.

10. Bake the cheesecake about 1 hour until the top of the cake moves as one solid piece rather than like liquid cream when tapped with the handle of a wooden spoon. The center circle will wobble a bit more and look wet, more than the sides, but not be soupy.

11. When the cake is done, remove it from the oven and place it on a wire rack for 1 to –2 hours to cool. The cake will come from the oven slightly puffed and will fall back down and flatten as it cools.

Remove the pan of water from the oven once the water has cooled.

Cover the cheesecake with plastic wrap and chill it at least 12 hours, preferably for 24 hours, especially if using a solid cake pan.

SERVE
To unmold, remove the side and bottom of the springform pan.
Or, if you wish, simply leave the cake on the removable bottom of the pan and place it on a serving plate. Otherwise invert cheesecake. And with a sharp knife, lift off bottom of springform. Place a flat plate on top and quickly invert.

STORAGE
Store the cheesecake in the refrigerator or freezer for 4 - 5 days tightly covered with plastic wrap. It can be frozen for 2 to 3 months. Thaw in the refrigerator in its wrappers.
Cut before almost thawed for clean and neat cuts.

CHEESECAKE VARIATIONS
Denser cheesecake, bake as follows: Reduce sugar to 1 3/4 cups and use 2 eggs instead of three. Prepare and bake as directed above in a 9-inch springform pan or a 9- x 2-inch cake pan.

Almond
Cheesecake batter: Add in 1/4 teaspoon almond extract
Crust: Add in 1/4 cup ground blanched (peeled) almonds and toasted almonds with the graham cracker crumbs

Chocolate "Peanut Butter Cup": Instead of graham cracker crumbs used in the crust above, use chocolate cookie crumbs. (You may have extra) Add in a mixture of: 1/3 cup chunky peanut butter, 1/3 cup powdered sugar, 2 tablespoon dark brown sugar and 1 teaspoon vanilla extract. In a small bowl combine sugars. Add peanut butter. Using fingertips, rub mixture together until forms small crumbs. Sprinkle over crust. Then pour in the cheesecake filling.

Cheesecake Cupcakes:


Cheesecake and photo by odetteganda © Sarah PhillipsCraftyBaking.com
odetteganda: I have tried Sarah's Creamy and Luscious No-crack cheesecake for cupcakes and it works very well...I bake my cupcakes in muffin tins for about 20-25 minutes.

Swirled Cheesecakes: Go to Dulce de Leche Swirled Cheesecake Recipe for information and recipes.

Decorated Layered Mini-Cheesecake and Pound Cakes Tutorial:


Cheesecake and photo by odetteganda © Sarah Phillips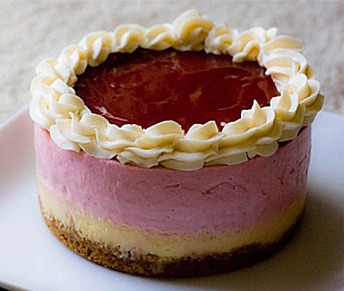 Cake and photo by odetteganda © Sarah Phillips
ODETTEGANDA, Premium Member, Says: I made a Cheesecake and Strawberry Mousse cake. The cheesecake recipe is of course, Sarah's Creamy and Luscious No-Crack Cheesecake, which is my favorite Cheesecake in the whole world. It's topped with White Chocolate Strawberry (Raspberry) Mousse....They all loved it! They were raving about it and they were all amazed at how good the cake was!