Cream Cheese Swirled Brownies
Variation: Cream Cheese Raspberry Swirled Brownies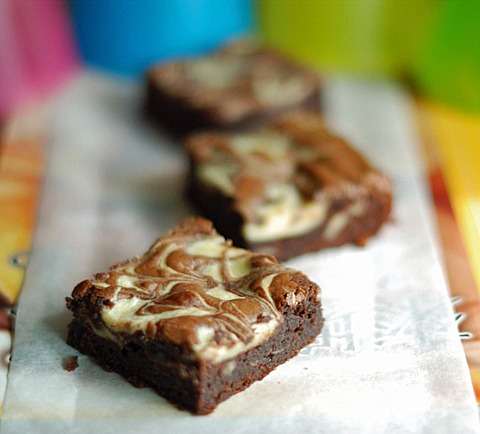 photo by Orange Piggy, Premium Member © Sarah Phillips
The combination of tangy cream cheese and rich, dense fudge brownies is a classic combination! These bake-up nicely and are always a hit. Experiment with swirled in flavors to the cream cheese mixture, such as raspberry, apricot, pineapple seedless preserves or even orange marmalade or cherry jam, and I show you how. Why not?!
COOKIE RECIPE HELP
To soften cream cheese quickly, unwrap, cut in half and place both pieces in a microwaveable bowl. Microwave on medium for 15 to 20 seconds. Repeat until slightly softened; do not over-microwave.
Before baking, you can even sprinkle 1/2 cup semi chocolate or peanut butter chips over the brownies for an even more intense fudgy, chocolate or peanut butter experience! Enjoy!
INGREDIENTS
Brownies:
1/2 cup unsweetened Dutch-process cocoa powder
2 cups unbleached all-purpose flour
1 teaspoon baking powder
1/2 teaspoon salt

6 ounces bittersweet or semisweet chocolate, finely chopped (any cacao% will work)
1 cup (2 sticks) salted or unsalted butter
6 large eggs
2 teaspoons vanilla extract
3 cups sugar

1 cup chopped pecans or walnuts, optional

Cream Cheese Swirl:
1/3 cup sugar
1 tablespoon unbleached all-purpose flour
1 package (8 ounces) cream cheese, softened; preferably Philadelphia Brand
2 tablespoons butter, softened
1 large egg
1/2 teaspoon vanilla

INSTRUCTIONS
1. Position a rack in the center of the oven and preheat to 350 degrees. Grease a 9- x 13- inch baking pan. Or, optionally, for easy removal, line a 9- x 13-inch baking pan with a long sheet of aluminum foil. Make sure it covers the bottom and reaches up all four the sides of the pan. If it doesn't, cross another sheet of foil over it, making a large cross with edges that overhang the sides, too. Grease the bottom and sides of the foil with a bit of butter or non-stick spray. Set aside.

2. If the cocoa powder is lumpy, sift through a fine mesh strainer before using. In a medium bowl, combine the flour, cocoa powder, baking powder and salt. Set aside.

3. Put the chopped chocolate in a small bowl. Warm the butter in a saucepan until just melted and remove from the heat. Pour the butter over the chocolate. Swirl the pan so the hot butter warms all the chocolate and covers it. Let the mixture sit 2 minutes. Stir to melt the chocolate. Let cool until slightly warm.

4. With a fork, beat the eggs and vanilla together in a medium bowl until just combined. Stir in the sugar with a rubber spatula. Pour in the cooled butter-chocolate mixture and mix until smooth. Do NOT whip. In 2 additions, fold in the flour mixture until almost combined, and then the walnuts, if using, until fully combined. The batter will be thick and look like fudge.

5. Prepare cream cheese mixture: Mix the sugar and flour together in a small bowl. Beat cream cheese and butter in medium bowl with electric mixer on low speed until smooth. Beat in sugar mixture. Beat in egg and vanilla until blended. Do not beat air into the mixture.

6. Scrape half of the brownie batter into the prepared pan. Drop one-third of the cream cheese mixture, in dollops (spoonfuls), evenly spaced, over the brownie batter, taking care not to get any near the pan sides - leave about a 1/2-inch - otherwise the milk from it will burn during baking. Then drag a table knife through to swirl it slightly taking care not the tear the foil liner. As best you can, carefully spread the remaining brownie batter over. Then drop dollops (spoonfuls) of the remaining cream cheese mixture over the top of the brownie batter. With a table knife, swirl the mixtures slightly.Tap the pan lightly on the countertop a few times to remove excess air bubbles.

7. Bake 40- 45 minutes or until cream cheese mixture begins to brown. Cool brownies completely in the pan on a wire cake rack. For 24 brownies, cut into 6 rows by 4 rows.

STORAGE
Store well-covered at room temperature for 3 to 5 days. Freezes well for up to 3 months.

VARIATION
Cream Cheese Raspberry Swirled Brownies: Lightly mix in 1/3 cup seedless raspberry preserves or any flavor (apricot is delicious, too!), to the cream cheese mixture after mixing and before using in the recipe. Do NOT blend in thoroughly.