Cookie Crust - Gluten-Free Variation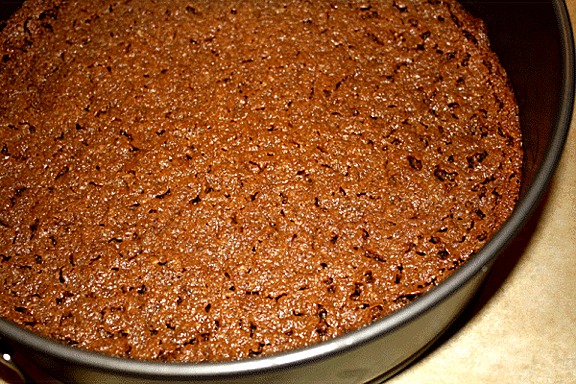 You can make this crust with gluten-free or regular cookie recipes, such as homemade Sarah's Thick-with-a-Chew Chocolate Chip Cookies or even Thick-With-a-Chew Peanut Butter Cookies! DROP DEAD DELICIOUS! Good bye boring graham cracker crusts!
I like to make this crust with gluten-free cookies and use it with my Gluten-Free Creamy and Dense Cheesecake for a total gluten-free and flavorful dessert experience.
PASTRY RECIPE HELP / GLUTEN-FREE RECIPE HELP
INGREDIENTS
Crust:
1 1/4 cups regular or gluten-free chocolate chip cookie crumbs*, finely ground; about five to six, 1-ounce cookies will yield about 1 1/4 cups cookie crumbs
1/2 cup fine ground nuts, preferably pecans or walnuts; grind and then, measure
1/4 cup sugar
2 teaspoons vanilla extract
3 tablespoons unsalted butter, melted

INSTRUCTIONS
STEP I: MAKE THE COOKIE CRUST
1. Position the oven rack to the middle and another shelf, one rung down. You will later place a pan with a waterbath on the lower shelf.
Preheat the oven to 350 degrees F.

2. Generously grease the bottom and side of a 9- or 10-inch springform pan with vegetable oil spray. Optionally, put a disk or parchment paper in the bottom and grease that. (Place pan on paper and trace around, cut).

3. In a food processor fitted with a steel blade, grind gluten-free Chocolate Chip cookies into fine crumbs. Measure 1 1/4 cups into a medium bowl.

In a food processor fitted with a steel blade, pulse the machine and grind pecans until you get fine particles. Measure 1/2 cup.

4. Add the measured cookie crumbs, ground pecans and sugar back into the bowl of the food processor, fitted with the steel blade. Pulse to combine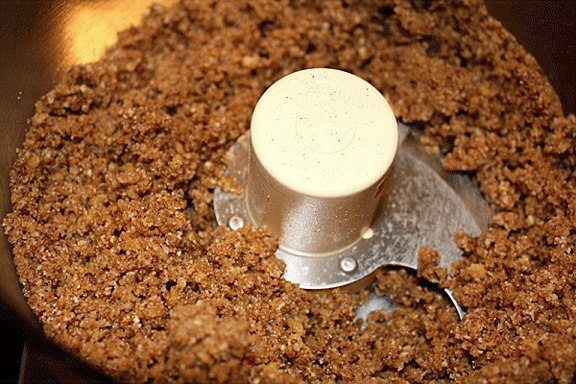 5. Add the vanilla extract and pulse the machine to mix. And, add the melted butter and pulse the machine until the mixture becomes a wet dough.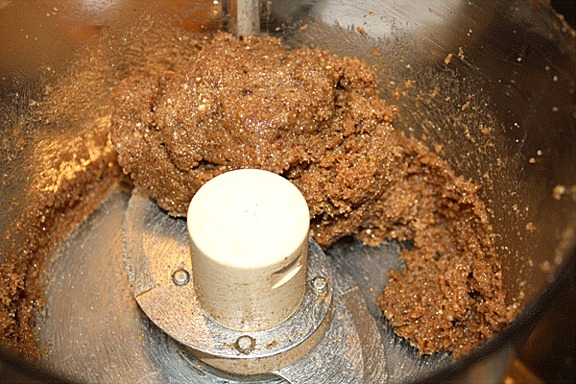 6. Press the crust dough mixture right into the prepared pan.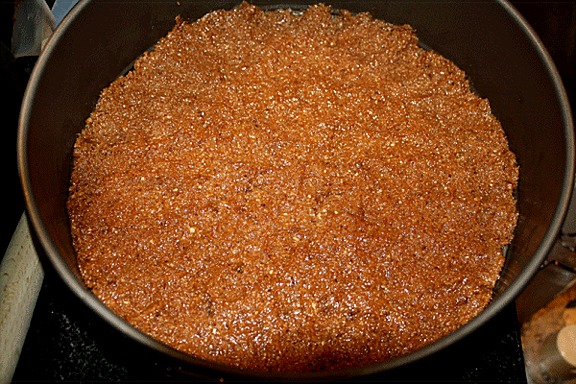 7. Set on a foil-lined baking sheet and bake crust for about 15 minutes or until the crust is just beginning to set and start to bubble a little. Take care not to let it burn.
The crust may leak butter; it's ok.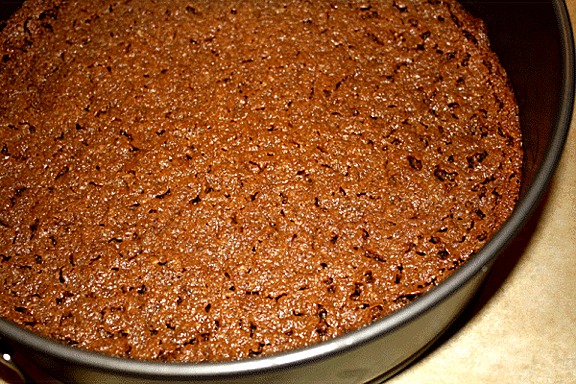 SARAH SAYS: The butter in my crust started to bubble a little during baking. Note the tiny holes around the edges of the crust.

8. Cool crust slightly in its pan on a wire cake rack before using in a cheesecake recipe.

STORAGE
Cool completely. Store in the refrigerator or freezer until needed.