Variation: Strawberry Financiers


Financiers are small simple almond flour-based French foam cakes leavened by egg whites, moistened with browned butter and baked into a small mold. You can use almond flour for a finer but denser cake, or make your own by grinding almonds and the recipe will be coarser and rustic. This recipe is adapted from Francois Payard of Payard Patisserie. We created the Strawberry Financier Variation.
CAKE RECIPE HELP

This recipe is used with our Crafty Owl Mini Cakes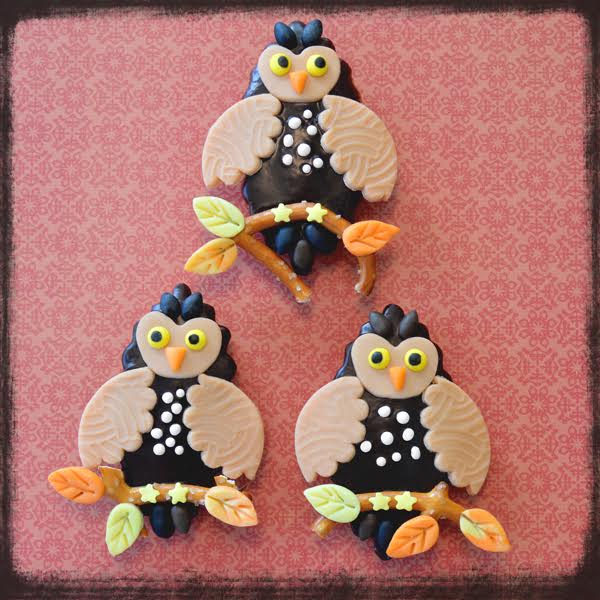 INGREDIENTS
9 tablespoons unsalted butter, more for molds

1/4 cup all-purpose flour, preferably bleached
1 tablespoon, plus 2 teaspoons bleached cake flour
1 teaspoon baking powder
Pinch of salt
1 1/4 cups powdered sugar, measured and sifted
3/4 cup almond flour or 1/2 cup whole unblanched almonds*
4 large egg whites
1 teaspoon vanilla
Powdered sugar for dusting
NOTE:
If using whole almonds, pulse with 1/4 cup powdered sugar in a food processor until mostly fine to make almond flour.
INSTRUCTIONS
Prepare the pans and batter. Refrigerate batter:
1. Generously butter 12 fluted oval tart molds, also known as barquette molds, 3 1/2-inches length, and 1/2 to 1-inch in depth. (You can also use financier molds.)
NOTE: 1/2-inch deep molds will yield 20 financiers; 1-inch deep molds will yield 12.
Place on a baking sheet. Refrigerate until chilled; takes about 15 minutes.

2. In a heavy-bottomed brown the butter. Set aside.
3. In a small bowl, combine the all-purpose and cake flours, baking powder, and salt. Set aside.

4. Sift sugar over almond flour in a medium size bowl. (If using freshly ground almond flour, use the remaining 1 cup powdered sugar here, otherwise use 1 1/4 cups.)
Add the all-purpose / cake flour mixture, and gently whisk to combine.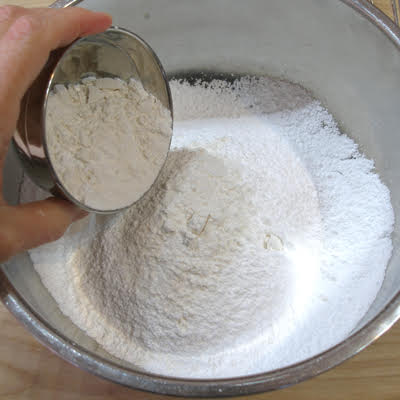 5. In a small bowl, whisk together the egg whites until just combined. Add egg whites to the flours / powdered sugar mixture, whisking just to combine. Do not overwork or the cakes will be tough.

6. Add vanilla to the browned butter. In a steady stream, whisk browned butter / vanilla into flours / powdered sugar mixture.

7. Cover with plastic wrap, and refrigerate 3 hours.
SARAH SAYS: The flavors will enhance and the batter will firm-up making it easier to pipe.
NOTE: The batter can be stored for up to 3 days, refrigerated.
Bake:
1. Position an oven shelf to the middle of the oven. Heat oven to 375 degrees F.
2. Set molds on a baking sheet. Spoon mixture into a pastry bag that has a 1/4-inch round tip or cut a 1/4-inch opening in a disposable bag. Pipe mixture into molds, filling 2/3's full.

3. Bake until browned and springy.
If your molds are 1/2-inches deep, they will take about 11 minutes to bake.
If they are 1-inch deep, they will take 13-14 minutes to bake.
Remove from oven, and cool 2 minutes before unmolding.

4. Cool individual cakes completely on a wire cake rack.

SERVE
Serve plain or dusted with powdered sugar, or warm, with ice cream.
STORAGE
Cakes are best eaten the day they are made, but you can store them, for up to two days, at room temperature, in a lidded container.
STRAWBERRY FINANCIER VARIATION
INGREDIENTS
1 pound strawberries
Powdered sugar

INSTRUCTIONS
1. Before baking, cut flower shapes out of sliced strawberries.
Each cake will use TWO strawberry flowers, so cut out at least 24 strawberry flowers.
a. Cut the stem end off of the strawberry.

b. Cut the strawberry in thirds. Cutting at a slight angle, so the outer two slices are more even in thickness.

c. Cut the flower shapes out of the two outer slices, using a 1-inch 5 petal flower cutter.
Cover the strawberry flowers with plastic wrap and place them in the refrigerator, until needed.

2. Bake the financiers for 7 minutes, then remove them from the oven and place one strawberry flower in the center of each cake.
The edges will set, but the center of the cakes will still be slightly wet.

3. Place the cakes back in the oven and bake for an additional 5-7 minutes, or until the edges are golden brown.
4. Remove cakes from the oven, and let cool, in the molds for two minutes, then unmold.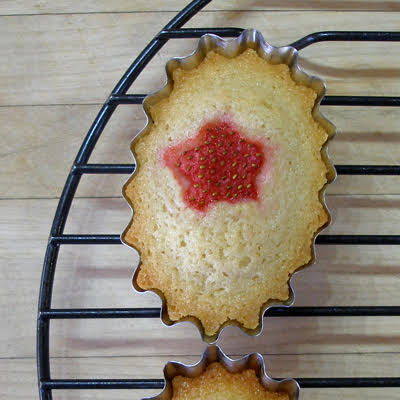 SERVE
1. Dust each cake with powdered sugar, then place another strawberry flower on top of the one that was baked with the cake. Press down gently, so the strawberry sits just above the surface of the cakes.



2. Serve cakes immediately.



STORAGE
Cakes with fruit are best eaten the day they are made, but you can store them, for up to two days, in the refrigerator, in a lidded container.