Chocolate Fudge Buttercream Ganache
Variations: Milk Chocolate Buttercream Ganache; White Chocolate Buttercream Ganache


Cake-apolooza! Our Ultimate Chocolate Snickers Butter Cake Recipe is three layers of chocolate cake, filled with Caramel Swiss Meringue Buttercream, iced with this Chocolate Fudge Buttercream Ganache, chopped salted peanuts on the side, Caramel Swiss Meringue Buttercream rosettes with triangles Snickers bar on top. 7 1/2-inches tall!
The buttercream is very rich. Have your cake and everything ready, BEFORE you begin to beat the ganache and butter mixture.
FROSTING, ICING, ETC RECIPE HELP
We also use this recipe with our Chocolate Overload Cake Tutorial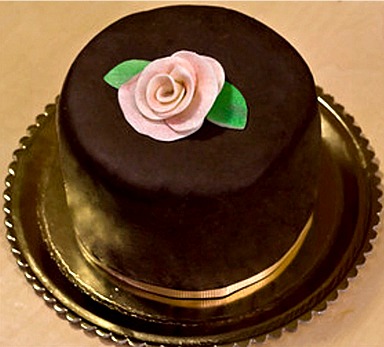 Cake and photo by odetteganda © Sarah Phillips
If the ganache gets too stiff to work with, even at room temperature, beat on low with a mixer. Note that overbeating the mixture can cause it to become gritty. If necessary, beat in a small amount (1 or 2 tablespoons) of heavy cream to soften slightly. However, the more cream you add, though, the softer the end buttercream will be. Stiffen with more powdered sugar.
INGREDIENTS
1 cup heavy whipping cream
1/4 cup corn syrup, light
2 sticks (1 cup) unsalted butter
two, 12 oz bags (24 oz total) Nestle's or Ghirardeli's Brand semi-sweet chocolate chips or 24-ounces bittersweet or semi-sweet chocolate, chopped into 1/4-inch pieces
2 cups powdered sugar, sifted; after measuring, sift
2 teaspoons vanilla extract

NOTE: After measuring powdered sugar, be sure to sift it to get out any lumps.



INSTRUCTIONS
1. Place chocolate chips in a medium-sized bowl.
2. Heat the cream, corn syrup and 1 stick (1/2 cup) butter on the stove until it JUST comes to a boil.



3. Pour the heated cream mixture over chocolate chips. Make sure the chips are all submerged.
Let stand 1 minute and stir in one direction until smooth.
SARAH SAYS: If the chips are not melting, gently warm the mixture briefly over a pot of previously simmered water, while stirring in one direction the whole time.

4. Set aside momentarily to cool to tepid or about 100 degrees F. Do not let harden.
5. In a mixer bowl, fitted with a paddle attachment, beat the butter until softened.

6. Add the powdered sugar. Starting on low speed and slowly increasing the mixer to medium, beat the butter and sugar until light and smooth.

7. Add in the cooled ganache and vanilla extract and beat until smooth and light.
NOTE: The frosting will be quite liquidy at first, but, as it reaches room temperature, it will become thick and spreadable.



8. Frost the cake while the ganache is at room temperature. If refrigerated, let the ganache buttercream sit at room temperature to warm before using.
STORAGE
Cakes iced and filled with the Chocolate Ganache Icing can be stored under a cake-keeper at room temperature for about 1 to 2 days and then must be refrigerated. The frosted cake can be frozen for 1 month or more. "Open-freeze" them (freeze without wrappers) until the icing is firm and then wrap in plastic wrap, foil and/or then in an airtight container.

VARIATIONS
Milk Chocolate Buttercream Ganache: Use milk chocolate instead of dark. Reduce heavy cream to 3/4 cup
White Chocolate Buttercream Ganache: Use white chocolate instead of dark. Reduce heavy cream to 3/4 cups. Use an excellent quality white chocolate chip.